CB14B Utility Roller
The CB14B is a 1.5 ton utility roller with 900 mm (35") tandem vibratory drums.
Product Details
Weights
| | |
| --- | --- |
| Operating Weight | 1485 kg |
| Maximum Weight at Rear Drum | 745 kg |
| Maximum Weight at Front Drum | 740 kg |
Operating Specifications
| | |
| --- | --- |
| Standard Compaction Width | 900 mm |
| Curb Clearance | 400 mm |
| Ground Clearance | 220 mm |
| Static Linear Load | 8.2 kg/cm |
| Travel Speed - Maximum | 9 km/h |
Engine
| | |
| --- | --- |
| Gross Power | 16.8 kW |
| Engine Model | Kohler KDW1003 |
Dimensions
| | |
| --- | --- |
| Overall Length | 1950 mm |
| Overall Width | 1000 mm |
| Drum Diameter | 560 mm |
| Maximum Machine Height | 2545 mm |
| Drum Width | 900 mm |
Vibratory System
| | |
| --- | --- |
| Frequency | 70 Hz |
| Nominal Amplitude - High | 0.46 mm |
| Centrifugal Force per Drum - Maximum | 15 kN |
Service Refill Capacities
| | |
| --- | --- |
| Fuel Tank Capacity | 23 l |
| Water Spray Tank Capacity | 100 l |
Comfort and Control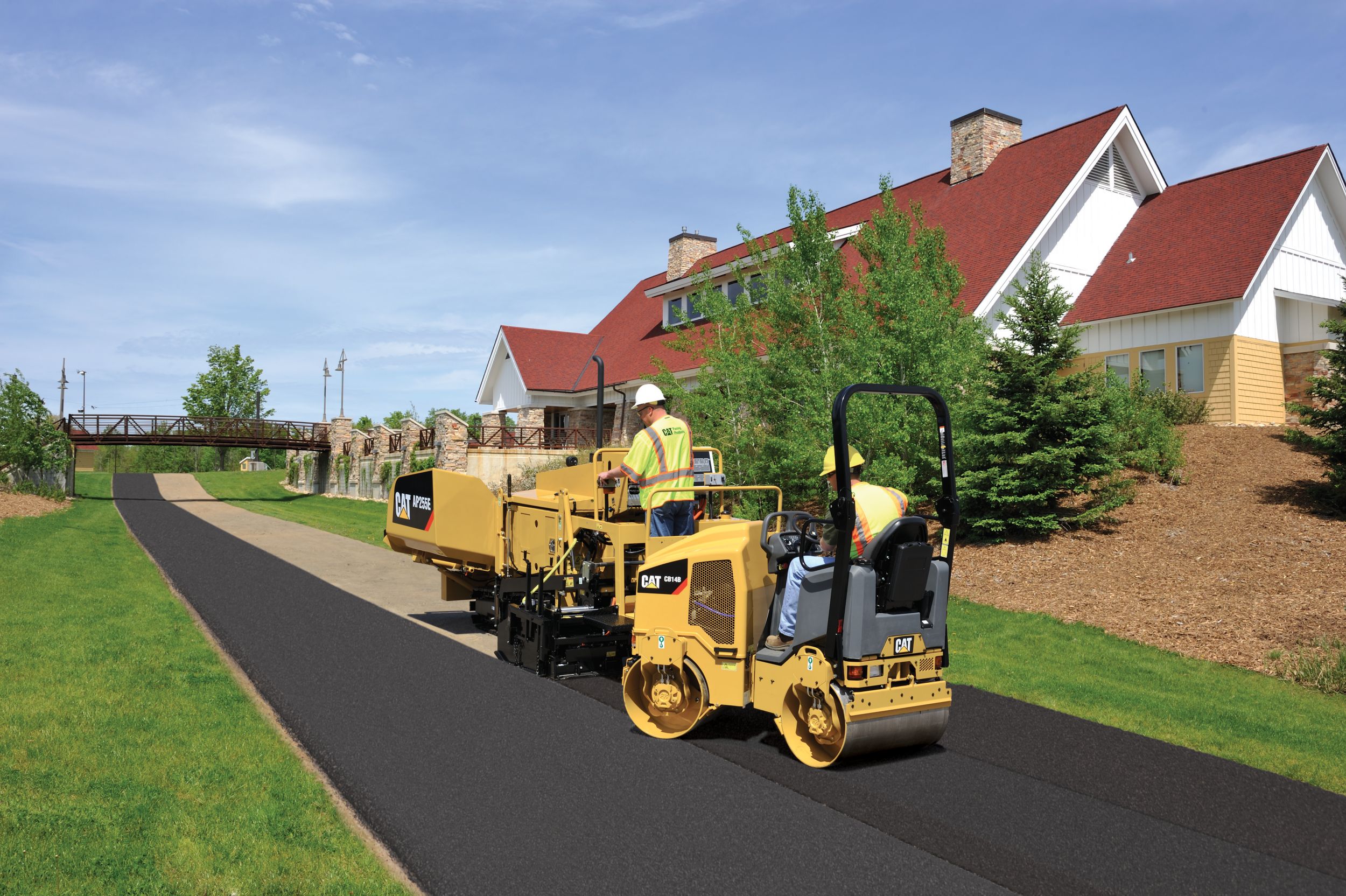 Operators appreciate added comfort, and paving contractors increasingly realize its value, too. Comfortable operators stay fresh and alert throughout their shifts, providing both safety and productivity benefits.
Roomy Operating Station
The roomy operating station with abundant leg room and standard, adjustable seat improves visibility. The seat is equipped with an operator presence sensor for enhanced safety and water drainage capability.
Instrument Panel
The controls are centrally located for operator ease and safety. Key controls such as drum vibe selection, water spray on/off and intermittent settings are logically placed and easy to adjust. The easily observed warning lights provide quick feedback to the operator.
Visibility
The sloped engine hood enables excellent forward visibility and minimal side clearance creates direct sight lines to working areas.
Smooth, Efficient Powertrain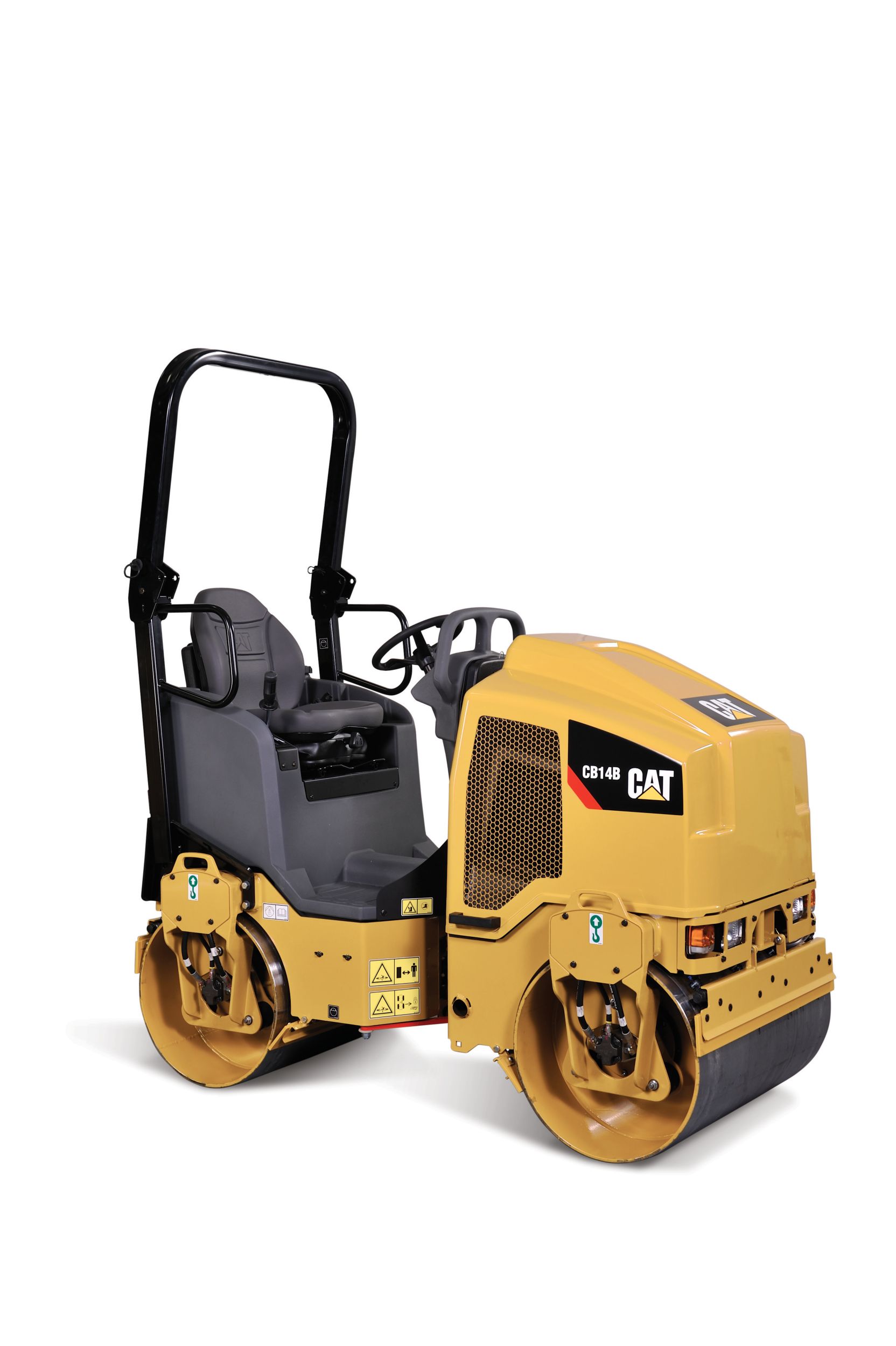 The CB14B delivers plenty of power to keep the roller productive, even on steep grades. The engine is quiet thanks in part to the belt-driven, overhead camshaft and low turbulence. The large cooling system provides efficient performance in normal and high ambient temperatures.
Powerful Engine
The Kohler KDW1003 4-cycle, 3-cylinder liquid cooled diesel engine delivers 16.8 kW (22.5 hp) of power @ 2850 rpm. It meets U.S. EPA Tier 4 Final engine emissions standards, has a pre-heat starting system, and is serviced and supported by Cat® Dealers.
Cooling System
The cooling system with integrated water and oil cooler utilizes an aluminum radiator that provides corrosion resistance and reliability. Large space between cores provide efficient cooling and easy cleaning. The system is effective in high-ambient temperatures up to 50º C (122º F).
Maneuverability and Transport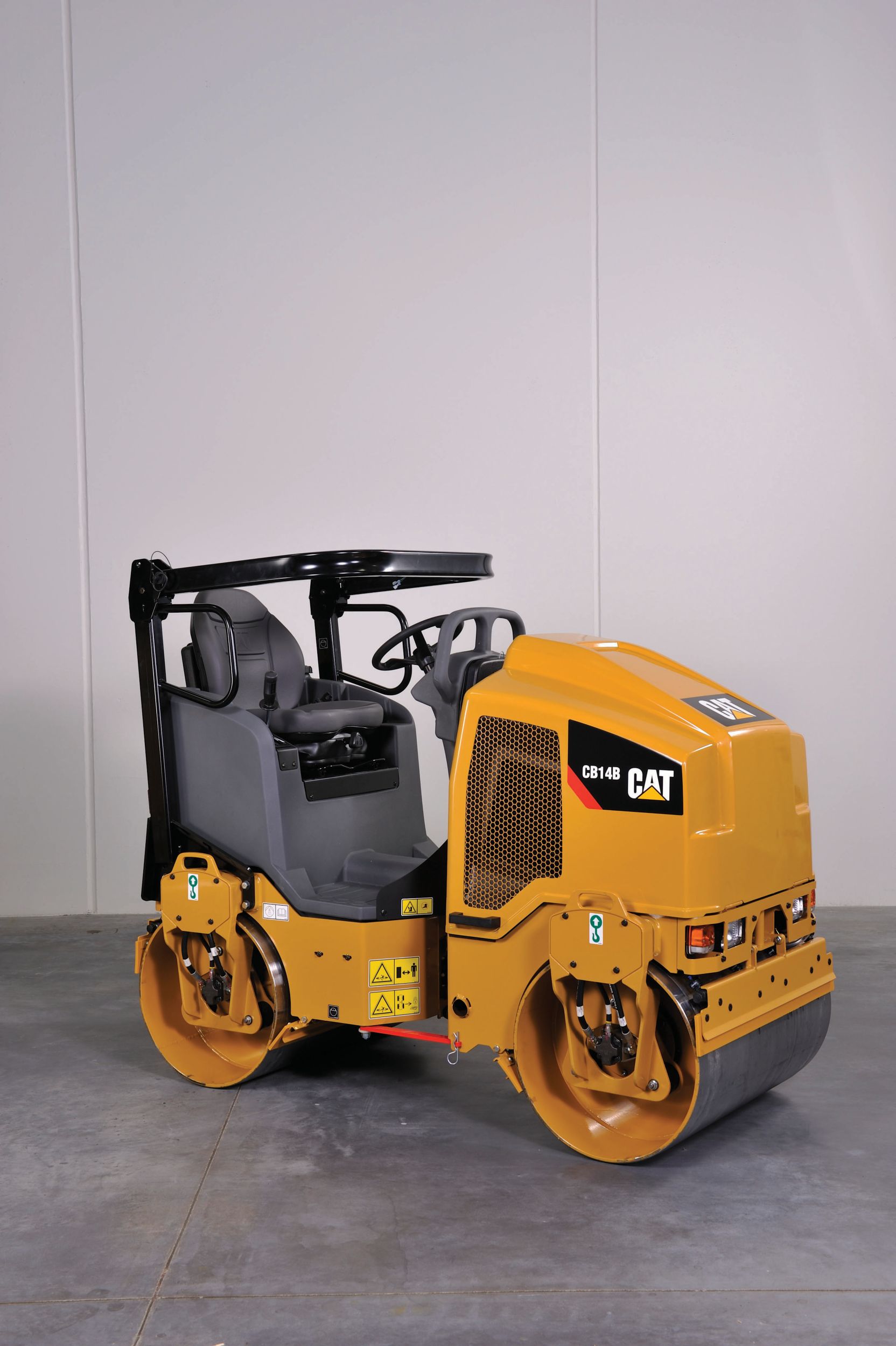 The size of the CB14B helps it go where other rollers can't. The CB14B's minimal side clearance enables optimal maneuverability next to curbs and obstacles, while the low center of gravity provides stability when operating in open areas or tight locations.
Size and Steering
The articulated frame with sealed articulation bearings has a low center of gravity that provides optimum stability on asphalt or soil/aggregate.
Transportability
The foldable ROPS facilitates machine transportability and can be folded forward without the use of tools. The short machine length allows it to fit crosswise on a trailer, while high ground clearance facilitates driving up trailer ramps. The machine is equipped with four lifting points for attaching an optional spreader bar.
Perfectly Matched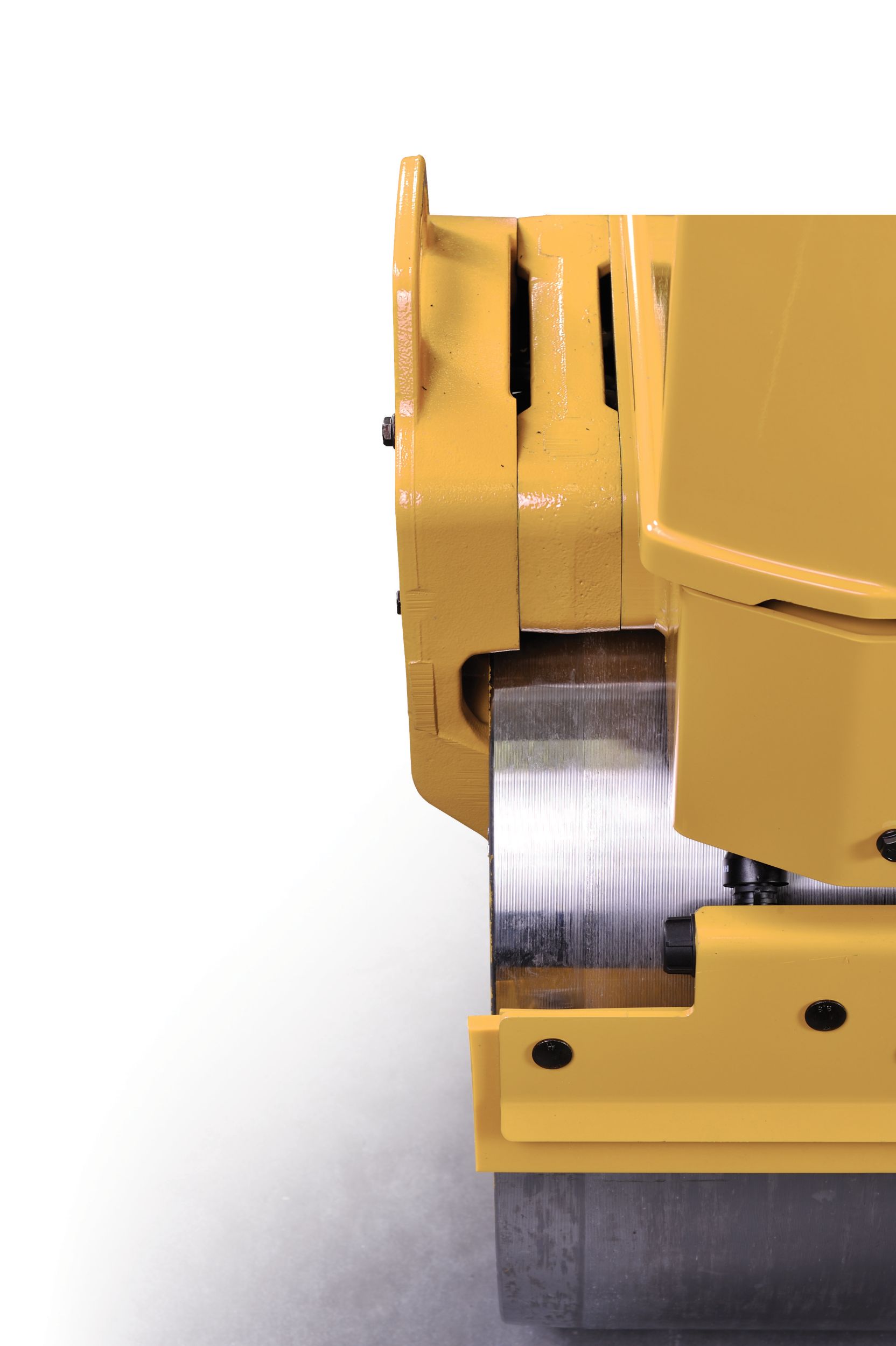 The CB14B is designed and built to provide options that precisely match your applications. The vibratory frequency and amplitude are optimized to provide a smooth mat in a variety of jobsite conditions.
Vibratory System and Drums
The CB14B utilizes 900 mm (35") tandem vibratory drums. Vibratory selection includes front drum only or both drums for versatility on the job site. The system automatically starts when the propel lever is engaged.
Dual Drum Drive Powertrain
The dual-drum drive powertrain provides continuous full-drum traction on soft base materials, uneven surfaces and steeper grades. The rounded drum edge prevents cutting into mat for better mat quality.
Consistent Water Spray Coverage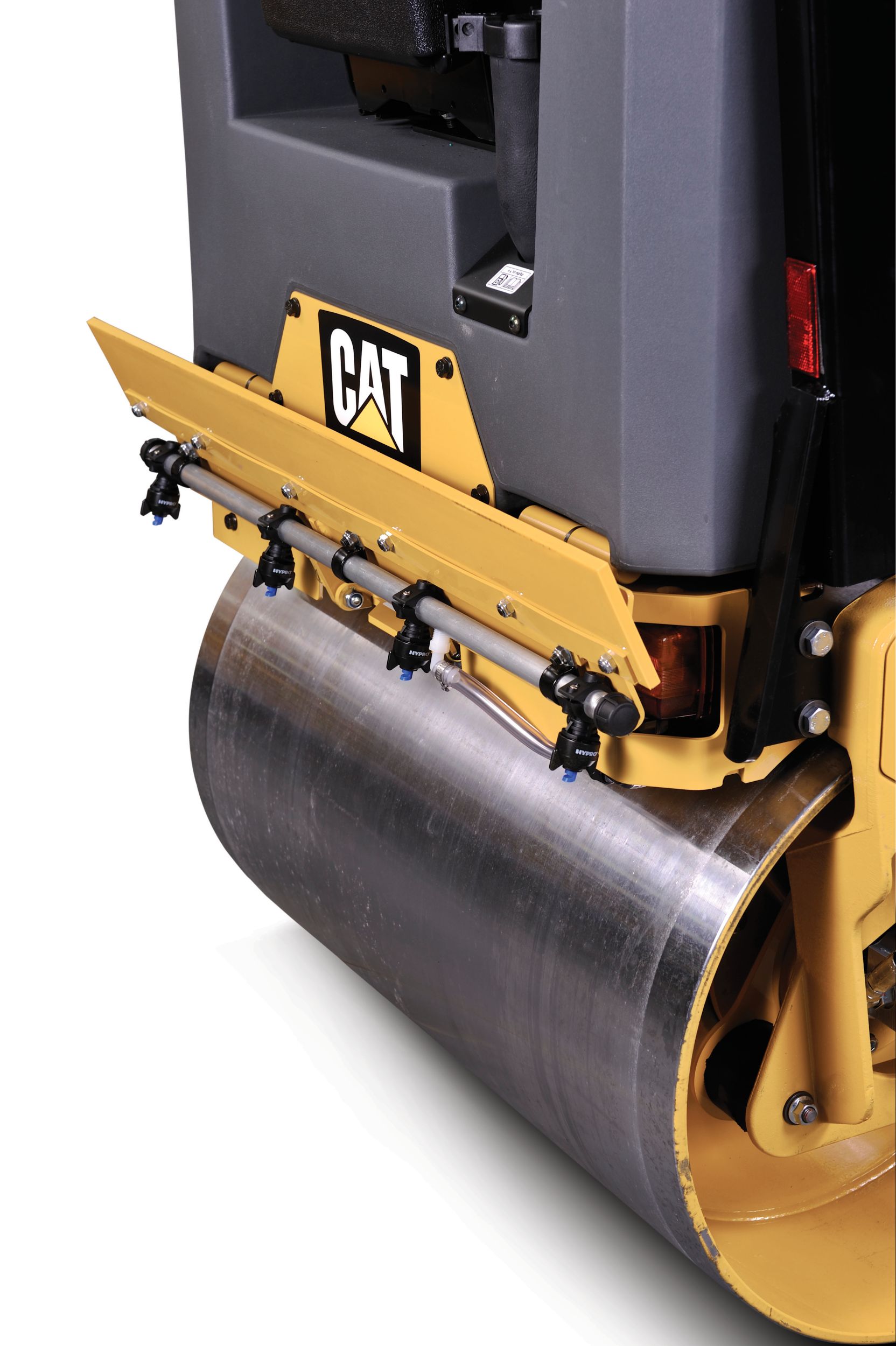 Preventing asphalt pickup is key to keeping a fresh mat in place. The water spray system on the CB14B Utility Roller includes many features that ensure quality.
Pressurized System
The standard 100 L (26 gal) tank maximizes time between refills. Eight intermittent spray settings optimize usage, while four nozzles at rear and front of each drum evenly distributes water coverage.
Easy Service
The system is equipped with corrosion-proof materials that are easy to clean. The spray bars and spray nozzles can be removed by hand, without the use of tools. The system is double-filtered system to help prevent clogging and a single drain port simplifies clean-out.
Serviceability
Productivity isn't just found while the roller is moving. Maintenance and service efficiencies also impact your bottom line.
Easy Component Access
The engine hood and operating platform are equipped with lift assist for quick access and servicing. The battery and water pump are easy to reach with the operator platform in the raised position. External engine components, hydraulics and routine service points are grouped for simplified access and ecology-minded draining.
Effortless Maintenance
Large space between radiator and oil cooler core provide easy cleaning. The fuel and water tanks are also conveniently located for fast cleaning. The electrical system utilizes color-coded wires, all-weather connections and nylon braiding to provide reliability and protection.
Foldable ROPS
Fixed ROPS
Suspension Seat
Lifting Bar
Warning Beacon
Working Lights
360° Exterior View
360° Interior View