Revolutionary design, Caterpillar quality. Cat has combined decades of waste handling experience with direct customer feedback in its design of a new Landfill Compactor. The 836 G-series takes advantage of the latest technologies, while continuing the Caterpillar commitment to the industry since 1972.
Waste Protection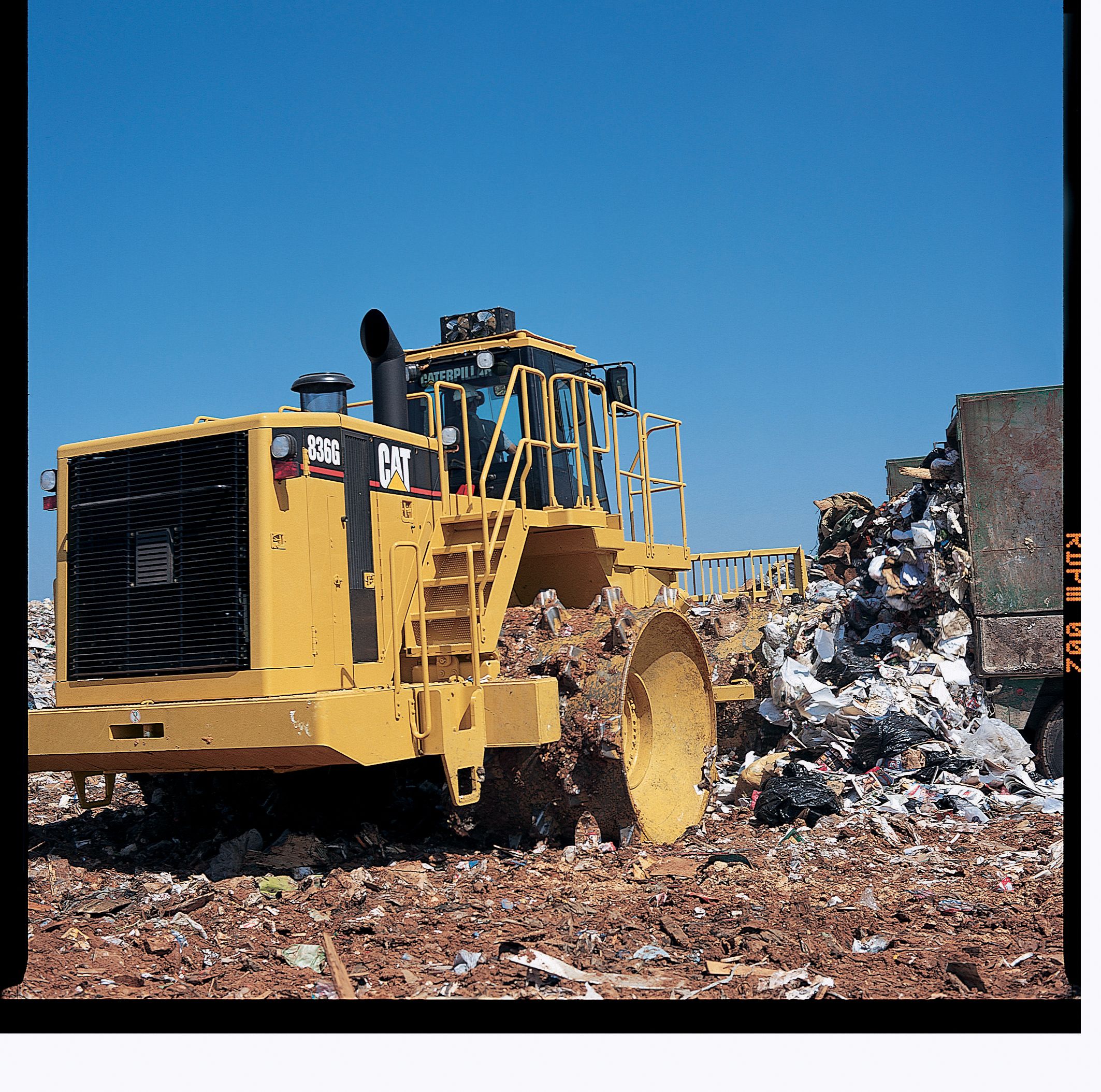 Increases cooling capacity and reduces trash and debris build-up.
The new separated fan and cooling system
on the 836G incorporates many trash resistant features, including an automatic reversing hydraulic demand fan, which reduces the chance of trash and debris entering the engine compartment. The system also reduces operating costs (fender cleanouts) and increases cooling capacity.
Electrically actuated engine and power train guards
help prevent trash build-up and shield components from demolition debris, trash, wire, rebar and harmful chemicals.
Cab bottom guard
protects hoses and wires beneath the cab from damage due to flying debris and waste.
Rear access walkover stairway
provides easy access to operator's station. Optional swingout stairway, provides for unparalleled access for clean-out, service and maintenance.
Striker Bars
are in front and behind the rear wheels, and behind the front wheels. They provide substantially improved protection from trash that can be thrown or carried by the wheels. The front also provides for access to the fuel tank in front frame.
Bolt protection
is provided on machine bottom to prevent premature wear out.
Hydraulic tank
is guarded to resist damage. Oil sight gauge is visible for easy checking.
Front frame guards
prevent trash build-up inside the frame that could damage hydraulic lines. The lift lines are in a higher location where damage from debris is less likely.
Fuel fill tube, optional fast fuel fill attachment, and fuel tank
are positioned away from debris and easily reached.
Wheels and Tips
Cat 836G Landfill Compactor offers excellent traction, productivity, and high compaction.
Extending the life
of your current site through increased compaction can be a cost-effective alternative to new site development.
The Caterpillar 836G Landfill Compactor,
the heaviest in its class, is available in a combination of wheel tip designs to provide productive and efficient compaction in landfill applications.
Long-life Weld-on Plus Tips with Extended Abrasion-Resistant Material (ARM)
Exclusive Plus-shaped design provides superior compaction densities, excellent traction and sidehill stability on sloped material. A widely-spaced tip pattern, engineered to require fewer tips than competitors, results in less plugging, lower replacement cost and maximum compaction. Each tip contains more wear material than competitive tips.
Proven exceptional compaction.
Caterpillar guarantees 10,000 hours or four years wear life.
Lower replacement cost.
Cat tips offer the lowest cost per hour of any compactor tips in the industry.
Self-cleaning Chopper Wheels (optional)
are designed to deliver maximum compaction and traction in landfill work.
Aggressive chopping action is provided by 28 blades per wheel.
Heat-treated DH-2, Abrasion-Resistant Material steel blades provide longer wear.
The staggered-chevron blade arrangement evenly distributes chopping coverage and blade center gussets help assure maximum refuse demolition.
Blades are mounted differently on front and rear wheels to maximize chopping and compaction in both forward and reverse.
Smooth Wheel Option
If our tip selection does not meet your needs, consider Caterpillar smooth steel wheels. This option ensures that no matter what landfill tip you prefer, you get Caterpillar wheels built to our stringent specifications. Our manufacturing and research engineers work together to design, build and test a complete power train system. The wheels, a critical component to the total system, are manufactured in the same facility as our landfill compactors. This ensures the entire system is complemented by each component. Altering critical components can compromise our power train system that is designed for peak performance. If an off-the-shelf manufacturer's wheels are installed that do not meet our design specifications and do not balance the load over our final drives, bearing life could be reduced substantially and cause premature wear out of other components, resulting in unnecessary downtime. This situation runs contrary to the Caterpillar goal to keep our customers operating with maximum productivity, performance and compaction. This option also allows our standard axle guard system to work with the components for which it was designed.
Landfill Features
Standard and optional features are designed for heavy-duty work in waste management situations.
The Cat Axle Guard System
protects final drives, planetaries and seals from damage caused by wire, cable, plastics or other materials which can wrap or become packed around axle components.
Guarding increases axle circumference to avert stringy materials from wrapping and encircling the axle.
Extended rim wheels further help to seal out materials which cling to wheel or axle surfaces.
Recessed bolt heads reduce snagging of stringy or stranded materials.
System reduces the need for periodic cleaning of axle assemblies.
A cab bottom guard (2)
protects hoses and wires beneath the cab from damage due to flying debris and waste.
Front frame guards (3)
prevent trash build-up inside the frame that could damage hydraulic lines.
Optional Front Window Guard
An all new, tubular steel guard across the bottom of the front cab glass prevents large debris from damaging the lower portion of the front windows.
Ground clearance
has been increased by 76 mm (3 in).
The straight blade
is ideal for most waste management applications.
Built to withstand the rigors of heavy-duty dozing.
Versatile blade for most applications.
Trash rack design provides excellent viewing and load-carrying capability.
Design incorporates Cat cutting edges.
The U-Blade
is heavier and has a larger capacity than the straight blade. • Offers more control of trash when pushing longer distances.
See a Caterpillar dealer
for blade and other specialty attachments available from Caterpillar.
Power Train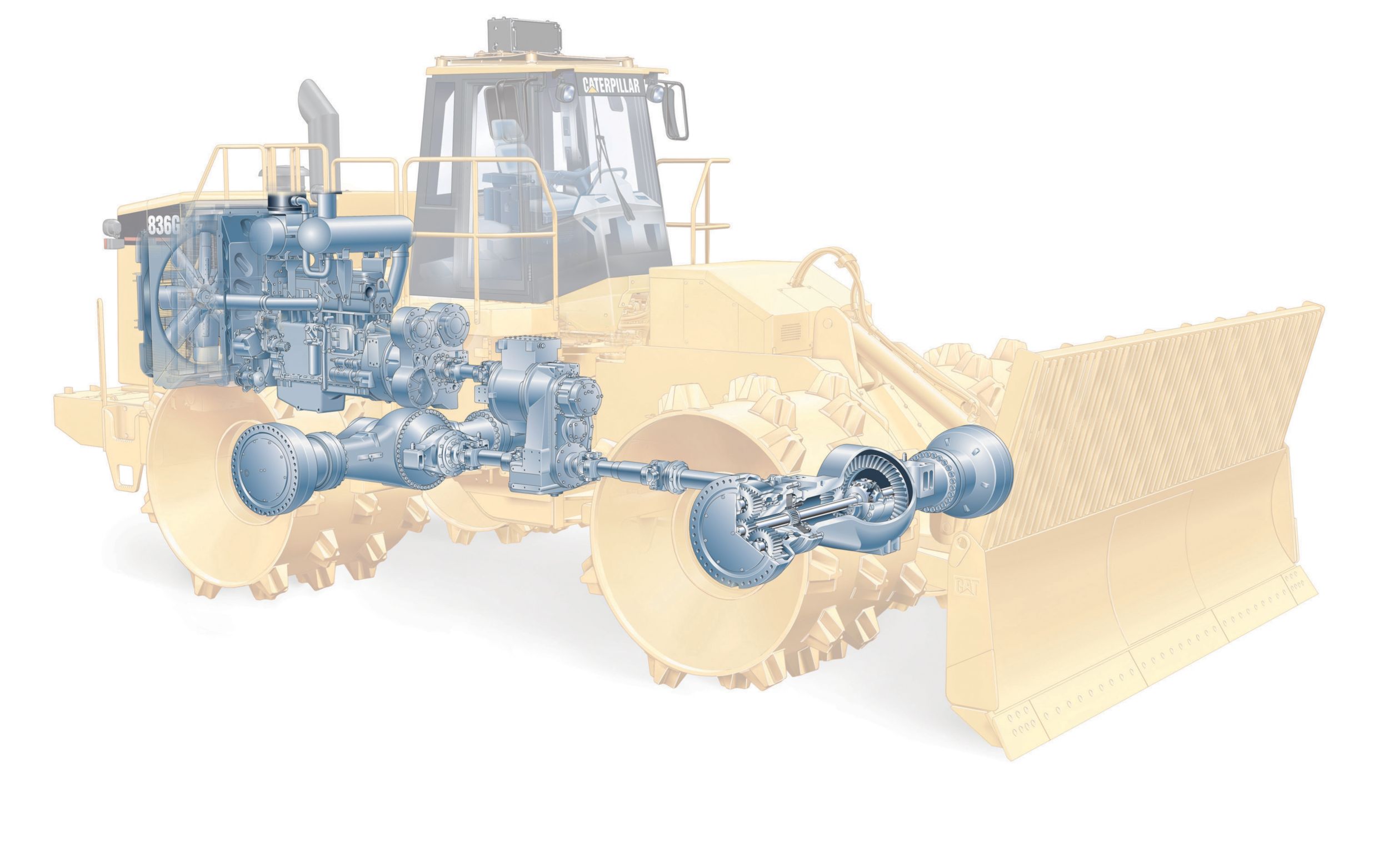 836G power train components deliver dependable, reliable performance customers expect from Cat Landfill Compactors.
1 The Caterpillar 3456 Diesel Engine
is based on one of the most popular Cat engines available — the 3406E. It meets U.S. Environmental Protection Agency Tier 2 emissions regulations and Stage II EU Emissions Directive 97/68/EC. The 3456 features 481 net horsepower, compared to the 473 horsepower available in the previous model. The 3456 provides quick response, high productivity and exceptional service life while improving fuel efficiency up to 17 percent.
2 Separate engine cooling system
isolates the radiator and fan from the engine compartment, which provides: - Lower sound levels. - A cleaner engine compartment. - A sloped hood for improved viewing. - More efficient cooling by drawing air through the side instead of through the engine compartment.
3 Caterpillar planetary, electronic, power shift transmission
Electronic shifting provides smooth, consistent shifts with finger tip controls housed in the steering system. Large diameter clutches coupled with four and five planet gear trains provide added durability for extended, trouble-free life.
4 Impeller Clutch Torque Converter
offers improved rimpull control and extended tip and wheel life. The torque converter is equipped with a lockup clutch and free wheel stator for improved fuel efficiency.
Left pedal control allows the operator to reduce rimpull from 100 percent to 20 percent while maintaining high engine speed for slower controlled work without a loss of power. After 20 percent is achieved, further pedal travel applies the brake.
Impeller clutch is locked in fully engaged position for maximum engine power transfer.
Lockup clutch provides direct drive efficiency for increased productivity and improved fuel economy on long distance dozing.
5 Oil-enclosed, multiple-disc brakes
on front axle provide consistent performance and reliability through heat rejection and easy serviceability.
Hydraulics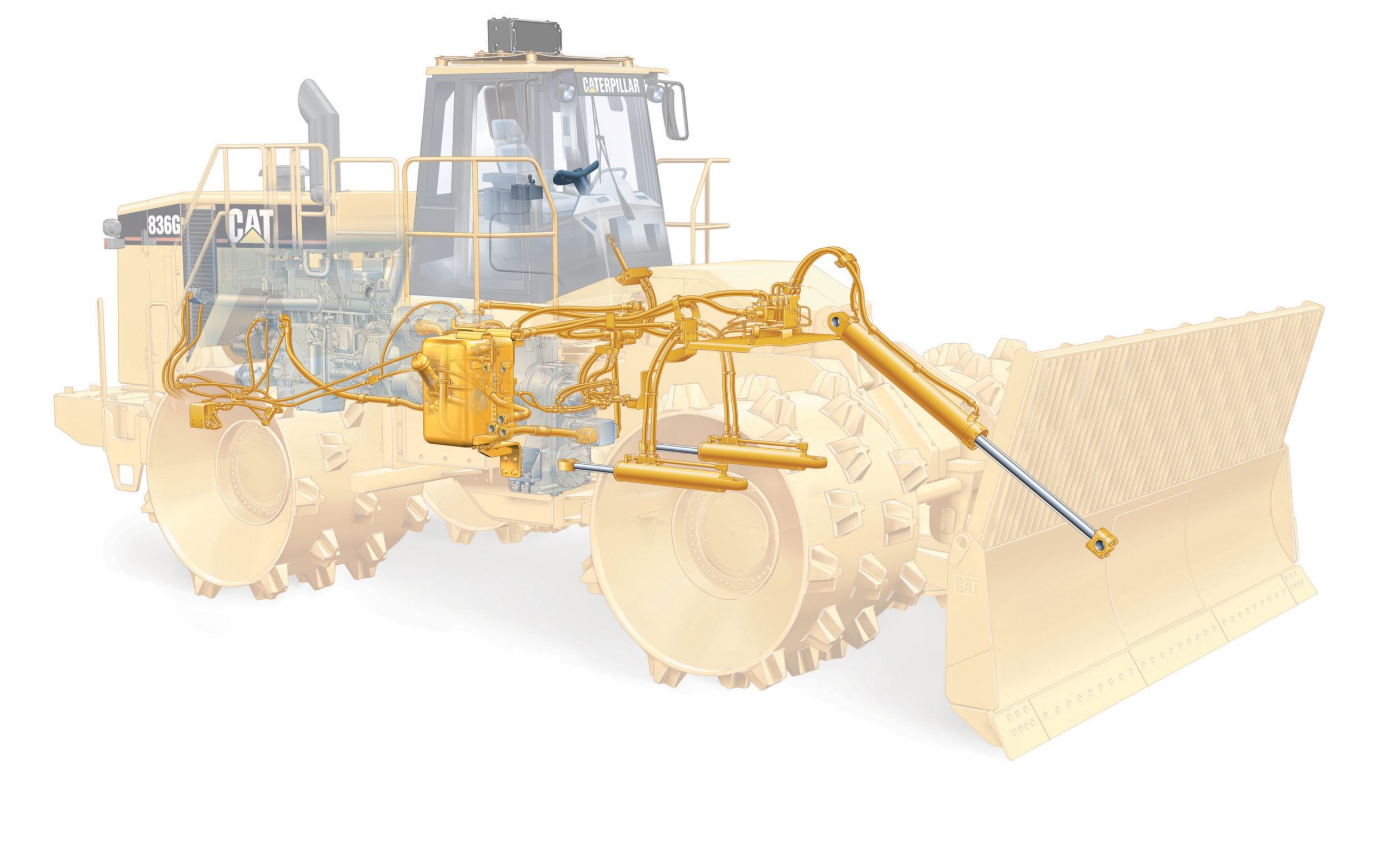 Well-balanced hydraulics deliver precise low-effort control and trouble-free operation.
Revolutionary electro-hydraulic control system
provides low-effort fingertip control. Floor-mounted control pod lever sends electrical signals to a pilot valve mounted on the front frame. This moves the sound, heat and effort caused by a hydraulic valve out of the operator's station.
1 Lift lines
are in a higher location where damage from debris is less likely.
The Reversing Demand Fan
is a speed controlled, hydraulic fan that provides maximum cooling efficiency. Power is directed through the fan system only when it is needed and reverses automatically to purge debris. (Pressing rocker switch in cab may also manually reverse fan.)
Operator Controls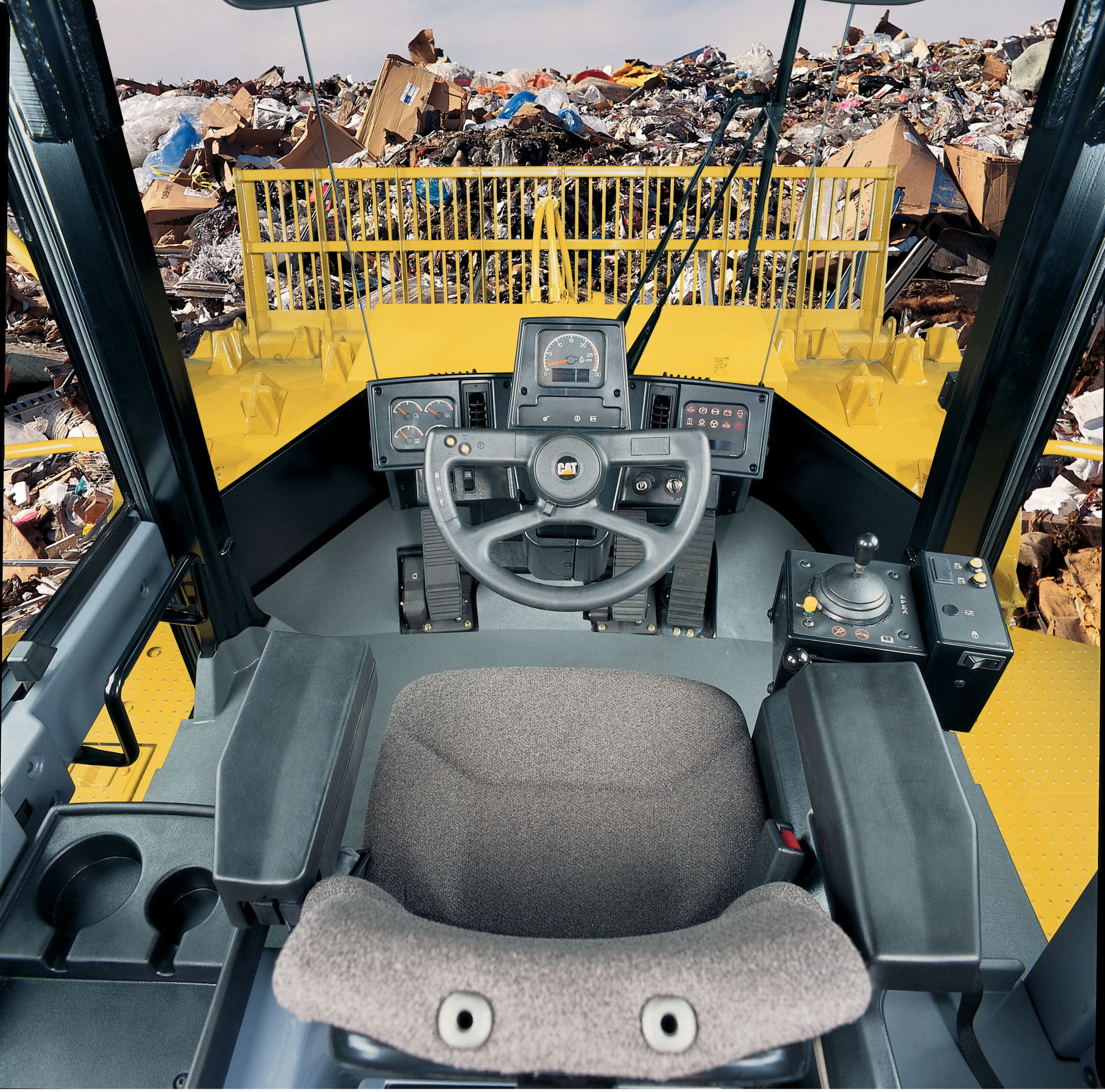 A revolutionary way to operate with easy-to-use, low-effort controls.
The 836G benefits significantly from the dramatic reduction in operator motion effort
provided by Assist steering, STIC steering, and hydraulic blade controls. These features make the 836G the easiest operating machine in its size class.
1 Assist steering
allows one hand operation of steering and transmission controls. Unlike traditional steering, which rotates more than one full turn, the assist steering wheel rotates approximately 50 degrees in both directions. Tilt and telescoping steering column help fit the machine to the operator.
2 STIC Control System (optional)
is a revolutionary system that integrates steering and transmission into a single controller. Simple side-to-side motions of the operator's left arm turn the machine right or left.
3 Floor-mounted electro-hydraulic blade controls
are adjustable fore and aft, with a height-adjustable armrest so that operators of any size can find a comfortable operating position. Single lever control allows operator to control blade functions.
Operator Station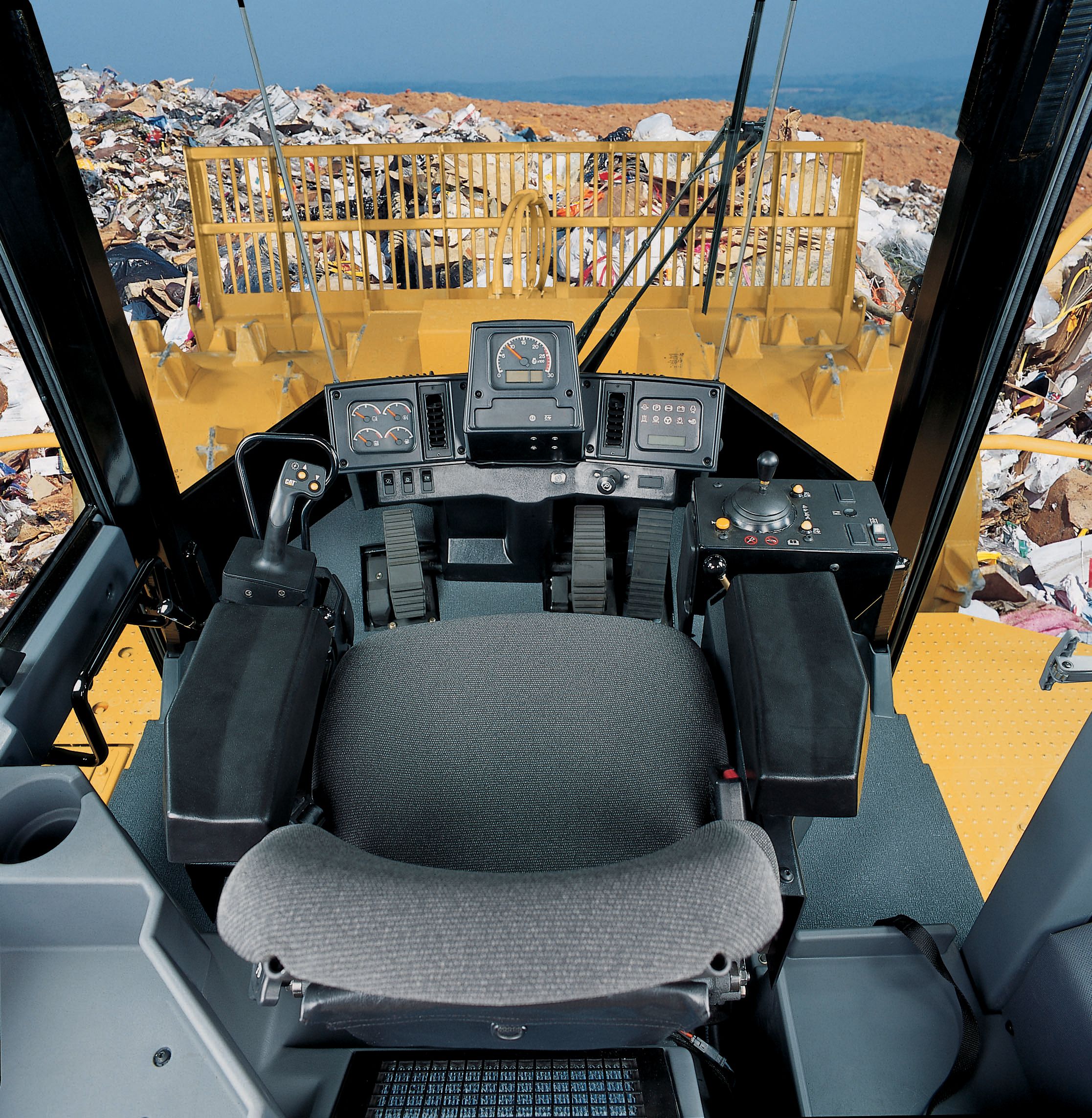 Comfort and control - a top quality operator station will help maximize productivity.
Improved viewing in all directions:
Extended windows open the operator's view for exceptional forward and peripheral viewing.
Bonded glass in the front window eliminates distracting metal frames for improved operator viewing to the blade.
The downsloped hood improves rearward viewing by allowing the operator to see objects closer to the machine.
1 Internal ROPS
improves visibility and styling, giving the 836G a sleek new look.
2 Left foot pedal
operates Impeller Clutch Torque Converter for about the first inch of travel, then engages the brakes. Within the first inch of pedal travel, rimpull can be controlled from 100 percent to 20 percent.
3 Comfort Series seat
is six-way adjustable and has a one inch thicker seat cushion, providing increased operator comfort and support. The seat cushions reduce the pressure on the lower back and thighs, while offering freer arm and leg movement. Air suspension adds to the overall comfort level for a smooth ride over rough terrain.
4 Throttle lock
allows operator to preset the engine speed and remove his foot from accelerator pedal while maintaining constant power. The throttle lock can be deactivated by pressing the brake pedal.
5 Electronic Monitoring System (EMS)
provides gauges, tachometer, speedometer, and three-level warning for full-time monitoring of key functions. The system alerts the operator of immediate or impending problems with engine oil pressure, brake oil pressure, charging system, parking brake, hydraulic oil level, transmission filter, and low fuel.
6 Heating, air conditioning and lights
are controlled by easy to access rocker and rotary switches located above right door.
7 Armrests and controls
are mounted on the floor and off of seat for a more durable seat and added stability of controls.
Ventilation ducts and vents provide better airflow to the operator and windows
through 12 louvered vents, including two on each door post.
Complete Customer Support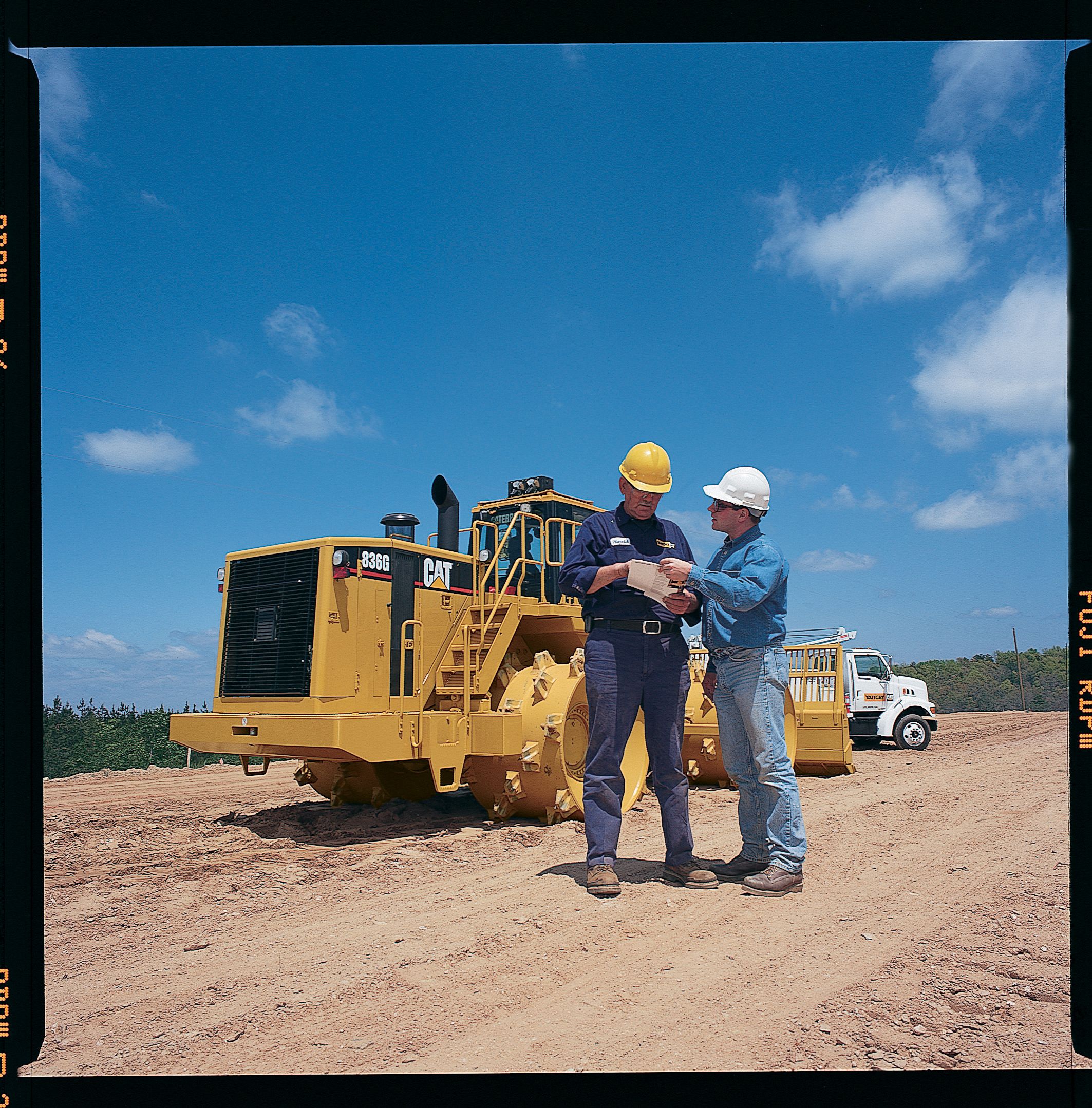 Cat dealer services help you operate longer with lower costs.
Cat dealers offer
a wide range of services that can be set up under a customer support agreement when you purchase you equipment. To help you get the best return on your investment, the dealer will assist you in choosing a plan that can cover everything from machine and attachment selection to replacement.
Selection
Customers should make detailed comparisons of the machines under consideration before buying. Cat dealers can give precise answers to these questions: How long do components last? What is the cost of preventive maintenance? What is the true cost of lost production?
Operation
Improving operating techniques can boost your profits. Cat dealers have training videotapes, literature and other ideas to help you increase productivity.
Maintenance
More and more equipment buyers are planning for effective maintenance before buying equipment. Choose from a Cat dealer's wide range of maintenance services at the time of purchase. Repair option programs guarantee the cost of repairs up front. Diagnostic programs such as S•O•SSM Fluids Analysis and Technical Analysis help avoid unscheduled repairs.
Replacement
Repair, rebuild or replace? Cat dealers can help evaluate the cost involved so you can make the right choice.
Product support
You will find nearly all parts at a Cat dealer parts counter. Cat dealers utilize a world-wide computer network to find in-stock parts to minimize machine down time. Save money with remanufactured parts. You receive the same warranty and reliability as new products at cost savings of 40 percent to 70 percent.
Literature Support
An easy-to-use operation and maintenance manual helps you get the full value from an equipment investment.
Serviceability
Keep your machine up and running with easy-to-perform daily maintenance.
Accessibility for daily maintenance
has never been easier than on the 836G. If maintenance is simple and accessible, it gets done.
1 Standard swing-out radiator fan
provides for easy access to the radiator cores for easy cleaning and/or inspection.
2 Advanced Modular Cooling System (AMOCS)
maintenance is simplified since it is isolated from the engine compartment and allows service technicians to replace individual cores for enhanced serviceability.
3 Swing-out doors on both sides of the engine compartment
provide easy access to the engine oil dipstick and filler spout, S•O•SSM port, fuel filters, engine oil filters, alternator, starting receptacle, air filter service indicator and ether starting aid. Disconnect switch and diagnostic connector are located in rear platform.
4 Cab support
bracket provided with every machine improves access under the cab. The bracket is conveniently stored behind the cab.
5 Optional swing out stairways
provide easy inspection of rear axle components and access to engine compartment.
Electronic Monitoring System II
notifies the operator and service technician of potential problems and logs events.
Diagnostic connector
enables quick evaluation of eleven starting and charging functions.
U-Joints and slip shaft
are permanently lubricated.
Lube points
are centralized in accessible locations from ground level for quicker and easier service.