The new PM102 with a wheel undercarriage combines enhanced production capabilities, optimized performance and simplified service to complete tough milling applications with productive results. The Cat® C7 Engine with ACERT Technology provides ample power while meeting U.S. EPA Tier 3 and European EU Stage IIIa compliancy. Designed for high production and long life, the PM102 rotor has quick release conical tool holders for quick and easy tool replacement. And the conveyor can be folded to reduce machine dimensions during transport.
Cat® C7 Engine with ACERT Technology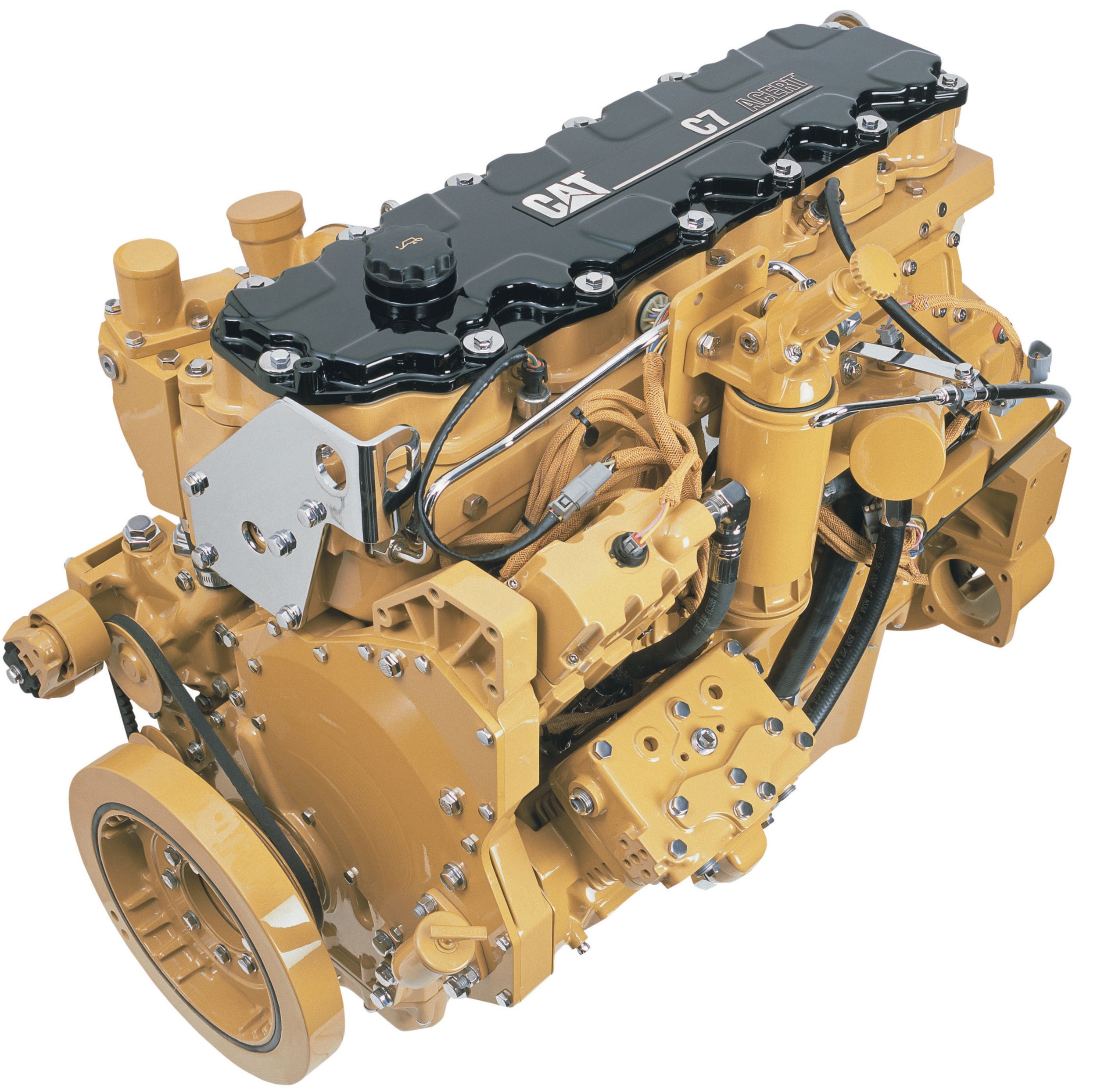 The Cat® C7 Engine with ACERT Technology combines proven systems with innovative new technologies to precisely deliver fuel to the combustion chamber. Powerful and efficient, the C7 is US Tier 3 and EU Stage IIIa emissions compliant.
Cat Diesel Engine
The engine offers outstanding value by combining industry leading electronic capabilities, performance and reliability with optimum fuel economy.
Optimized Power Curve
Engine power curve is optimized for milling applications providing optimum power while keeping the engine operating at peak efficiency.
Turbocharged and Air-to-air Aftercooling (ATAAC)
High horsepower with increased response time is assured while keeping exhaust temperatures low and in concert with the tight tolerance combustion chamber components, maximizing fuel efficiency and minimizing emissions.
Hydraulic Electronic Unit Injection
This feature provides reduced engine noise, improved fuel economy, faster hot and/or cold starts and better high altitude performance.
Propel System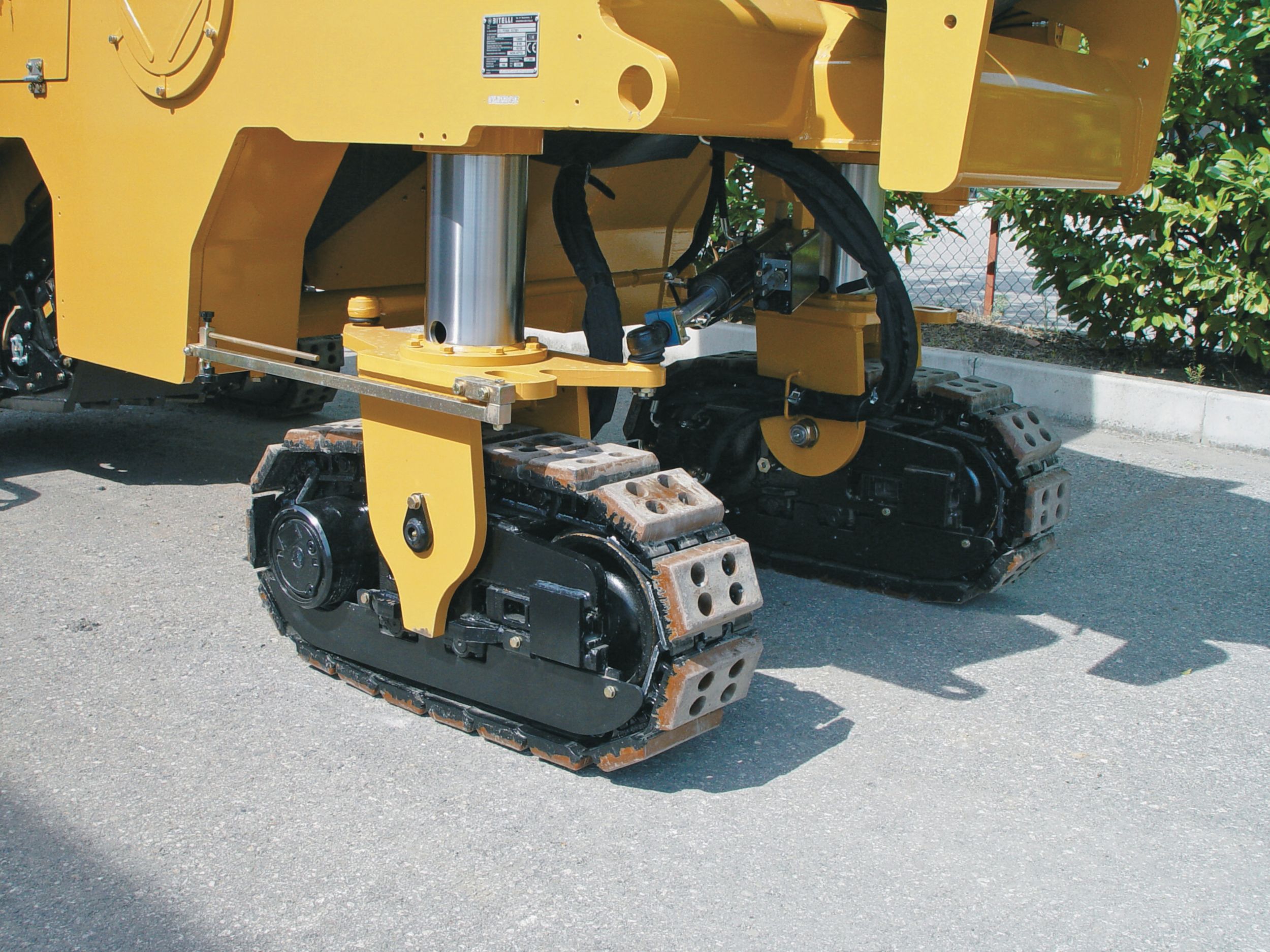 Hydrostatic drive with hydraulic flow provided by a variable displacement axial piston pump. Dual displacement drive motors on each track provides balanced tractive effort.
Load Control System (Anti-Stall)
The electronically controlled system matches propel speed to load on engine for maximum production.
Two Speed Ranges
The machine operates at either maximum torque throughout the entire milling speed range or at a faster travel speed for moving around the job site.
Positive Traction Control (Flow Divider)
Equal hydraulic oil flow to each drive motor increases tractive effort in hard cutting applications. The positive traction control is actuated from the operator's console.
Polyurethane Track Pads
Track pads in polyurethane provide long service life and positive traction on all pavement surfaces.
Wheel Undercarriage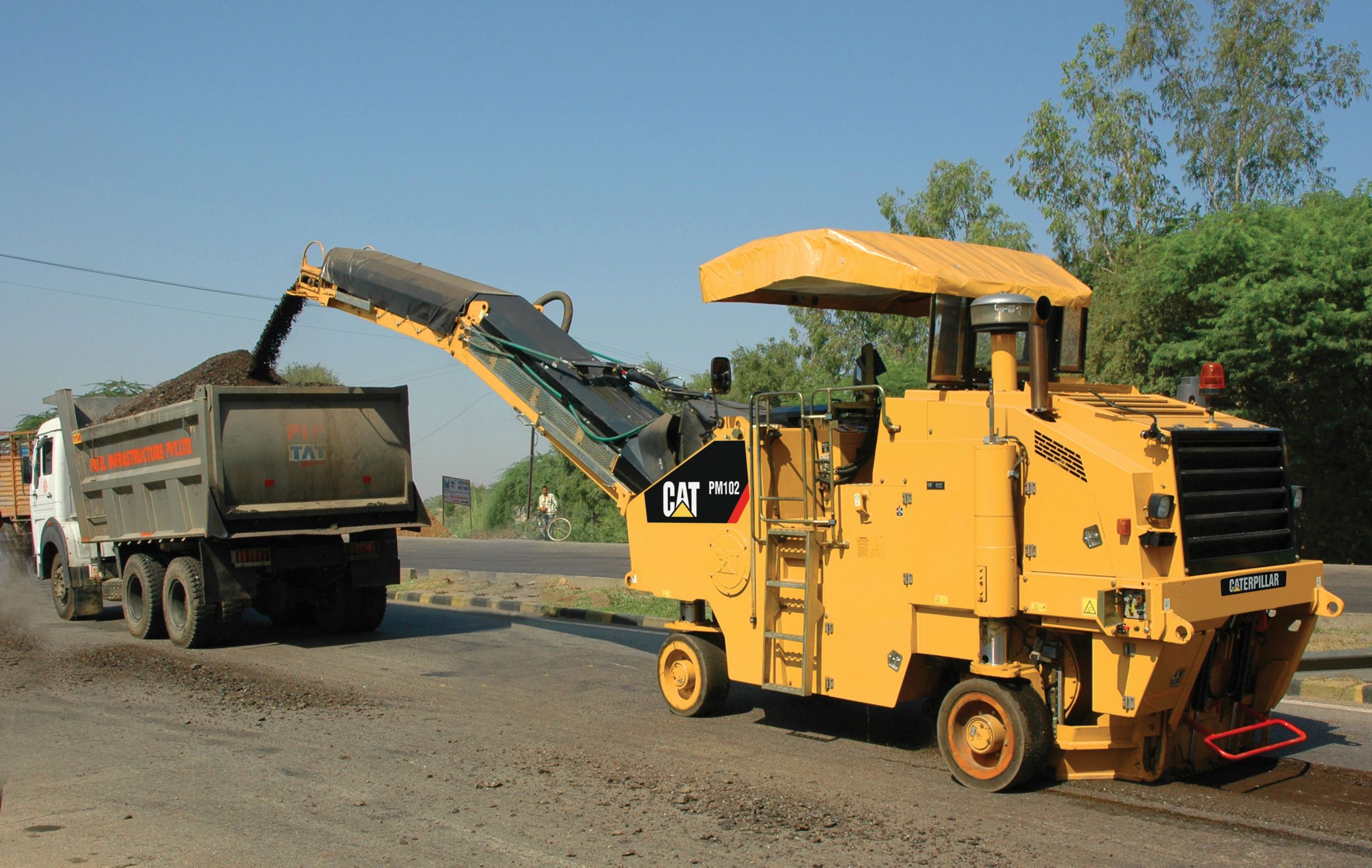 Wheels provide high travel speeds, which reduce machine repositioning times.
Total Traction
The hydrostatic transmission on all four wheels, via a flow divider, and self levelling front axle ensure positive traction and optimum performance in all applications.
Optimum Maneuverability
The large, wide-tread tires provide optimum maneuverability on tight curves and traction when driving in and out of the cut.
High Travel Speed
The high travel speed of the PM102 significantly reduces repositioning times and machine transfer on the job site.
Flush Cutting
The right rear wheel support can be positioned inside the machine's cutting width for full flush cutting applications. With the right rear wheel swung in, the machine can cut close to a wall, barrier, or other vertical obstruction.
Rotor Drive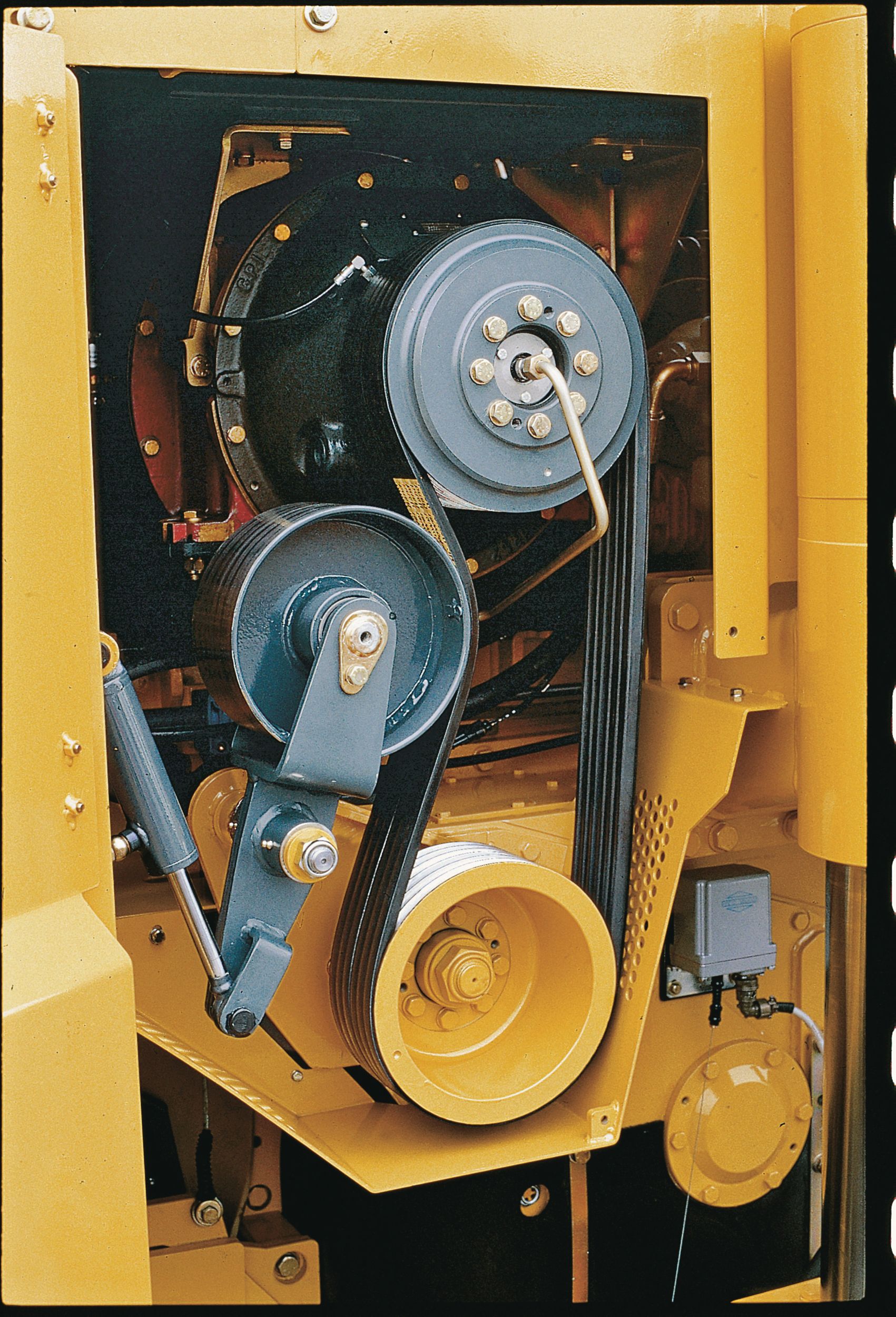 Delivers maximum available horsepower to each cutting tool.
Mechanical Dry Clutch
The rotor drive consists of trapezoid pulleys, molded high-strength belt and a hydrauliccoupling dry clutch. The field-proven drive system delivers reliability and long service life.
Drive Train Protection
A drive train protection device protects rotor drive system, rotor and tools by instantly disengaging rotor drive whenever an abrupt drop in rotor rpm occurs.
Two Cutting Speeds
Upper and lower sheaves are easily interchangeable for maximum torque with the toughest materials and different material sizing requirements.
Molded Six-Rib High Tensile Belt
High tensile belt provides efficient transmission and long service life.
Automatic Belt Tension Adjustment
The hydraulically powered automatic drive belt tensioner prevents rotor drive belt slippage and reduces maintenance.
Rotor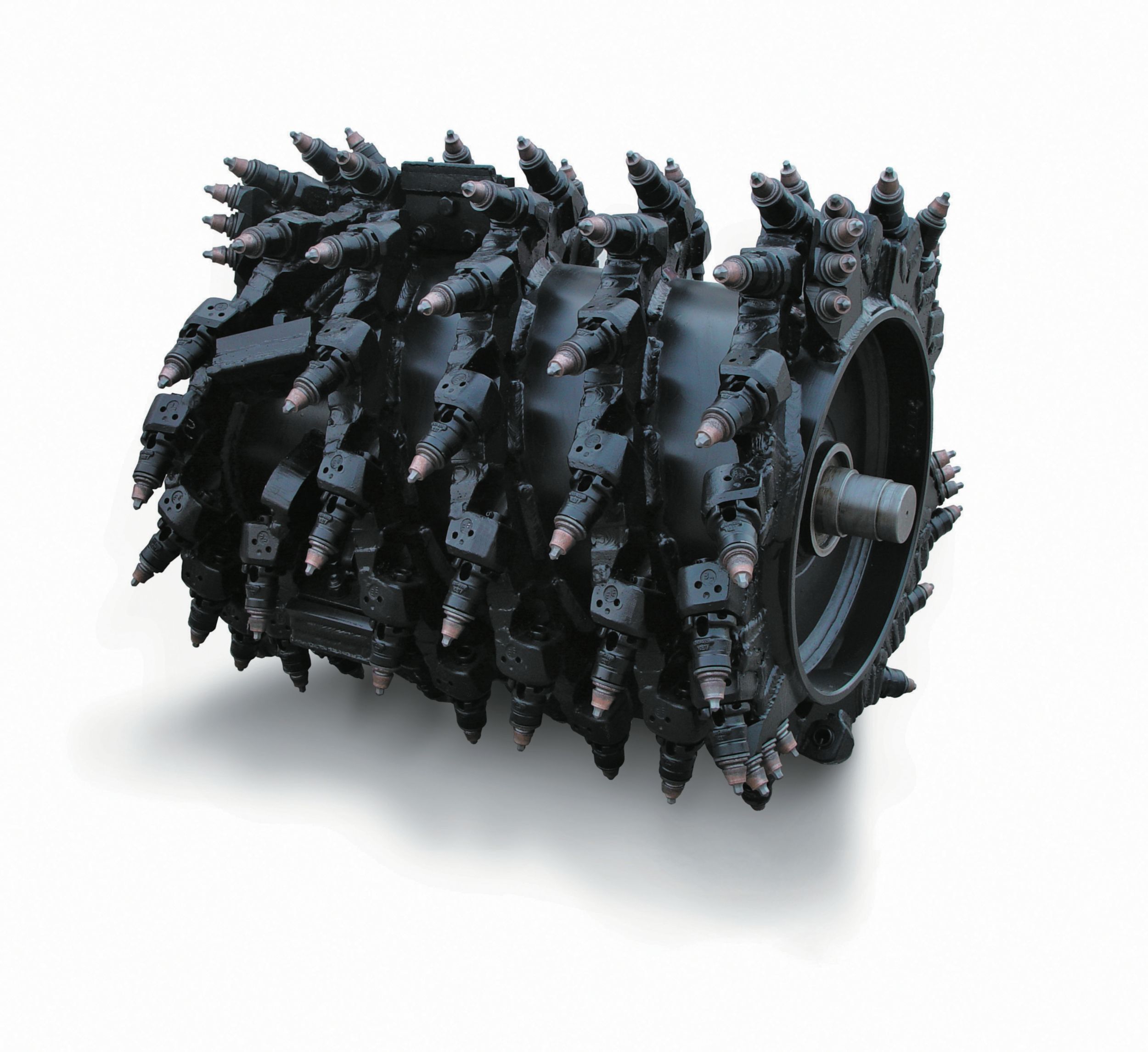 Designed for high production and long service life. Quick release conical tool holders for quick and easy tool replacement.
98 Carbide-Tipped Tools
Tools are mounted in durable three-piece, quick release patented tool holders and arranged in a triple wrap flighting pattern for maximum breakout force.
Quick Release Conical Tool Holders
A tapered fit maintains tightness in holder base. Fast and effortless tool removal is provided by the quick release conical tool holder tool removing system.
Large Replaceable Carbide Faced Loading Paddles
Loading paddles effectively move milled material onto collecting conveyor resulting in higher production and less wear on inside of rotor chamber and cutting tools.
Optimum Tool Spacing
Triple-tree tool placement on rotor ends provides optimum tool spacing to clean up loose material and reduces wear on drum when maneuvering in the cut.
Primary Collecting Conveyor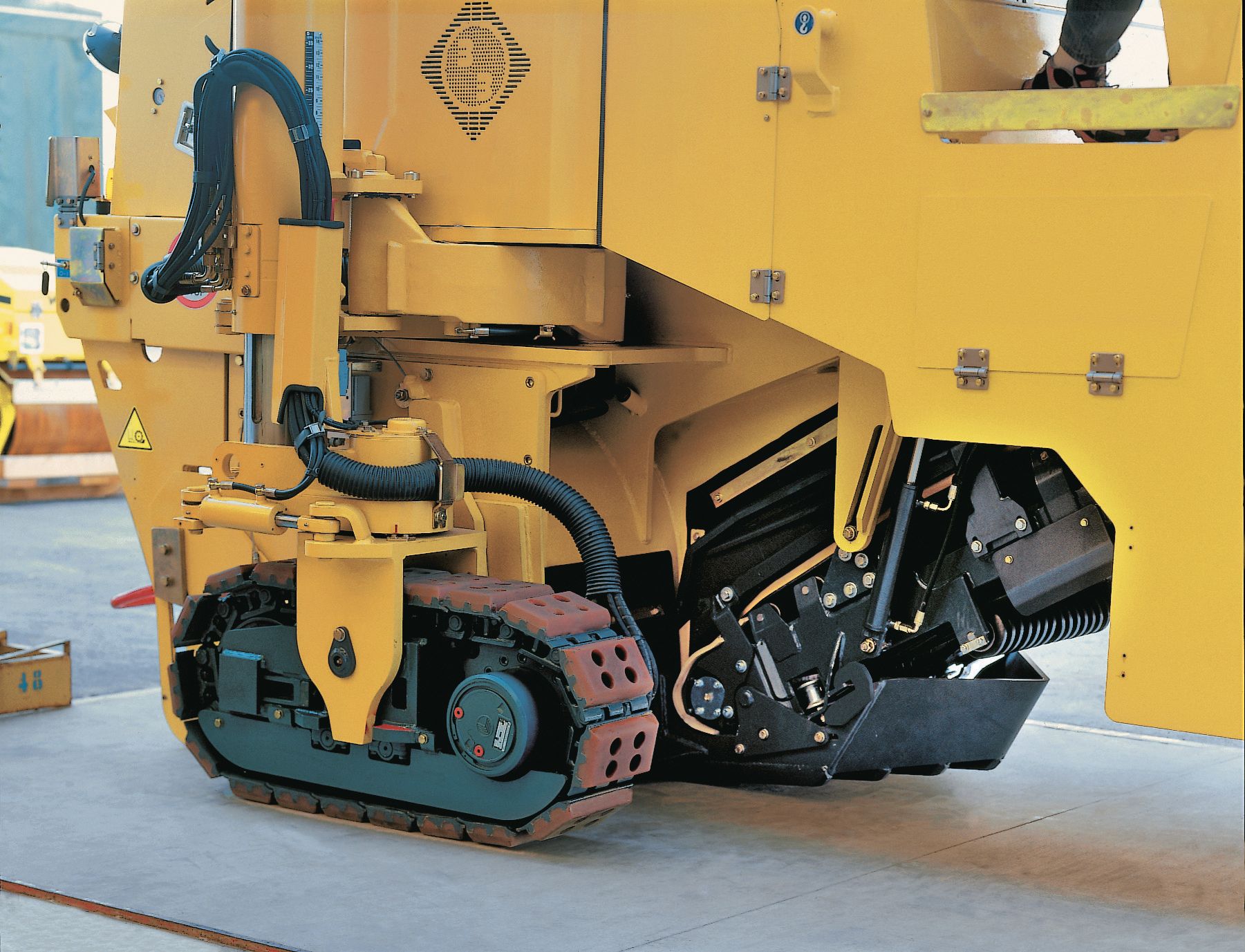 The collecting conveyor belt efficiently clears out the cutter box fast. Water spray system for lubrication, cooling and dust reduction.
Optimum Material Sizing and Gradation
The hydraulically operated anti-slab device prevents slabbing of the road surface, protects the collecting conveyor and ensures an optimum discharge opening to the rotor chamber.
Maximum Efficiency
The collecting conveyor's width measures in at 550 mm (21.6") and is driven by a high torque hydraulic motor for maximum efficiency.
Variable Belt Speed
The collecting conveyor features variable belt speed for optimum production in all applications. Reversible belt rotation control is also provided.
Optimum Dust Reduction
Standard pressurized water spray lubricates and controls dust on collecting belt. Water spray nozzles are easily removed for inspection and replacement without the need for tools.
Folding Front Loading Conveyor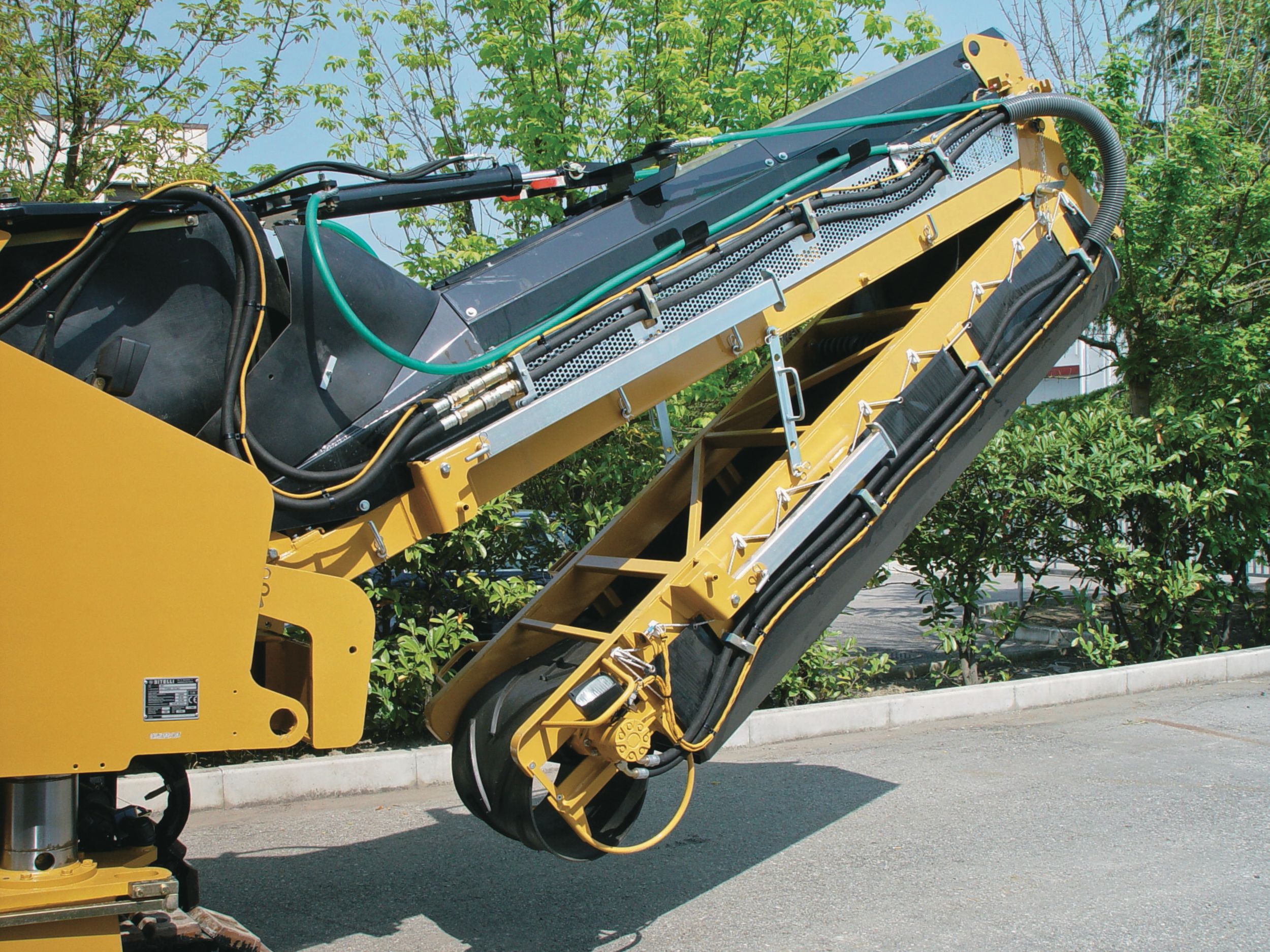 High capacity and versatility add to increased job site productivity. Conveyor can be folded to reduce machine dimensions during transport.
Folding Conveyor
Machine transportation is made easier by the folding front conveyor that reduces the machine dimensions.
Hydrualically Controlled Height Adjustment
The upper conveyor's width measures in at 600 mm (23.6") and its height adjustment is hydraulically controlled while two cylinders provide a 41 degree swing to the left and right.
Variable Loading Belt Speed and Reversible Rotation
The front loading conveyor also includes variable belt speed and reversible belt rotation control. The loading belt speed is infinitely variable and provides optimum discharge capability for uniformly loading the haul truck.
Simplified Conveyor Removal
Quick-fitting hydraulics and mechanical conveyor components allow the front conveyor to be easily detached from the machine.
Operator's Station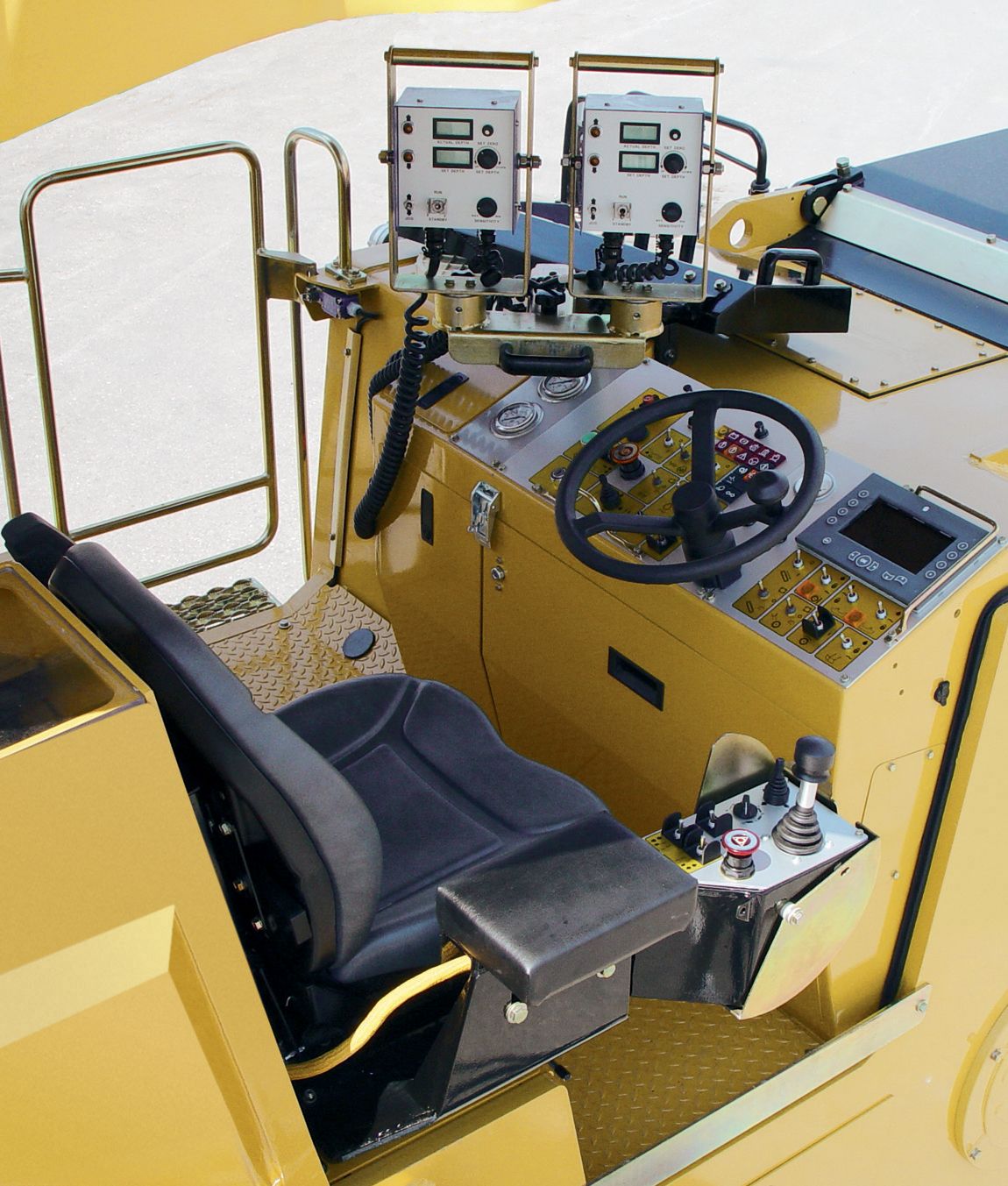 Designed for efficiency, productivity and simple operation. Easy to reach controls minimize operator fatigue.
Ergonomic Operator's Station
The full width operator's station provides a view of the front loading conveyor and side plates for precise and rapid positioning.
Suspension Seat
Durable suspension seat with armrest provides optimum operator comfort.
Warning Horns and Shut Down Buttons
Located on the operator's station and at ground level control stations.
Hydrualically Operated Canopy Option
Full width canopy with two extending side wings and front windshield and rear window provides optimum operator comfort and protection. Canopy can be hydraulically lowered during transportation.
Operating Controls
The distribution and clear instrumentation layout on the front and side control consoles have been designed to ensure minimum operator effort and maximum automation. All gauges and displays are easily visible even in direct sunlight.
Graphic Disply
A large display, easily visible in direct sunlight, provides operating parameters for machine and engine diagnostics. The display presents a single interface for service diagnostics and calibration.
Computerized Monitoring System (CMS)
The system constantly monitors system pressures and engine condition with multiple modes of operation. Alerts the operator if a problem does occur with three levels of event information.
Standby Control
A single switch control allows the operator to engage or disengage main operating functions including propel, water spray system, leveling system and conveyor rotation for maximum automation.
Flush Cutting Feature
Full flush cutting operation with hydraulic control of the right rear leg, allows the PM102 to be used up close to a curb, wall or guard rail.
Flush Cutting
The right rear leg can be swung in within the machine's cutting width for full flush cutting applications. With the right rear leg swung in, the machine can cut close to a wall, barrier or other vertical obstruction.
Exclusive Caterpillar Single-Peice Swing-Arm Design
The swing-in arm mechanism ensures increased rigidity eliminating excessive wear for increased component life.
Automatic Control
The rear leg swing-in system is automatic and controlled from the operator's station. The operator is not required to leave the seat while positioning the right rear leg within the machine's cutting width.
Steering Right Rear Track
Optimum machine handling for precise control and production.
Precise Control
A microprocessor electronically controls the steering angle of the right rear track. The rear track steering angle is automatically adjusted in relation to the position of the front tracks.
Enhanced Steering Ability
The machine's rear track steering feature facilitates operation in confined areas and ensures a close cut around cul-de-sacs or turns. The right rear track steers in both positions, whether positioned within or outside the cutting width.
Automatic Grade and Slope Control Option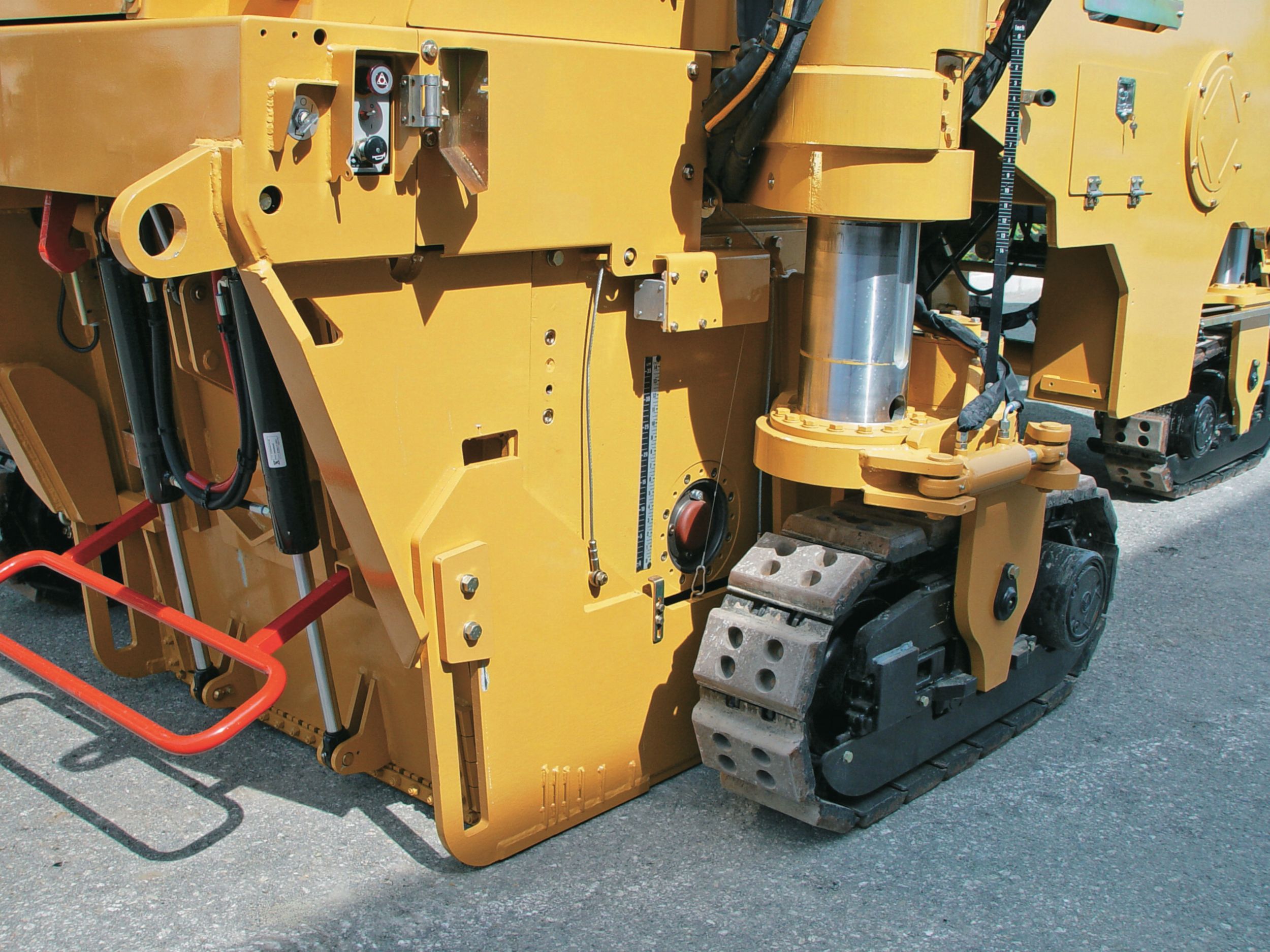 The optional grade controls provide precise control of rotor to a preset cutting depth. System can be configured to control grade or cross slope.
Contacting Wire Rope Grade Sensors
Wire rope grade sensor measures side plate movement that enables the entire length of the side plate to become an averaging device for extremely accurate grade matching. Cross slope sensor adds to system versatility.
Leveling Control Boxes
Two control boxes located at the operator's station allow manual or automatic leveling adjustment. Constant read-out for rotor depth and cross slope are displayed on each control box and is easily visible even in direct sunlight or low light conditions.
Reliability and Serviceability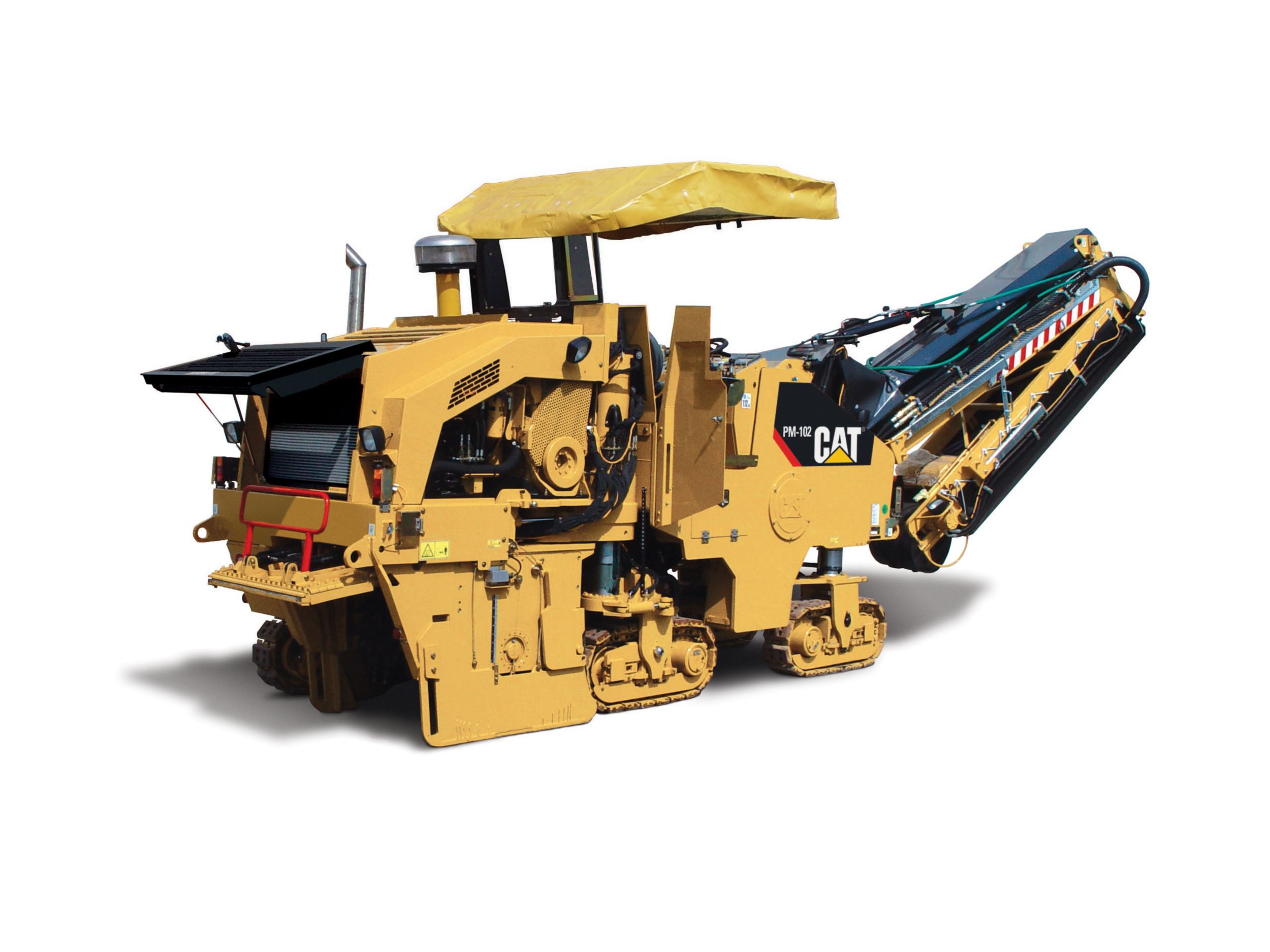 Reliability and serviceability are integrated into every Cat machine. These important features keep your machine investment profitable.
Large Service Doors
Large service doors provide access to engine and hydraulic components. Engine side covers swing wide to allow ground level access to engine. Rear cover swings up for access to radiator and oil cooler.
Hydrualic Rotor Service Door
The rotor service door opens wide for easy access to rotor for inspection and tool maintenance.
Electronic Control Module (ECM)
The ECM monitors machine systems and provides self-diagnostics for operator or service personnel.
All-Weather Connectors
Nylon braided wrap ensure electrical system integrity.
Visual Indicators
Visual indicators allow easy check of water spray tank level and hydraulic oil tank level.