Loader versatility
The Cat parallel loader offers many important advantages.
Loader
The parallel loader means business - more versatility, more breakout force, more lift capacity.
Loader Attachments
The hydraulic Quick Coupler enhances attachment versatility and provides greater machine utilization.
Operator Station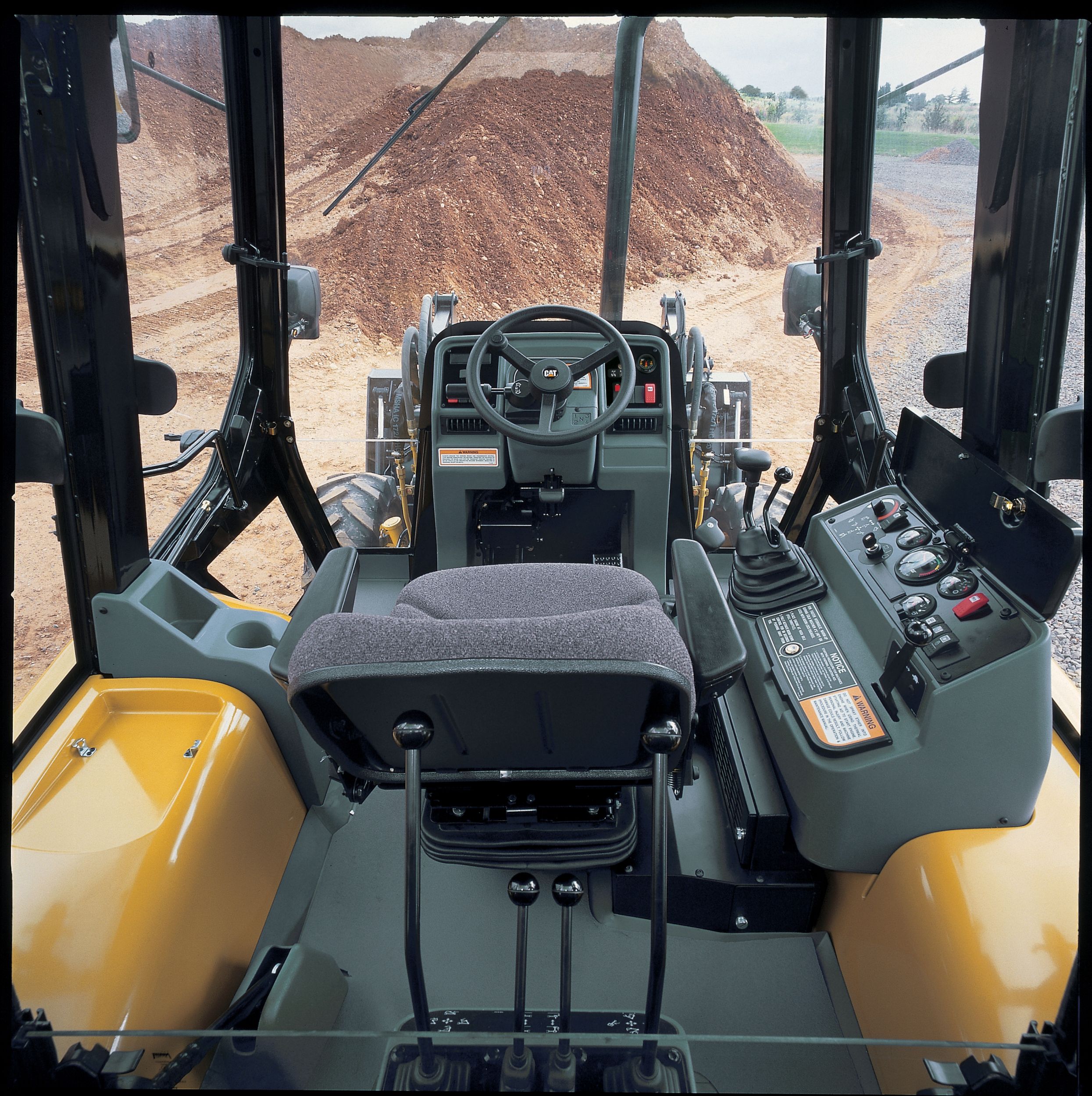 A new level of comfort and visibility has been achieved in the 438C cab. The operator has total machine control in a comfortable environment.
Visibility
The Cat 438C is specifically designed for maximum visibility - all around. The sloping front hood and divergent lift arms allow the operator to see more of the forward work area and loader attachment.
Operator Comfort
The cab on the 438C is designed to maximize operator comfort.
Operator Controls
The Cat 438C backhoe loader provides smooth, precise control, and ease-of-operation.
Power Train/Chassis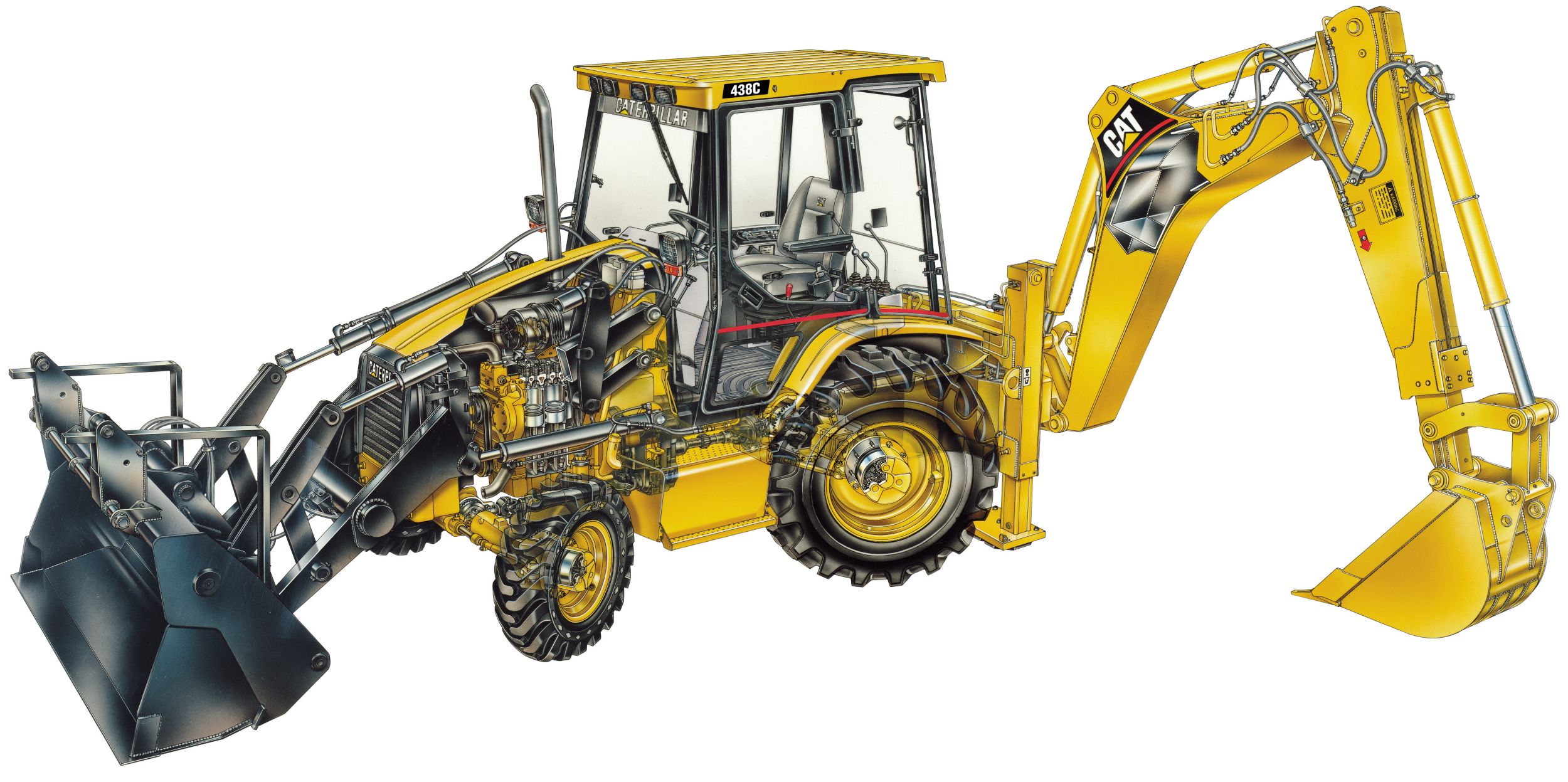 Designed for strength, performance, and versatility.
Caterpillar 3054 Turbocharged Engine
Net horsepower ratings for the 438C have increased to 70 kW (93 hp), a 8-hp increase from the original C-Series specifications.
Air Filter
A dry-type radial-seal air filter has been designed specifically for this engine. This two-stage filter incorporates the function of the air cleaner and precleaner into a single unit, which eliminates the hood-mounted precleaner.
Axles and Brakes
The rear axle is an enclosed design that allows extended operation even in the harshest environments. Multi-disc, hydraulic brakes are oil-immersed and self-adjusting.
Hydraulics
The Caterpillar variable-flow system senses the work demand and adjusts flow and pressure to match it. And Cat XT hose virtually eliminate downtime from hose failure. If a hose does need replacing, it's fast, easy, and requires no special tools.
Caterpillar Couplings
Caterpillar Couplings are equipped with O-ring face seal fittings for long life and less maintenance.
Stackable Counterweights
Stackable counterweights allow easy adjustment of weight distribution without having to completely replace an existing counterweight.
Power-Shuttle Transmission
The Power-Shuttle transmission provides four speed selections in a constant mesh synchronized arrangement.
Optional Power-Shift Transmission
Work faster with the new optional Power-Shift transmission. One lever does it all. A twist-grip mounted on the left side of the steering column changes speed and direction resulting in increased productivity. And there's no floor-mounted shift lever.
All Wheel Steer (AWS)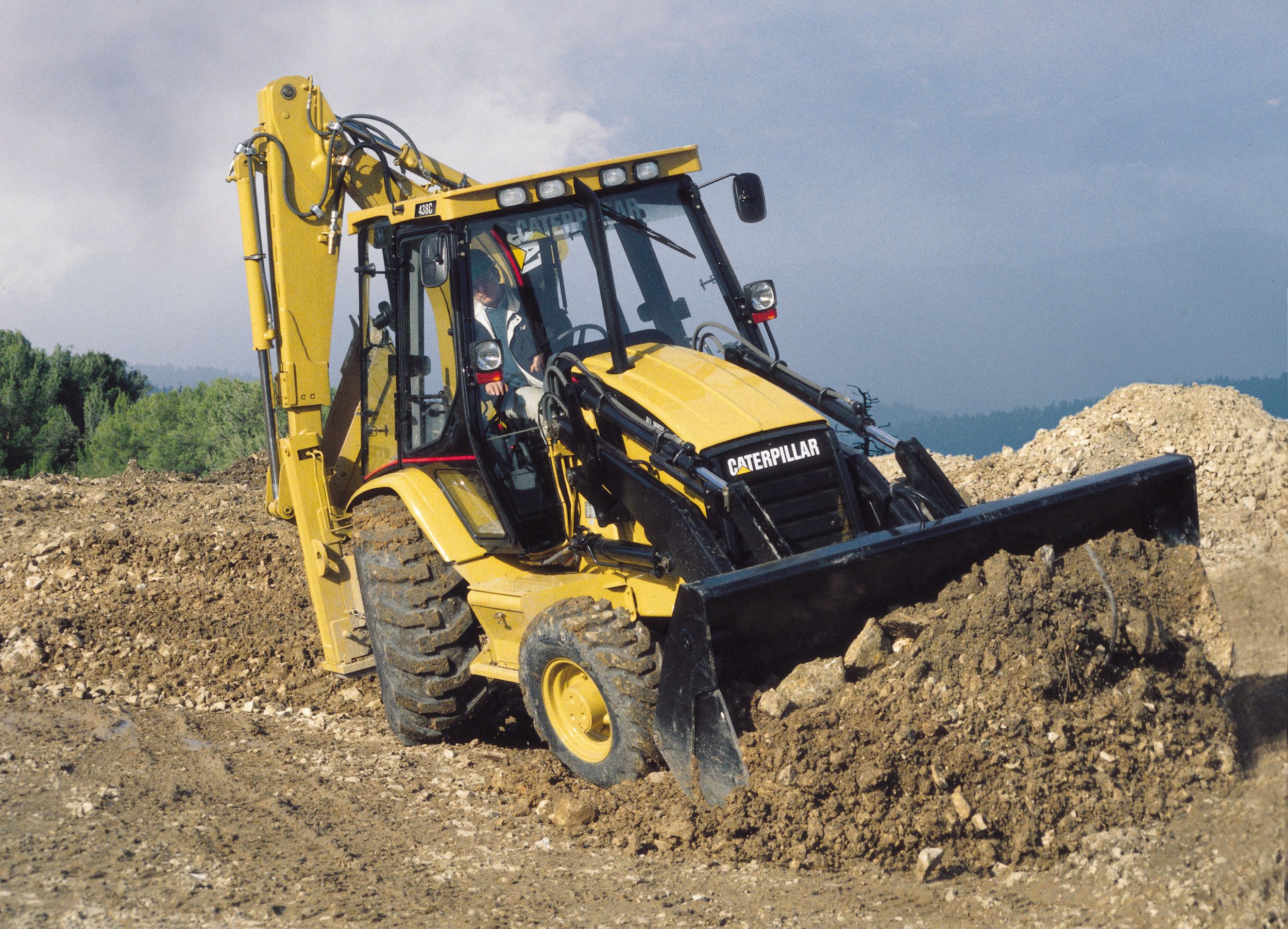 The all wheel steer option improves maneuverability and versatility, increases machine utilization and offers tight turning circles.
Two-wheel steer
Only the front axle is used for steering. This mode offers the performance capabilities desired for on-road operation, and when additional maneuverability is not needed.
Circle steer
Both axles are used for steering. This mode provides reduced turning diameters and allows for tighter operation in confined spaces.
Independent-rear-maneuvering
Each axle is controlled independently. A rocker switch located on the loader lever controls the maneuvering of the rear wheels.
Optimal visibility to the loader implement
Excellent visibility is achieved with the combination of large rear tires for traction and flotation, and front tires that provide a clear view of the loader implement and front work area.
Modes of operation
All wheel steer provides three modes of operation, all easily selected from the front console. Large, easy-to-read gauge indicates position of rear wheels.
Backhoe versatility and performance

The excavator-style backhoe reaches over obstacles; provides faster, easier truck loading.
Backhoe Buckets
Caterpillar backhoe buckets offer superior value in a highly durable product. These buckets provide industry-leading features.
Excavator Style Backhoe
Nothing else looks like, or works like the Cat excavator-style backhoe. You reach further and dig faster.
Extendible Stick
Dig deeper and reach further with the Caterpillar extendible stick.
Quick Coupler
The optional mechanical Quick Coupler allows quick and easy connection to tools, and has been improved to provide increased bucket rotation.
Work Tools
A full line of backhoe tools such as hammers, asphalt cutters, and more is available from your Cat dealer.
Load-Sensing Hydraulic System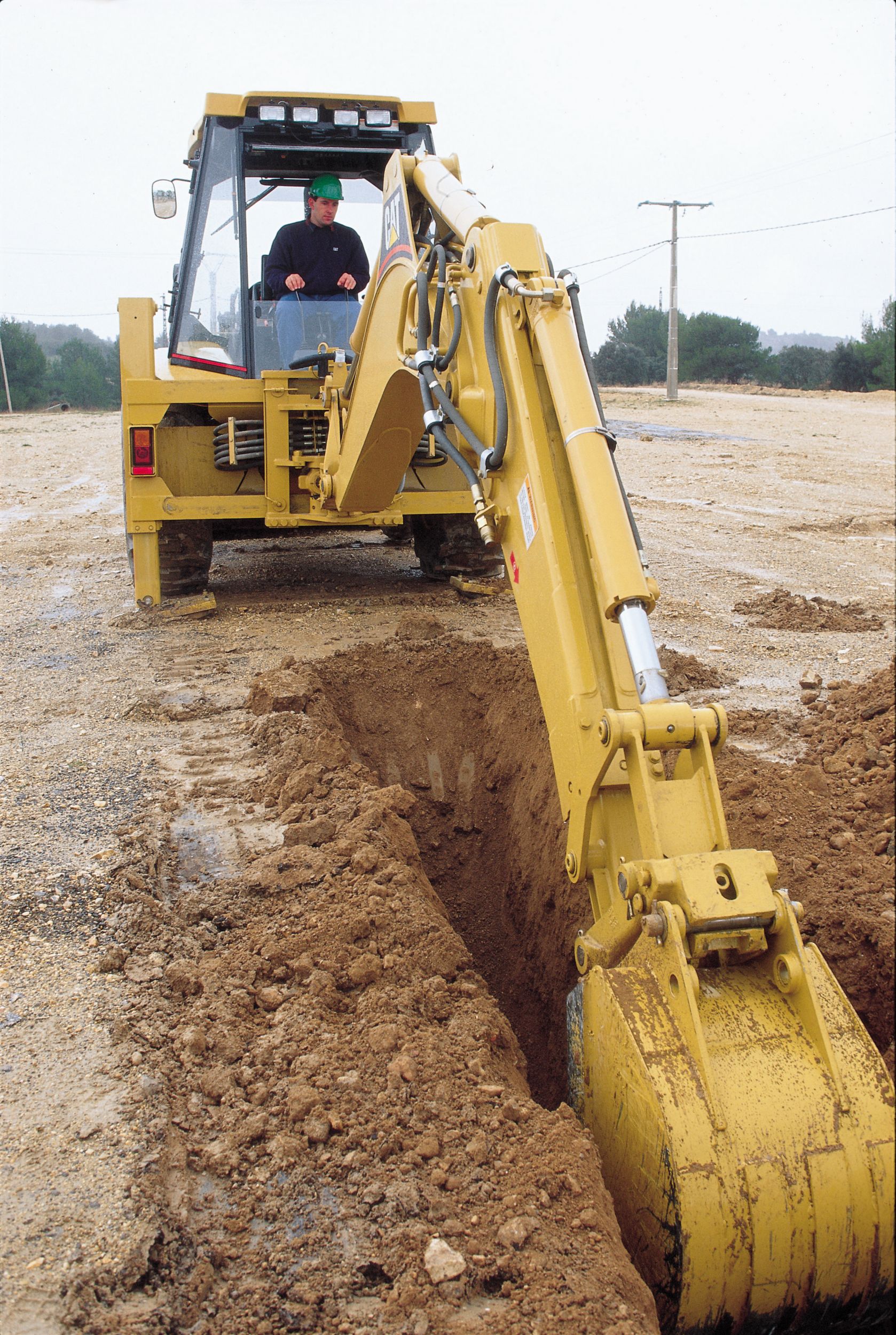 Power where you need it, when you need it, at any engine speed.
Hydraulics
Full production is required all the time - so the Caterpillar variable-flow system senses the work demand and adjusts flow and pressure to match it.
Load-Sensing
Caterpillar hydraulics are truly load-sensing - with closed-center implement valves.
Caterpillar XT Hoses
Caterpillar XT hoses are used for high pressure applications to substantially reduce downtime from hose failure.
O-ring Face seal Fittings
Caterpillar couplings are equipped with O-ring face seal fittings for long life and less maintenance.
Unwasted Horsepower/Fuel
In the Cat closed-center hydraulic system, power is delivered only when needed - saving fuel and equipment wear and tear.
Serviceability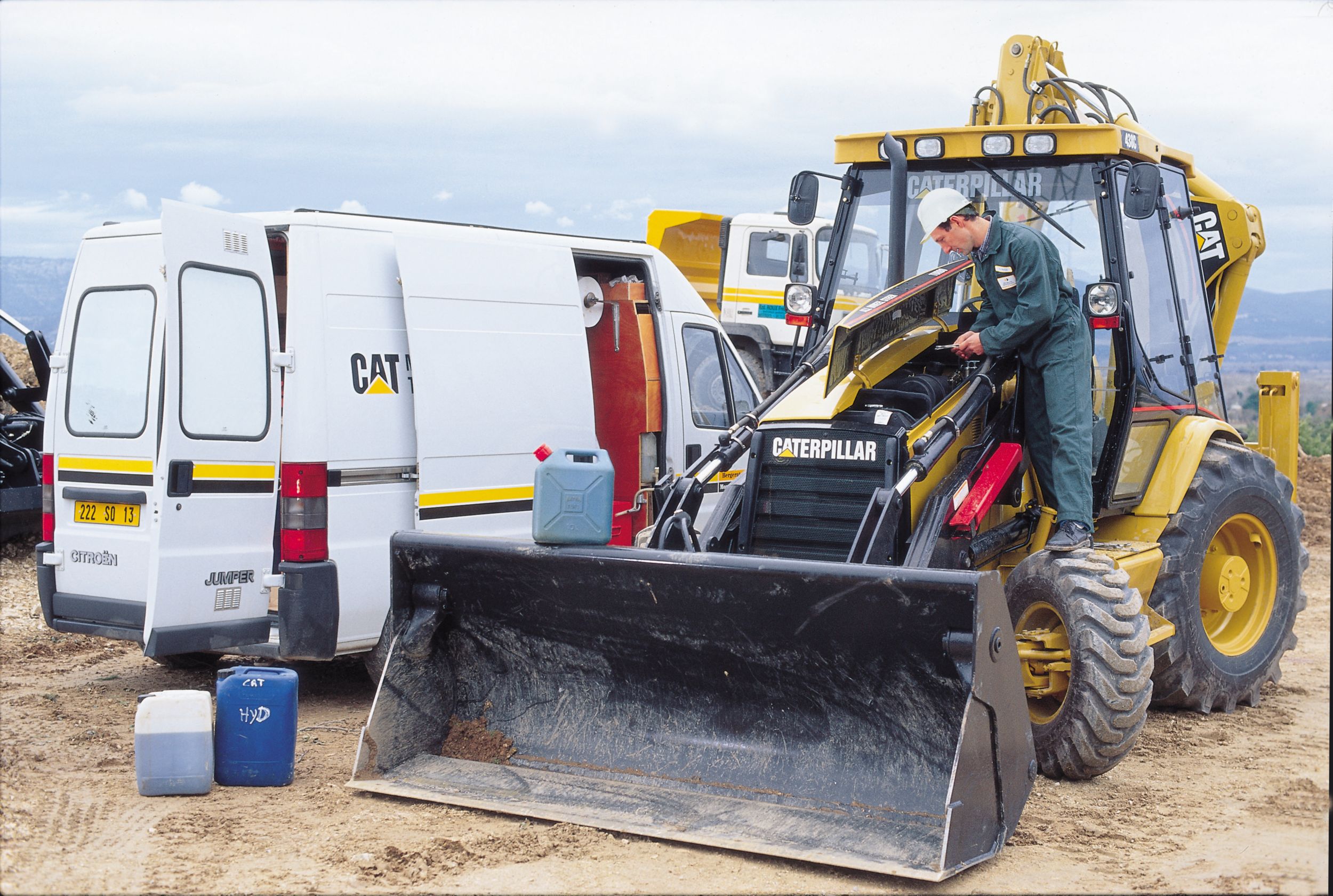 Excellent access and fewer maintenance requirements add up to unparalleled ease of service.
Quick, Easy Access
A flip-open engine hood with pneumatically-assisted lift cylinders provides convenient access to a single location for fluid level checks.
Lockable Tool Box
The spacious tool box contains a maintenance-free battery and has ample room for a second.
Reduced Maintenance
Front axle oscillation pin, axles and driveshaft U-joints are sealed and lubricated for life.
Customer Service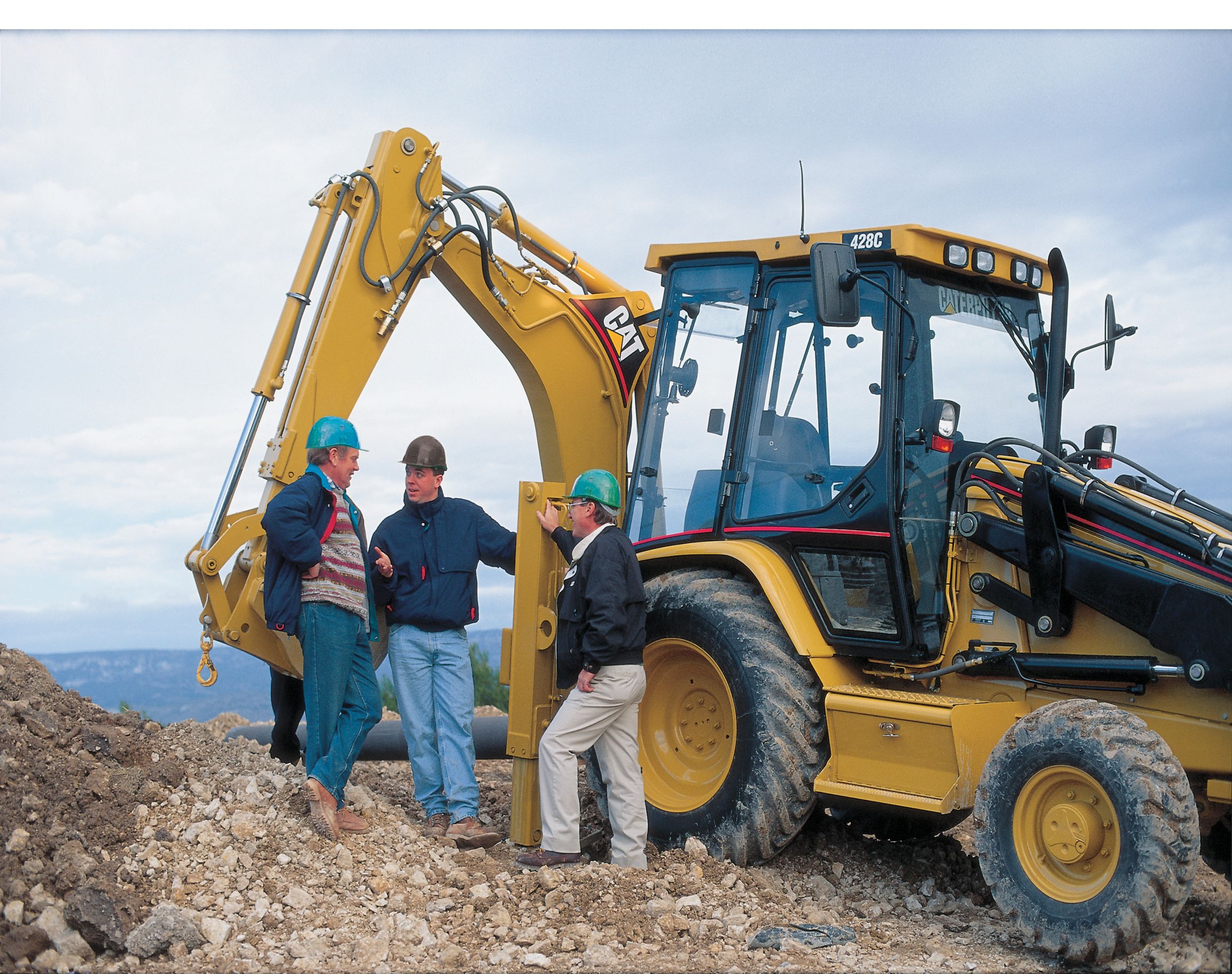 Caterpillar customer service agreements turn you investment into profit from purchase to resale.
Equipment Management Services
By building a partnership with your Caterpillar dealer, you can focus on you business instead of your equipment.
Maintenance Services
Your Cat dealer will assist you in selecting the right Cat equipment to suite your need, to optimize productivity.
Predictive Services
Maintenance Services enable you to maximize availability and performance.
Reconditioning Services
By anticipating potential problems and preventing unscheduled repairs, Cat Predictive Services make sure that your equipment is always up and ready to run - because maximizing uptime means maximum earning capacity.
Availability of Cat Parts
Caterpillar factory-reconditioned parts and components get your equipment back on the job in the minimum of time and with lower repair costs, contributing to reduced operating costs and a more efficient operation.
Off-the Shelf Availability of Genuine Cat Parts
Genuine parts, together with highly experienced, Cat-trained specialists make sure every repair is right the first time and your machine is back earning its keep in the shortest possible time.
Other Special Features
Optional Power-shift transmission allows direction and speed changes to be made with a single lever.
Caterpillar Ride-Control System
A new Ride-Control system is now available. The system is easily engaged by a switch on the front console.
Backhoe Lift Capacity
The C-Series backhoe has even more muscle than ever before. A new, large-diameter boom cylinder and a redesigned boom structure increases lift capacity, providing superior strength and balance.
Dual-Setting Torque Limiter
A new dual-setting torque limiter on the hydraulic pump automatically optimizes hydraulics to match your job application. The result is increased capacity and more performance from your backhoe.
High Rotation Linkage