The next generation F Series Backhoe Loader continues the design tradition and innovations of the Cat brand. Developed with over 25 years experience, and in its sixth-generation, the F Series is setting new standards. See your nearest Cat dealer today and try out The Next Generation of Backhoe Loaders from Caterpillar.
Features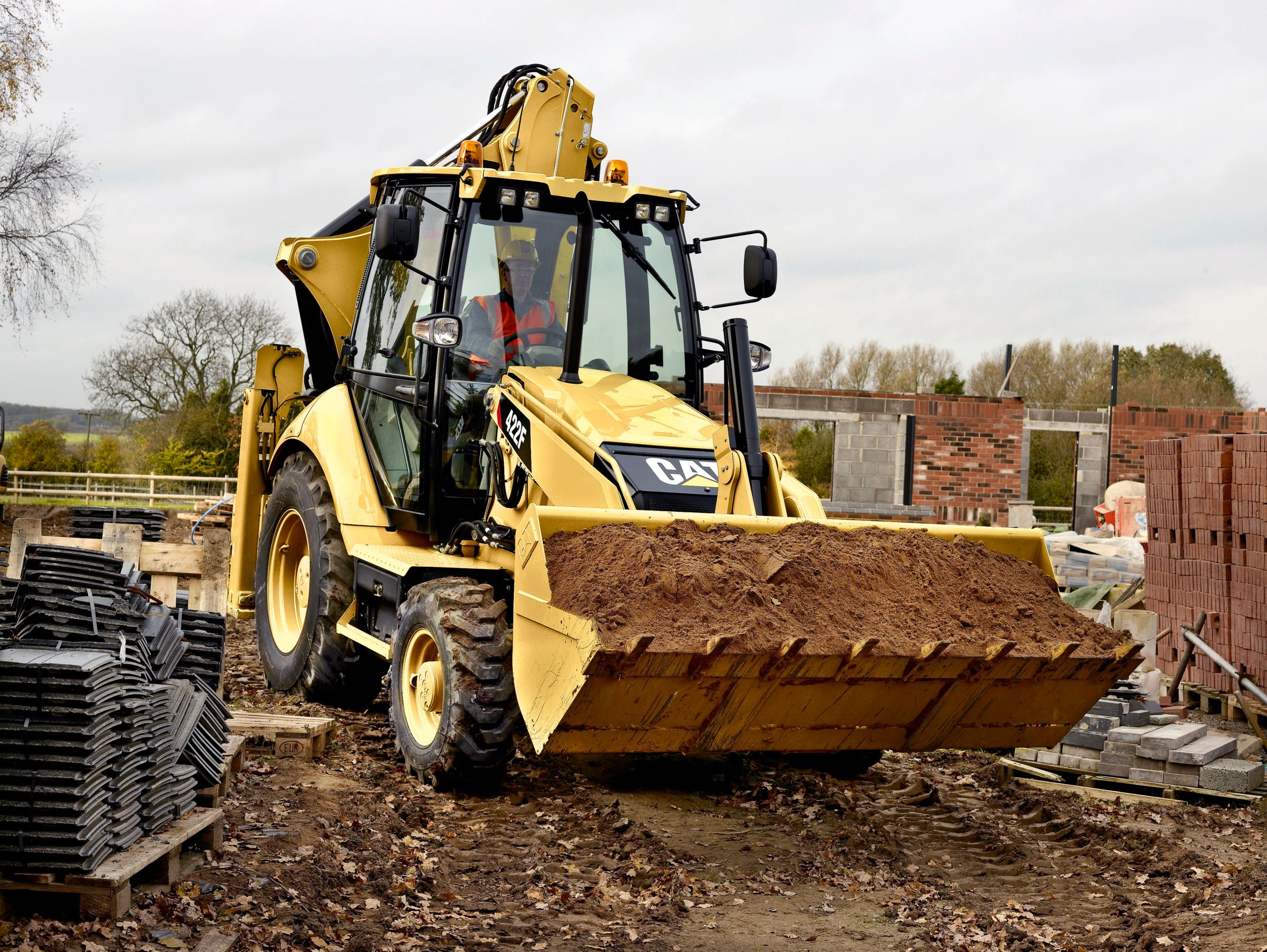 Designed with you in mind.
Drive Control
Switch between 2 wheel drive (2WD) and all wheel drive (AWD) using the three position drive selector. A third mode, 2WD with all wheel braking, activates AWD when braking and returns to 2WD when brake pedal is released.
Backhoe Controls
Mechanical levers for operating the backhoe can be configured to; Backhoe (SAE), Excavator (ISO) or universal controls (X pattern), ensuring all operators can get the most out of their 422F.
High Ambient Cooling
The 422F is equipped with a High Ambient engine cooling package, allowing the machine to be operated in temperatures up to 50° C.
Air Filter
A dry type axial air cleaner with an integral precleaner and automatic integrated dust ejection system extends the life of the air filter when working in dusty conditions, reducing service time and costs.
Storage
Having somewhere to keep your tools is important on any machine and that is why on the 422F we have increased the storage area in the large storage box.
Large Fuel Tank
A large 160 L non-metallic fuel tank in conjunction with the Cat engine and efficient hydraulic system ensures longer periods between fill ups and less inconvenience. Less condensation and no internal rusting maximizes up time.
Electro-Deposition Coating
Your 422F has been protected by an undercoat of electro-deposited (E-Coat) primer, which completely seals each metallic component and offers a superior degree of protection from damage and corrosion. Coupled with the high solids polyurethane top coat, your 422F will stay looking good for longer, ensuring optimum resale value.
Operator Station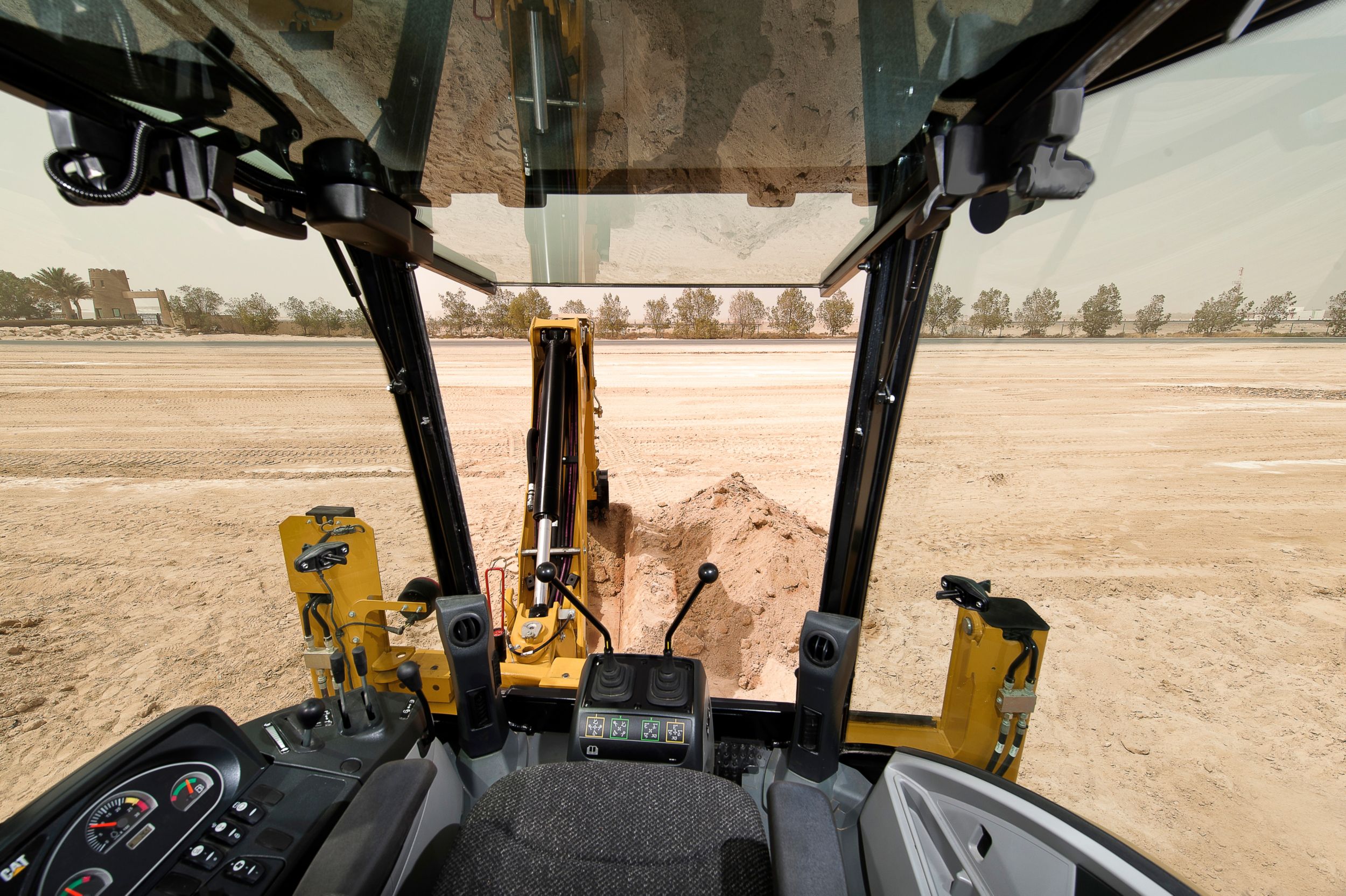 Get the job done in comfort and style.The 422F cab is designed with today's operator in mind - providing maximum comfort, ease of operation, and modern styling to exceed the requirements of today's operator. A wide cab provides a spacious environment for better performance when turning the seat from one mode of operation to the other. Cab comfort is enhanced with the first-class Cat air suspension seat, reducing fatigue. An easy to open window provides the operator with excellent ventilation and superb visibility. The rear wiper easily cleans a large area of the rear screen to ensure excellent visibility of the working area when working in wet or dusty conditions. Excellent ergonomics ensure that all controls are within easy reach of the operator to provide superior control and increase productivity. Other features such as remote stabilizer controls, large adjustable vents throughout the cab, and clear gauges provide the operator with a comfortable operating environment designed to reduce operator fatigue and increase productivity.
Operator Controls
Optimal cab ergonomics are vital to assist the operator in their quest for best productivity. Pressure compensated, well placed levers ensure low efforts and good controllability for maximum productivity.
Cab Air Filter
The 422F has an easy access cab air filter, situated within the right hand rear fender. The cab air intake is positioned high up to minimize dust intake into the air filter.
HVAC System (Turbocharged Engine Only)
The 422F benefits from an optional, powerful air conditioning system, which provides good ventilation to the operator, ensuring the operator stays cool when working in warm temperatures. The ventilation system also provides plenty of demisting, defrosting and heating capability.
Work Lights
The 422F has adjustable front and rear work lights. This allows the operator to direct the light wherever needed, providing maximum illumination to the work area whatever the ambient light conditions.
Cab and Canopy Options
The 422F is available with either a fully glazed cab or an open canopy, providing the best choices to suit individual operator needs.
Cat Air Suspension Seat (Only Available on Cab)
The major interface between the machine and the operator is optimal, and the Cat air suspension seat provides the operator with a comfortable working platform to ensure high levels of productivity with the minimum of fatigue.
Loader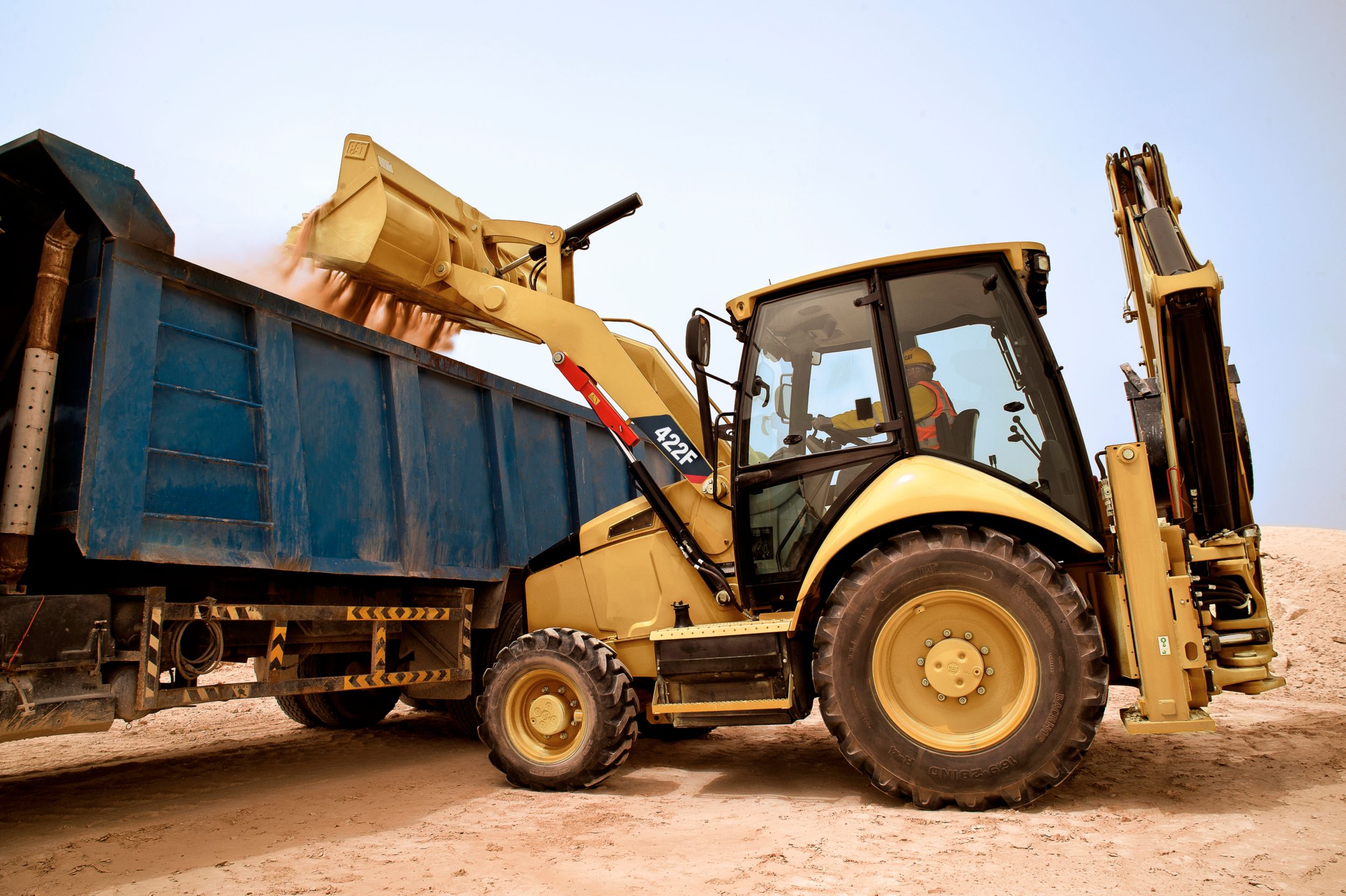 The single tilt loader reaches new heights.
Loader Performance
Designed with performance in mind, the 422F has greater breakout forces, load over height and reach, making life easier for you when truck loading or shoveling. Versatility is enhanced with the choice of General Purpose or Multi Purpose buckets, and visibility is excellent with the lower hood line enabling a clear line of sight to the loader bucket.
Ride Control
The Cat proven Ride Control system is an option designed to reduce machine pitching and bouncing giving operators a smooth ride in all applications, including load and carry, roading, or simply moving around the job site. An accumulator acts as a shock absorber to reduce machine pitching and provide a smoother ride over rough terrain. The system is engaged by a switch on the front console.
Return to Dig
Your 422F is equipped with a standard Return To Dig system. This system reduces loading cycle times by bringing the loader bucket back to the dig position automatically when lowering the arms. By the time the loader arms have been lowered to ground level, the bucket is in the correct position ready for the next load.
Backhoe
Serious power in the dirt.
Excavator-Style Backhoe
Whether you're close-up truck loading on a single road carriageway, or digging over obstacles such as walls, the excavator-style boom tackles the toughest jobs with ease. Combining versatility with powerful breakout forces, the controllability of the load sensing, flow-sharing hydraulic system and the 422F is capable of producing high levels of productivity with the minimum of operator effort. The boom is a narrow design, ensuring maximum visibility to the work tool.
Extendible Stick
The 422F is available with an extendible stick that increases dig depth and reach capability, enhancing the machines versatility and utilization. A sliding inner section design keeps the wear pads out of the dirt, extending adjustment and replacement intervals. Auxiliary lines for operating work tools have been routed so that they are protected from damage when working in the narrowest of trenches.
Cushion Swing
The 422F is equipped with Cushion Swing, which enables very fast trenching by damping the boom oscillation down when returning to trench with the hoe.
Powered Side Shift (Optional)
Slide the backhoe across the entire width of the H-frame remotely, from the comfort of your seat.
Hydraulics
Smooth and efficient operation.
Load Sensing Hydraulics
It's rare that you'll be working at full production 100% of the time. So why should the machine be working flat out, using more fuel, making more noise, and increasing wear? The 422F has a load-sensing, closed center hydraulic system, which actively matches hydraulic power and flow to meet the demand needed by the task being performed. So whether you're trenching at full force, or delicately digging around services, you are in total control. As there is minimal demand on the system unless needed, there are less parasitic power losses, unlocking the true potential of the engine - providing better loading and roading performance.
Flow Sharing Valves
The 422F features flow-sharing hydraulic valves, ensuring that the correct flow of oil reaches the implement cylinders, providing greater control and eliminating oil starvation when operating multiple functions.
Hardware
The 422F is equipped with a highly efficient variable displacement piston pump. The reliable high performance hydraulic hose is constructed from two strong steel braided layers and O-Ring face seal fittings provides a robust system ensuring excellent durability and resistance to damage from pressure spikes and hydraulic pulsing.
Work Tools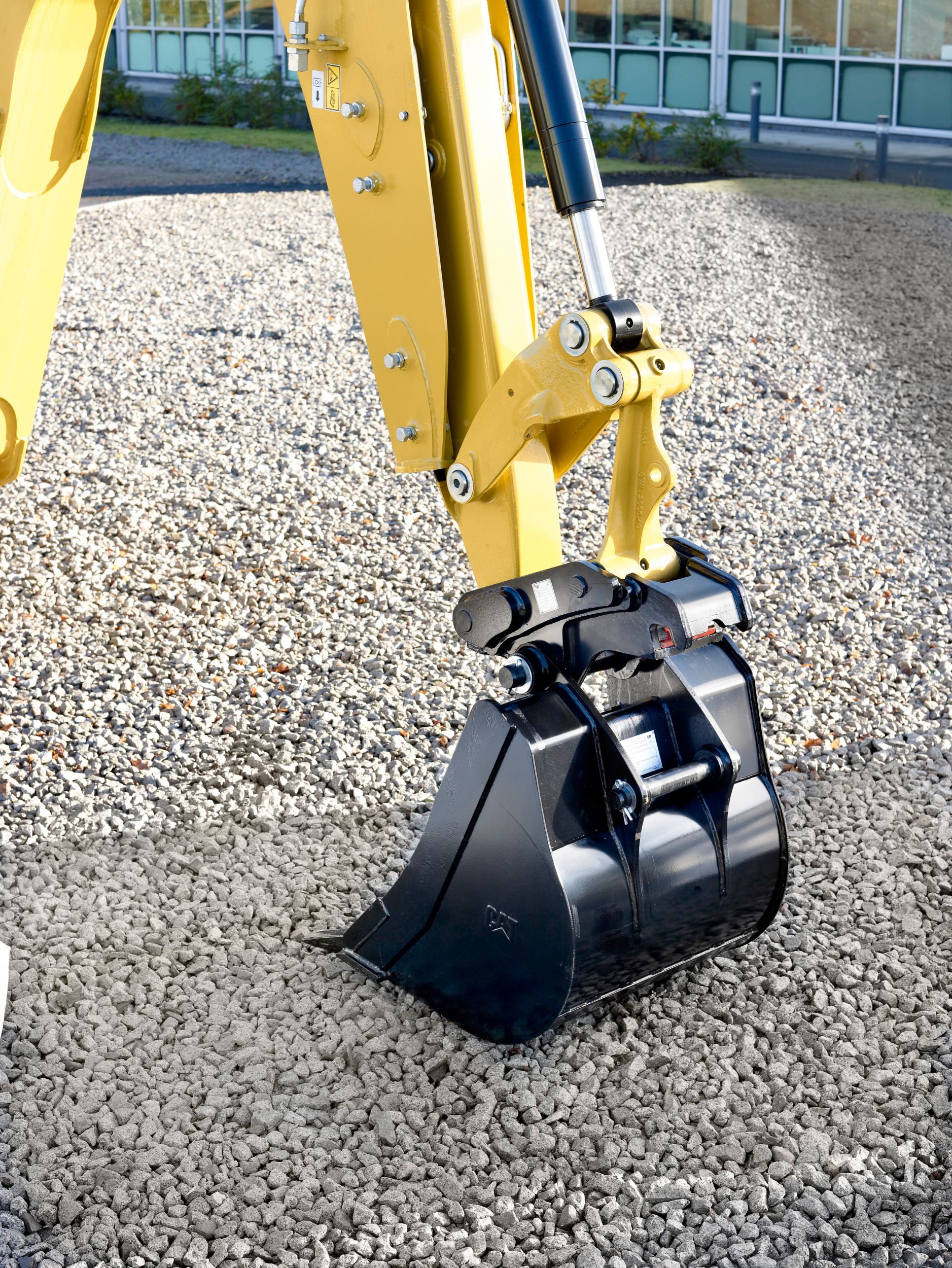 Do more, be more. With a range of versatile tools available.
Loader Buckets
General Purpose and hydraulic Multi Purpose buckets are either Pin-on mounted or attached to the quick coupler. They can be fitted with either cutting edge or bolt on teeth. MP buckets are optional with fold over pallet forks.
Backhoe Buckets
For different soil types and digging applications there are multiple bucket designs available, including; Standard Duty, Heavy Duty, High Capacity and Extreme Service (Rock) Buckets. Either bolt on teeth or weld on adapters with pin on teeth can be fitted. Ditch Cleaning, Cribbing and Trapezoidal Buckets are also available.
Auger
The Cat Auger is designed for drilling holes in the earth for a wide variety of applications. A wide variety of Auger bits and drive systems are available, to provide you with the best tool for the job.
Cold Planer
The Cat Cold Planer is designed for both asphalt and concrete planing work, having features like depth control and self-leveling.
Compactor Plate
The Cat Vibratory Plate Compactor can be used to compact soil, sand or gravel in trenching and sloping applications prior to pouring concrete or laying asphalt.
Hammer
Cat Hydraulic Hammers are designed to break up concrete, asphalt or rock and deliver constant power when operated. Silenced options are available to meet with local regulations.
Dual Lock Couplers
Enhance your machines' versatility with a mechanical or hydraulic quick coupler, for easy switching of work tools. Couplers maintain a tight fit throughout their lifetime due to an innovative wedge design. Contact your Cat dealer for more information.
Engine and Driveline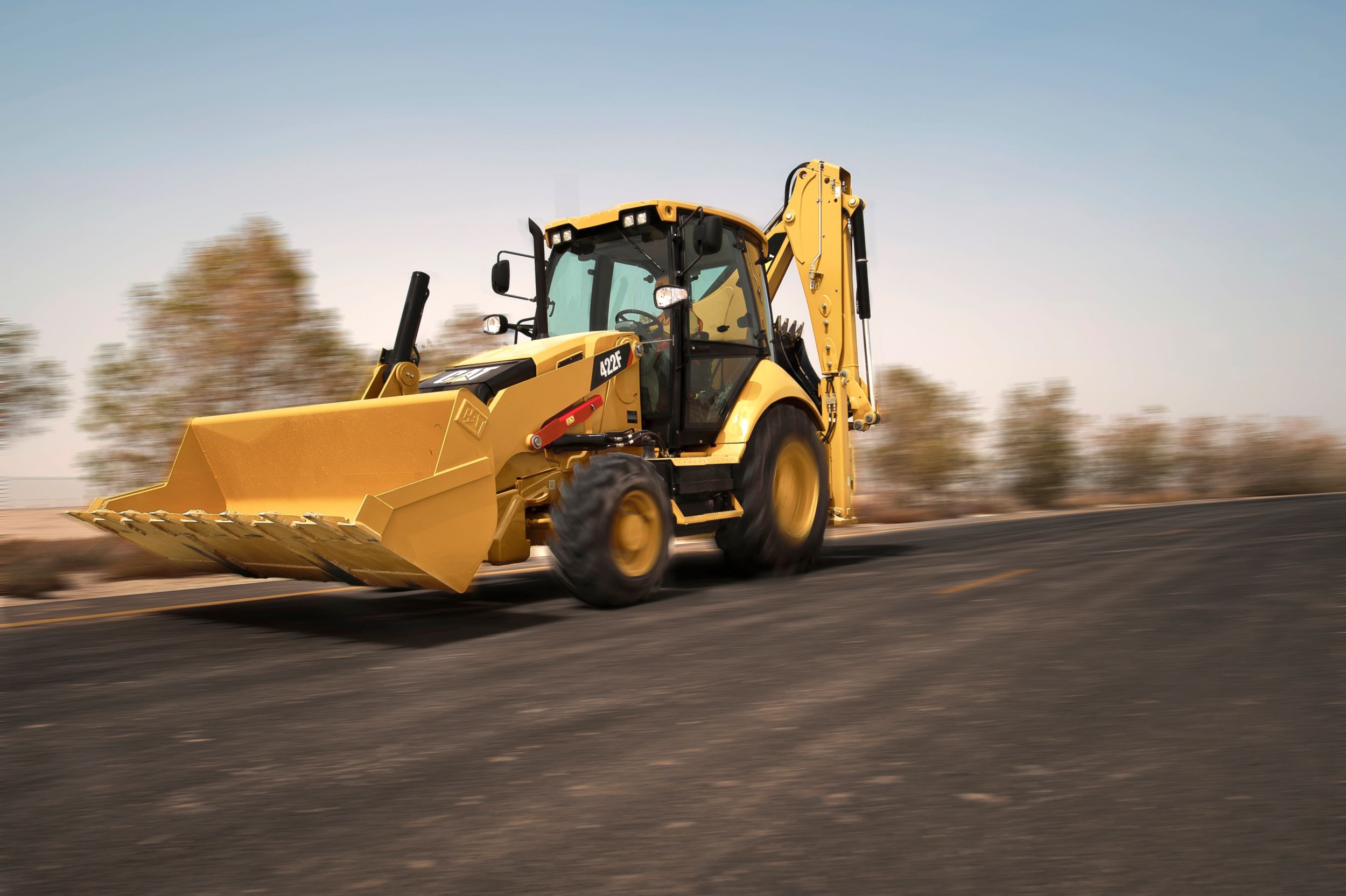 Dynamic, powerful and proven.
Axles and Differential Lock
The heavy duty Cat axles fitted to the 422F have been designed to be used in the most arduous of conditions and the rear axle Differential Lock ensures that traction is maintained in all types of ground conditions.
Axles
Choice of standard Two Wheel Drive or optional All Wheel Drive.
Heavy-duty rear axle with self adjusting inboard brakes, differential lock and final drives.
All Wheel Drive (AWD) is engaged by front console panel switch or by brake pedal during all-wheel-braking operation. AWD can be engaged on-the-go, under load, in any gear, forward or reverse. 2 WD and AWD have outer final drives for easy maintenance.
AWD front axle is pendulum mounted and permanently sealed and lubricated, requiring no daily maintenance. Also features double- acting steering cylinder with 52° steering angle for increased maneuverability.
Brakes
Fully enclosed, hydraulic, multiple discs.
Inboard oil-immersed, hydraulically actuated multiple Kevlar discs on final drive input shaft.
Completely enclosed and sealed.
Self-adjusting.
Dual foot-operated boosted brake pedals can be interlocked for roading.
Parking/secondary brakes are independent of the service brake system. Parking brake is mechanically applied through a hand lever located in the right side console.
Meets ISO 3450:1996 requirements.
Dual Brakes
The rear axle is an enclosed design with a wet multiplate Kevlar braking system. This system is oil immersed and self adjusting, and allows operation in the harshest environments. The system has dual brake pedals for split braking in tight corners.
Boosted Braking
Hydraulically assisted braking reduces the amount of effort required by an operator on the brake pedals. By producing the same braking performance, with less force exerted, operators can be sure of quicker braking reactions and less fatigue on themselves.
Power-Shuttle Transmission
The 422F comes equipped with a mechanical transmission, capable of speeds of up to 40 km/h. It utilizes a constant mesh, synchronized, four speed system for both forward and reverse. Directional changes are made using a conveniently located lever on the steering column, and the gear selection is from the floor mounted shift lever.
Cat Engine
The 422F is fitted with the proven Cat 3054C engine that meets Stage II emission regulation EU Directive 97/68/EC. With a choice of either a naturally aspirated engine, or a more powerful turbocharged engine, the performance of the machine can be matched to your needs. All engines are reliable 4 cylinder, 4 stroke direct injection diesel engines, equipped with standard glow plug for optimum cold weather performance, providing reliable starting performance down to -18° C. Other features include a gear driven water pump and an automatically tensioned polyvee auxiliary drive belt, for increased life span.
Engine
Three ring pistons made of lightweight silicon/aluminum alloy for strength and maximum thermal conductivity.
Forged, chrome/molybdenum-steel crankshaft with nitro-carbonized journals.
Front and rear crankshaft oil seals are 'lip' type Viton and PTFE designs featuring an integral dust lip.
Heat resistant silicon-chrome steel intake and STELLITE faced exhaust valves are used for long engine life.
Cylinder block is high strength, cast iron alloy of deep-skirt, monobloc design for increased strength and long life.
Cylinder head is high strength, cast iron alloy construction with extra duty wall and head thickness. Intake and exhaust ports are precision cast to promote optimum gas flow.
Direct injection fuel system provides accurate fuel delivery. Self priming electric lift pump for improved cold start capability. One filter fuel system for reduced maintenance costs.
High low engine torque for better machine performance.
Dry type, axial seal air cleaner with automatic, integrated dust ejection providing more efficient pre-separation.
Direct electric 12 volt starting and charging system with 750 CCA group 31 maintenance free battery.
Serviceability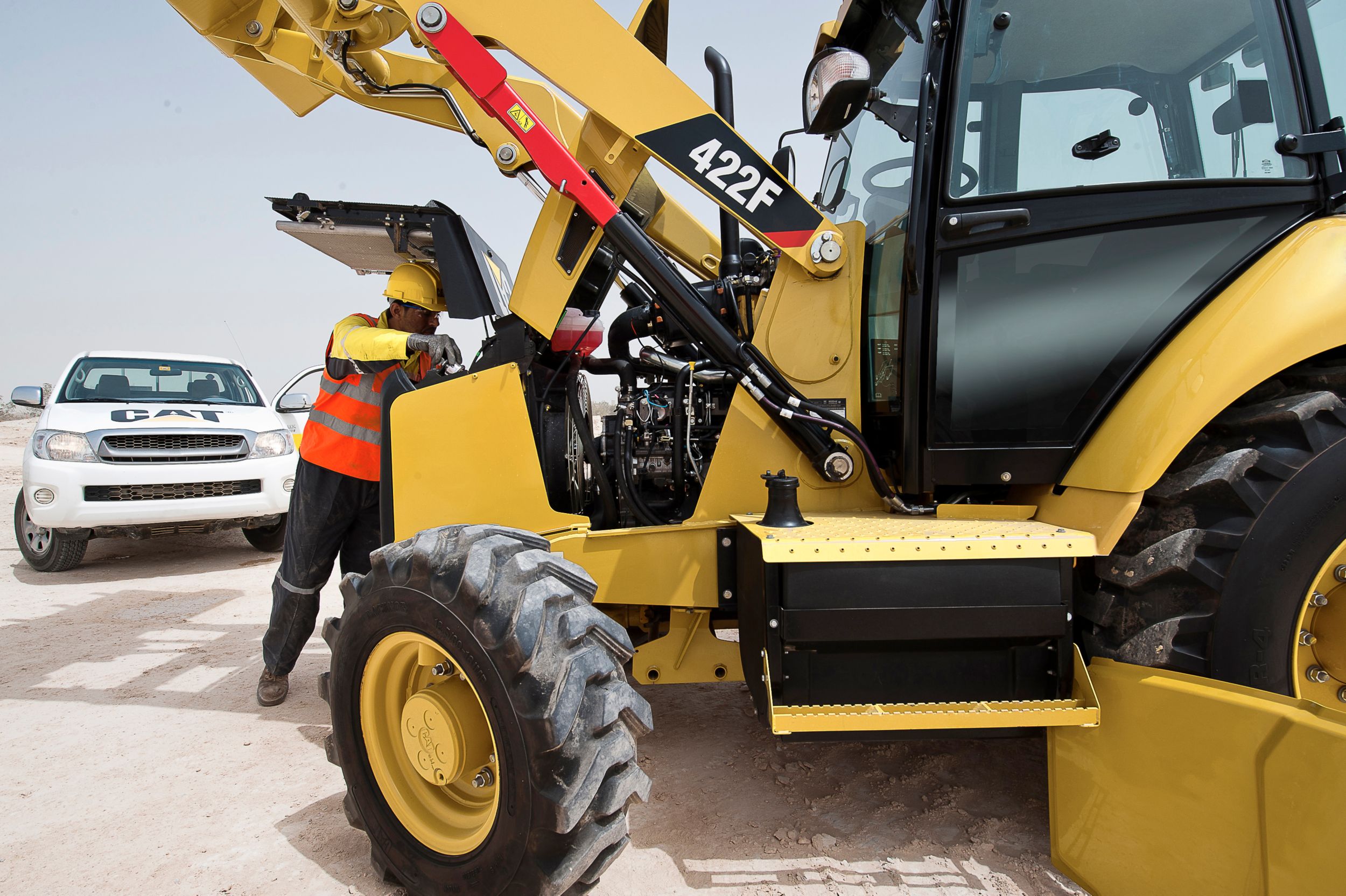 Get straight to work.
Effortless Maintenance
Make light work of daily checks, with the remodeled front nose, which swings open to reveal a hinged cooling pack for debris removal, keeping cooling performance to an optimum. All daily check points such as; fill points, air cleaner, washer bottles, indicators etc. are found above the engine bay, accessed with a simple release of the engine hood, removing the stresses of access in-and-amongst the engine bay. Sealed for life axles and driveshafts remove the need for operators to grease the time-consuming, awkward areas below the machine. Daily maintenance, which can be a chore for the busy operator, is kept to a minimum on the 422F.
Wear Pad Adjustment
The stabilizers and backhoe are designed to allow all wear pad adjustment to be done in-situ, using a simple adjustment mechanism. When wear pad adjustment is necessary, the adjustment bolts are easy to access, taking minutes to adjust, without the need for disassembly.
Cat Filters
All Cat filters are vertically mounted for spill free servicing and reduced oil contamination. These low micron filters remove microscopic particles from the oil, keeping the engine, transmission and hydraulic system running smoothly for years.
Scheduled Oil Sampling
Your Cat dealer will be able to provide the Cat S·O·SSM. This enables your dealer to analyze wear before problems arise, so that premature failure can be avoided, and corrective action can take place to reduce costs and downtime.
Customer Support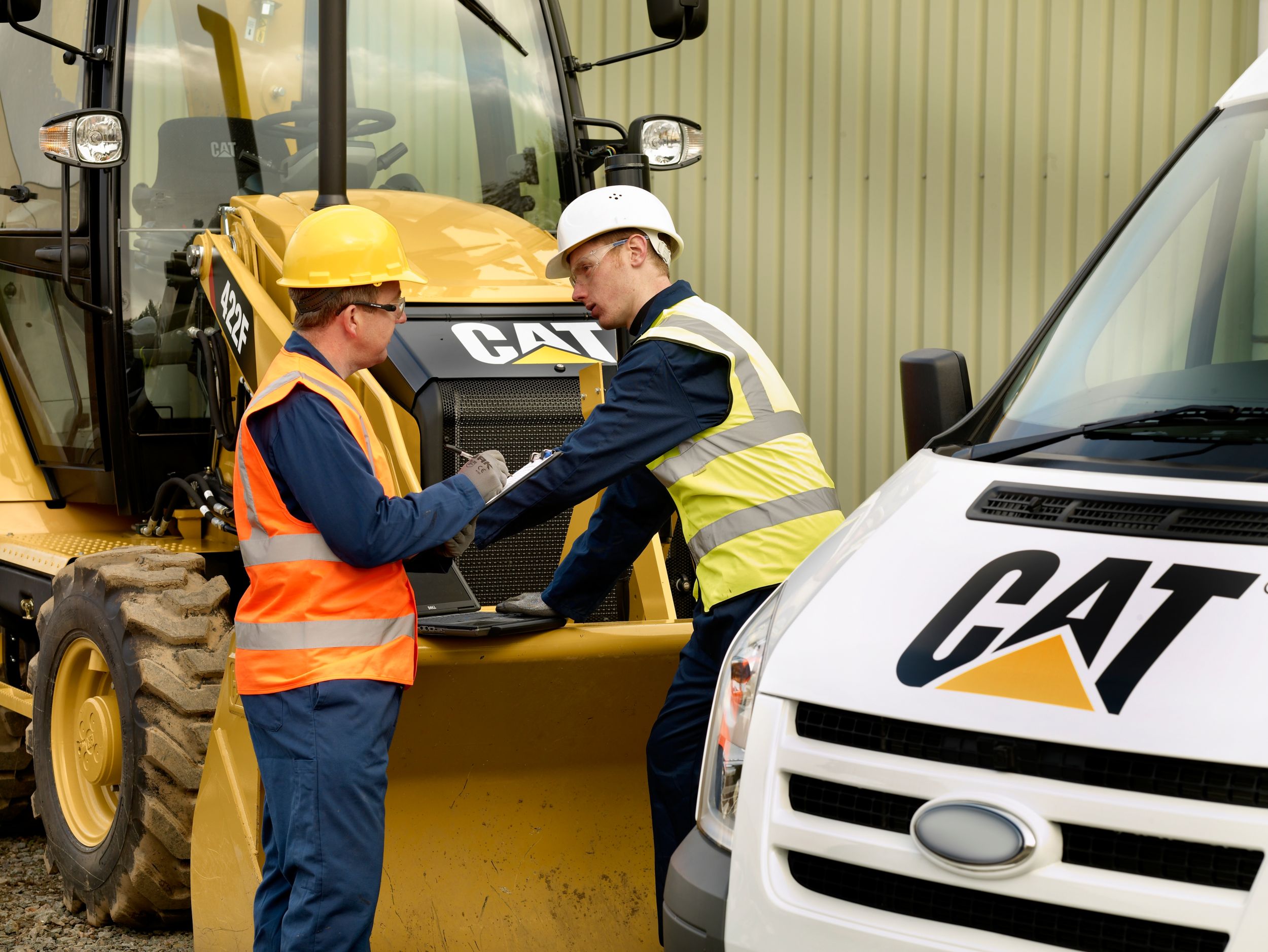 Always there for you.
Customer Support Agreements (CSA's)
Your Cat dealer can offer a comprehensive range of CSA's which can be individually tailored to suit your requirements. Dealers can offer a range of options from a full Preventative Maintenance with S·O·S package to a Parts Only CSA. Protect your valuable investment and know exactly what your monthly payments will be to help you run your business.
Machine Selection
Your dealer can help guide you with your machine purchase decision, based on your requirements and help keep operating costs to a minimum. Is the machine you have in mind exactly the best for your job, or could there be a more suitable solution? Your dealer can also advise on operating techniques for your machine which will minimize wear and tear, maximize productivity, and lower owning and operating costs.