High production capability and optimum paving quality combined with high travel speed and smooth ride are the basic features of the new AP755. With many enhanced features and options, the AP755 powerful traction guarantees optimum results and a continuous production even on irregular terrains.
C7 Engine with ACERT Technology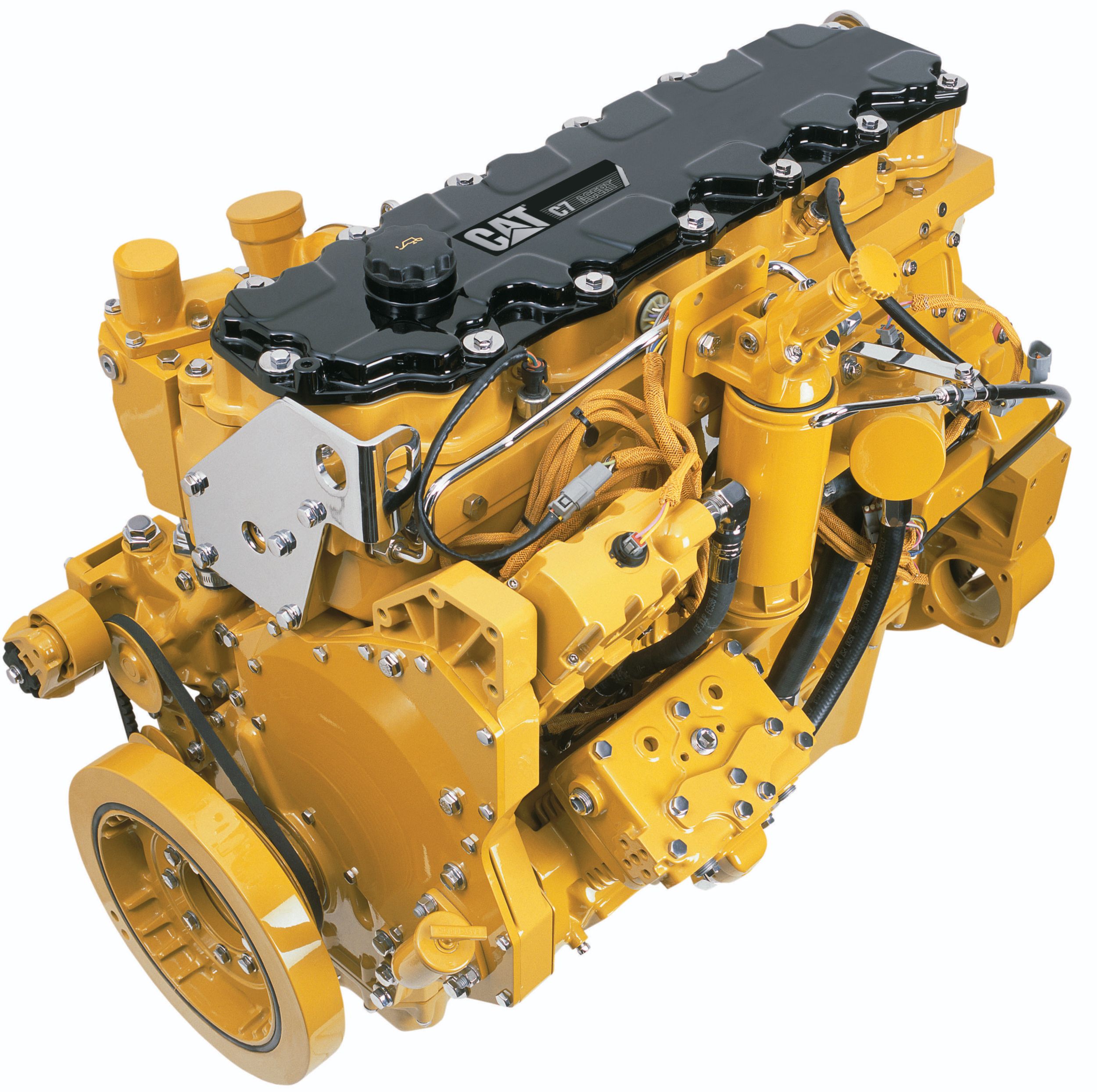 ACERT Technology incorporates a series of innovations working at the point of combustion to optimize engine performance while providing high reliability and easy servicing.
C7 Engine with ACERT Technology
The C7 engine provides a full-rated gross power (SAE J1995) of 149 kW (202 hp) at 2200 rpm with a torque of 783 Nm. Meets European EU Stage IIIA engine emission regulations. The combination of large displacement and high torque allow the AP755 to perform under the toughest conditions.
HEUI™ fuel injection.
The hydraulically actuated electronic unit injectors (HEUI) fuel system is unique and combines the technical advancement of an electronic control system with the simplicity of HEUI fuel injection. The HEUI fuel system excels in its ability to control injection pressure over the entire engine operating speed range. These features allow the C7 engine to have complete control over injection timing, duration and pressure.
Multiple injection fuel delivery.
Multiple injection fuel delivery involves a high degree of precision. Precisely shaping the combustion cycle lowers combustion chamber temperatures, which generates fewer emissions, optimizes fuel combustion and translates into more work output for your fuel cost.
High cylinder pressures.
High cylinder pressures combined with tightly controlled tolerances promote extremely efficient fuel burn, less blow-by and lower emissions. C7 cylinder block. The C7 engine's cylinder block offers increased tensile strength. It features improved sealing with gaskets to ensure fewer leaks. This new design supports the engine's higher compression ratios and increases its power density. The incorporation of straight-thread "O" ring connection points reduce the loss of engine oil and fluids.
Sound reduction features.
The C7 engine sound reduction features include composite valve covers with a fully isolated base, a steel oil pan and a cast iron front cover. The HEUI™ fuel systems rate-shaping technology also provides control of sound and vibration levels.
Service, maintenance and repair.
Easier service, maintenance and repair is accomplished by monitoring key functions and logging critical indicators. Advanced electronic diagnostic capabilities are possible using CAT Electronic Technician.
Turbocharged and Air-To-Air Aftercooling (ATAAC).
The turbocharged air-to-air aftercooling system provides high horsepower with increased response time while keeping exhaust temperatures low for long hours of continuous operation. Air-to-air aftercooling keeps air intake temperatures down, maximizing fuel efficiency and minimizing emissions.
ADEM™ A4 electronic control module.
The ADEM A4 electronic control module manages fuel delivery, valve timing and airflow to get the most performance per liter of fuel used. The control module provides flexible fuel mapping, allowing the engine to respond quickly to varying application needs. The control module also monitors engine and machine conditions while keeping the engine at peak efficiency.
Cooling system.
The high capacity cooling system provides efficient operation in high ambient temperatures. The system promotes operator comfort by drawing ambient air through the engine compartment and exhausting it on the right side of the machine, away from the operator.
Propel System
Efficient hydrostatic propel system eliminates chains and other mechanical linkages between the engine and final drive components.
Closed-Loop Hydrostatic Propel System
Closed-loop hydrostatic propel system provides accurate control of propulsion and low-maintenance operation.
Hydrostatic Pumps
Two variable displacement, hydrostatic pumps are driven by the diesel engine and drive two fixed displacement motors. Pumps are infinitely variable and electronically controlled for starting and stopping ramps.
Speed Control
Infinite speed selection within two propel ranges: one in working mode and one in travel mode, to select the best speed range according to operating modes.
Propulsion Control
An electro-proportional servo-control provides machine starting and stopping (for asphalt supply, etc.) with no pre-set working speed variation.
Mechanical Benefits
Because the system is completely hydrostatic, there are no mechanical linkages such as gear cases, transmissions or chains between the engine power take-off and the drive system. This results in a significant reduction in mechanical parts and less chance for mechanical failure.
Undercarriage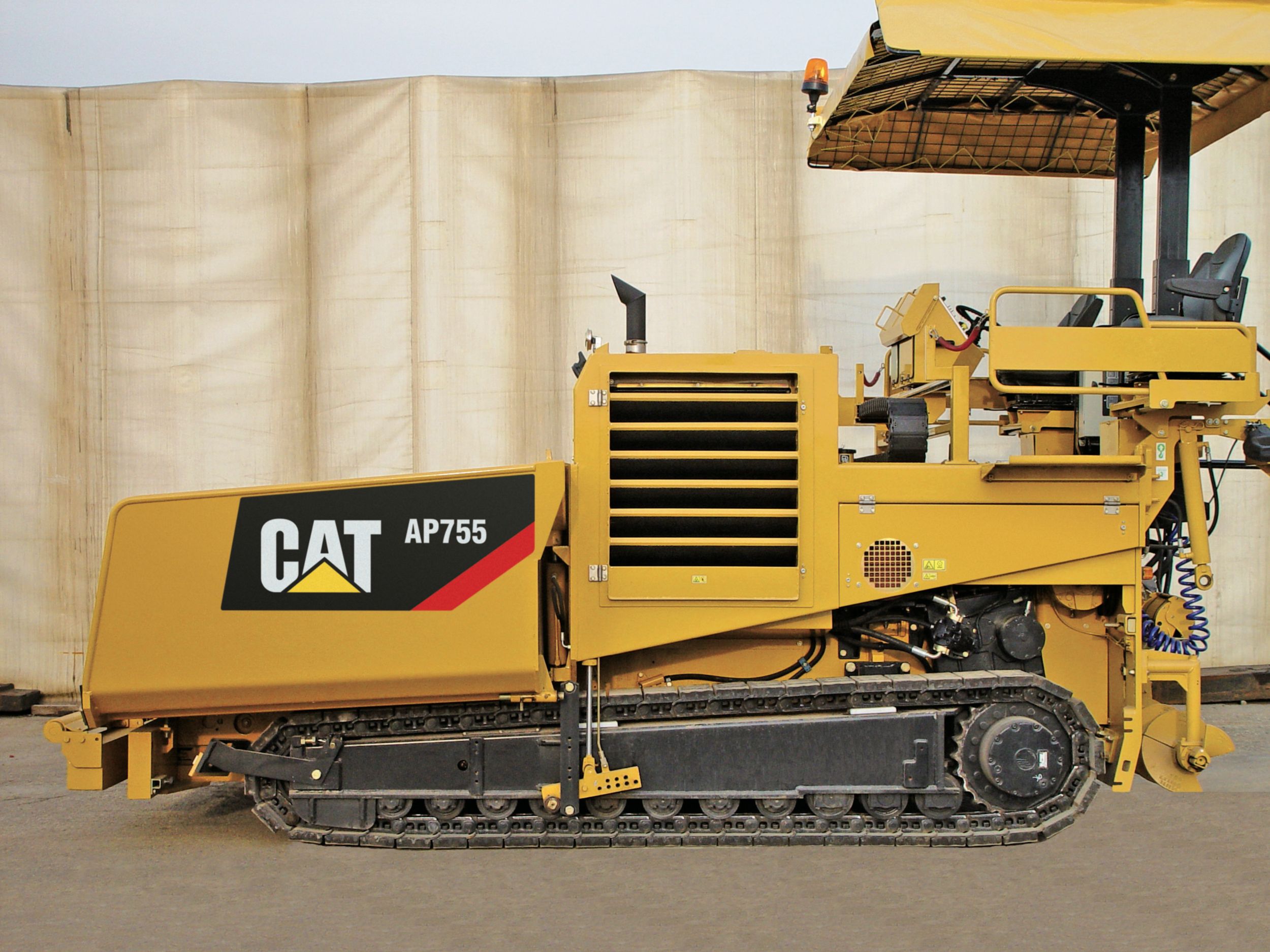 The steel track undercarriage provides optimum weight distribution, tractive effort assuring great performance.
Two Rubber Shoe Crawlers
The track-type asphalt paver provides a reliable, smooth ride. The optimum tension of the tracks is assured by a grease piston with a shock absorbing system.
Bonded Track Pads
The track pads contain a special rubber compound in order to provide long life and optimum traction. Pads are attached with four bolts for easy replacement.
Two-Speed Planetary Drive
Two fixed displacement motors drive two-speed planetary track drive gearboxes in order to provide infinitely variable speed selection.
Operator's Station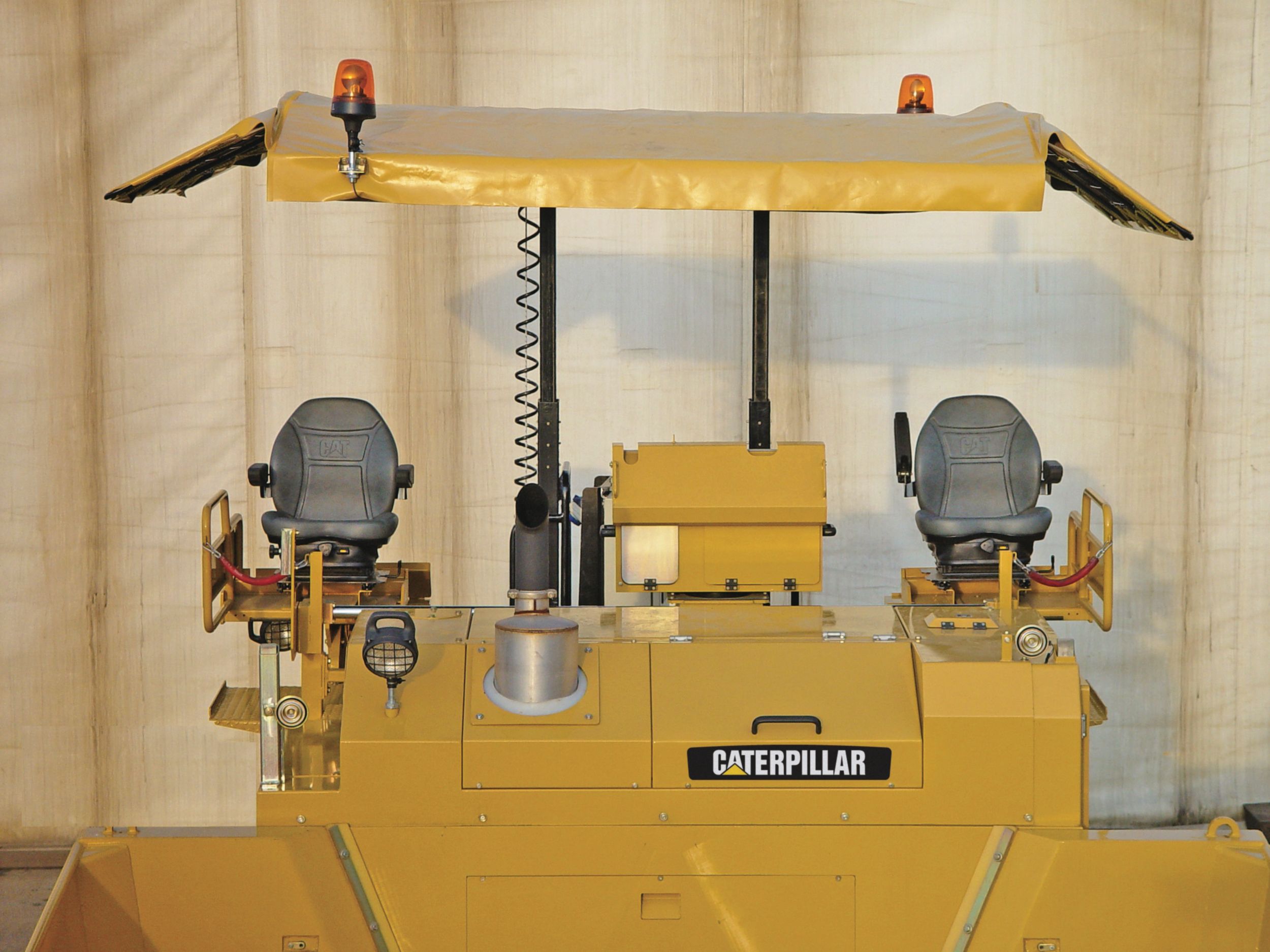 The dual operator stations provide complete control and optimum visibility from either side of the operating platform.
Dual Operator Stations
The ergonomic dual operator stations incorporate two adjustable suspension seats fitted on mechanically sliding semi-platforms.
Enhanced Visibility
Both operator seats and console panel are mounted on pivoting pedestals enabling the operator to rotate either to the left or right. The stations can extend beyond the machine frame for optimum visibility when joint matching or while paving other applications where precise control is required. With the engine mounted forward and low in frame, the operator is positioned away from engine heat and exhaust.
Control Console
The sliding operator's console panel is fully equipped with comprehensive controls allowing the operator to conveniently monitor all machine functions. A multifunctional LCD-display fitted to the console panel provides detailed information regarding the operating parameters of machine and engine. A lockable vandal cover protects console controls.
Canopy Option
Two optional canopies are available: folding canopy or hydraulic raising canopy. Both canopies provide full width with two side extending wings for optimum comfort and protection. Canopies can be lowered (manually or hydraulically) for easy transportation.
Material Handling System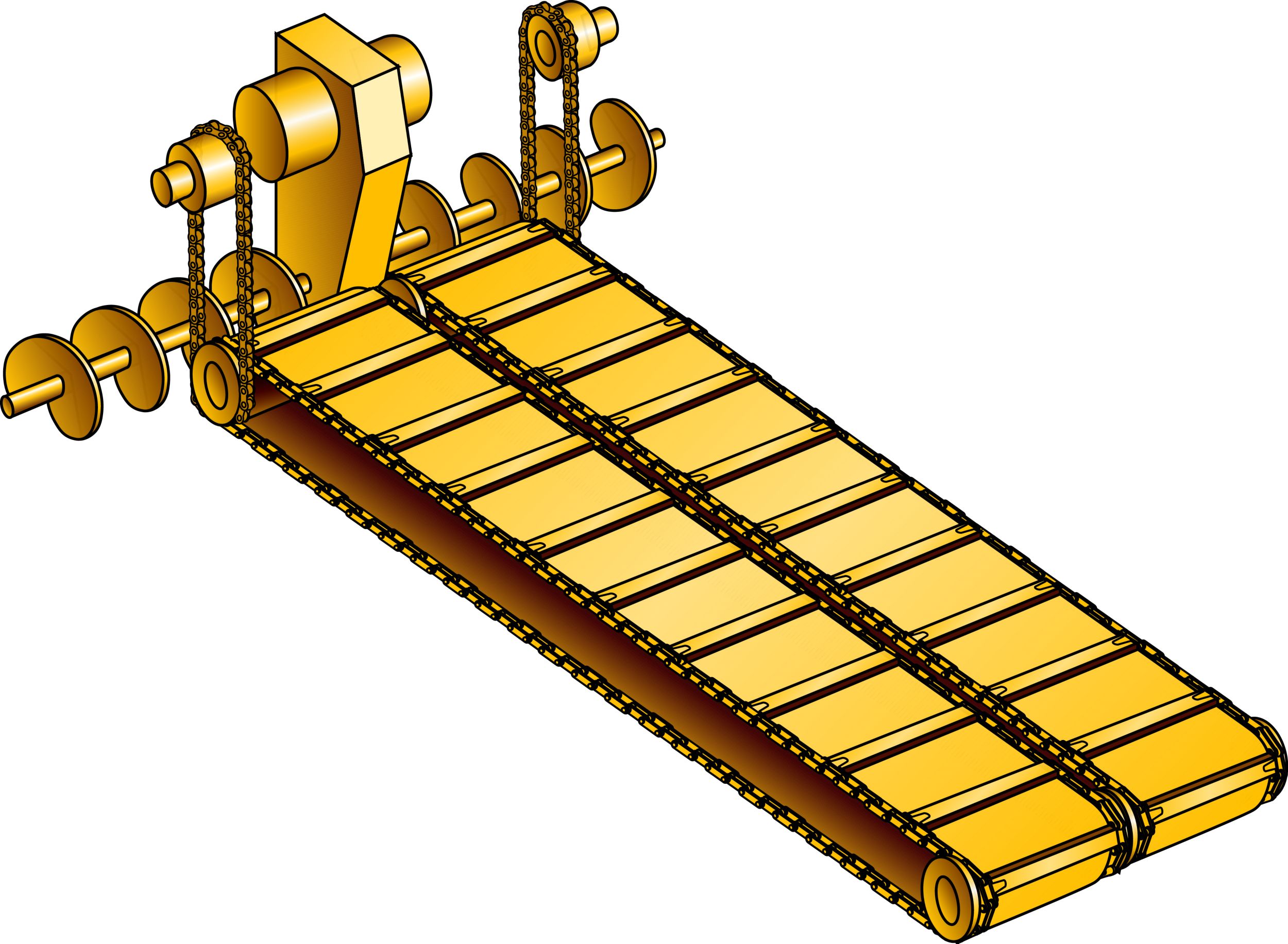 Precise mix delivery and productivity through an advanced material handling system.
Hoppers
The independent movement of the two hoppers is provided by means of two hydraulic cylinders assuring efficient material flow. Wear-resisting steel provides conveyors and hopper bottom plate for long wear life.
Feeding Conveyors
Two feeding conveyors are independently controlled and proportionally driven by two ultrasonic sensors. Conveyor rotation can also be inverted from either operator's console panel or from rear screed control boxes. Conveyors have drive chains to maximize the live conveyor area and reduce center line segregation. This design also provides greater ease of servicing the conveyor drive system. In order to control mix delivery, the operator sets a speed rate for each conveyor that will maintain the desired mix level in the left and right auger chambers.
Auger Assembly
Two independently controlled augers spread the material conveyed to both sides. Auger rotation speed can be varied automatically to ensure a homogeneous distribution of material before the screed. Two ultrasonic wave detectors control proportional auger movement and can be adjusted from the screed control boxes. Conveyors and auger design eliminate voids under chain case to minimize segregation. Augers have outboard mounted motors for easy serviceability.
Optimum Productivity
The material handling system allows the operator to maintain an uninterrupted flow of material from the hoppers to the screed. The system is responsible for maintaining the proper head of material - the volume of asphalt in front of and across the length of the screed.
Adjustable Height Auger Assembly
Augers are reversible and hydraulically adjustable in height providing benefits to mat quality and better distribution of material in front of the screed. The ability to raise the auger assembly simplifies loading and unloading from a transport vehicle. Also, when working with larger stone mixes, segregation can often be eliminated or minimized by raising the augers to allow mix to flow unrestricted under auger assembly.
Generator System (Optional)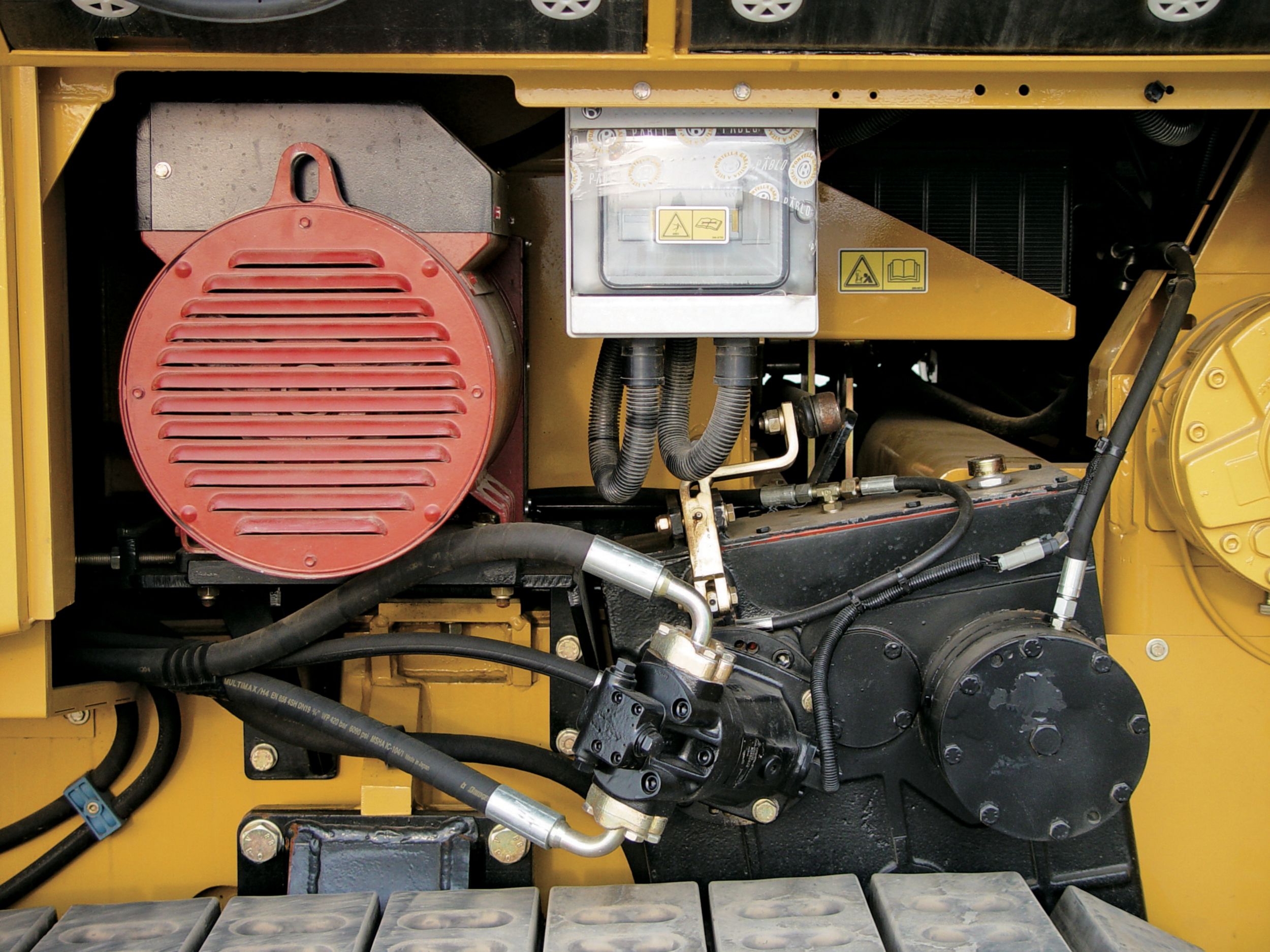 Continuous-duty integrated design ensures peak performance and high reliability.
Industrial, Continuous-Duty Generator
Working range from 1250 to 2200 rpm provides high reliability and low sound levels.
Single Control Switch
A single control switch located on the tractor's operating console activates the generator.
Full Power
The integrated, tractor-mounted generator provides full power to the electric screed while the engine is operating from 1250 rpm.
Circuit Breaker Protection
Extend service life and internal electronic voltage regulation system provides consistent power.
Auxiliary Rear Control Panel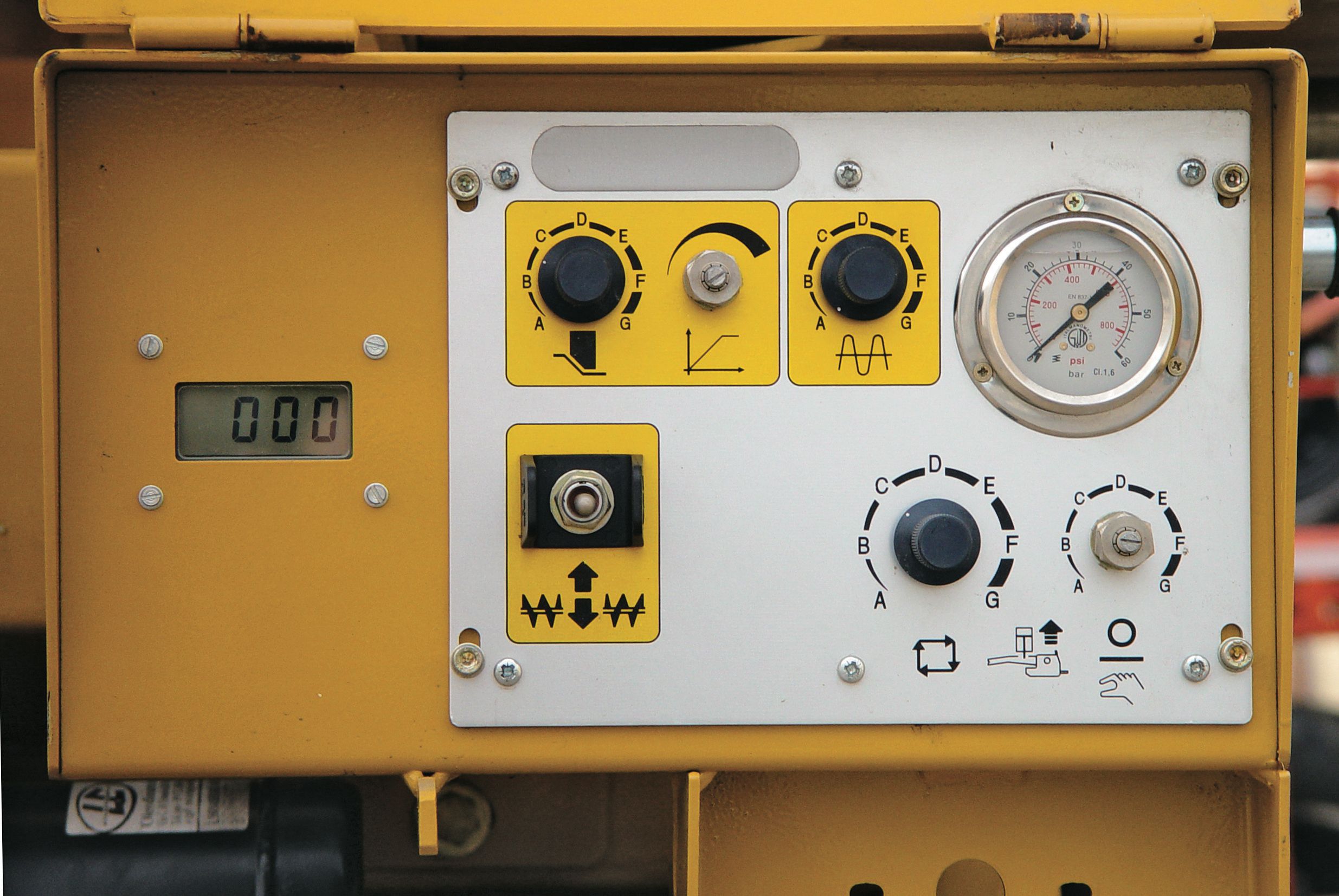 The auxiliary rear control panel provides Full control of tamper and vibrators frequencies for easy ground crew usage.
Right-Hand Auxiliary Rear Control Panel
Mounted on the right rear side of the tractor provides constant and easy control for ground crew usage during paving operations.
Monitoring And Adjustment
Tamper and vibrators frequencies, screed assist & counterbalance system and augers group are conveniently controlled on the panel.
Screed Assist
An electro-hydraulic device maintains a constant screed pressure on the bituminous mix, independently from the mix bearing capacity and the paving width. Screed assist and counterbalance system guarantees superior mat quality and flatness regardless of the speed variations and machine stops for material refilling.
Lockable Panel Cover
The lockable vandal cover efficiently protects panel controls.
Screeds

Electric heated and LPG hydraulic screeds combine the flexibility to match equipment to operator preferences or job requirements.
Screed Choices
The AP-755 is available with the AS-3251 screed and the AS-4251 screed both available with variable frequency tamper and vibrators and with LPG and electric heating system. Also available is the RB 5700 hydraulic LPG screed.
AS-3251 Screed
Hydraulic power extendible asphalt screed, it paves from 2.50 m to 4.70 m. With solid extensions added to both sides, maximum paving width is 7,50 m.
AS-4251 Screed
Double width hydraulic power extendible asphalt screed, it paves from 2.55 m to 5.00 m. With solid extensions added to both sides, maximum paving width is 7,80 m.
RB 5700 Screed
Hydraulic power extendible asphalt screed, it paves from 3.00 m to 5.70 m. With solid extensions added to both sides, maximum paving width is 9,10 m.
Tamper and Vibrator
For all screed models are operated automatically when the asphalt paver advances following a preset ramp. Tamper starting and stopping ramps are adjustable in order to maintain an optimum mat finish even with the AP-755 stopped during material reloading operations. All screeds are equipped with electronic ignition, automatic and independent adjustment of the smoothing plate temperature for central and each mobil plate.
Electric Heating System
Available for AS-3251 screed and AS-4251 screed. The electric heating system features a tractor-mounted generator, replaceable heating elements and operator friendly controls providing an operator-friendly environment. The system is equipped with automatic adjustment of the smoothing plate and tamper bar temperature for central, each mobile plate and bolt-on extensions up to 7.5 m. Rapid screed preheating is obtained at low engine rpm for quiet operation. Heavy-duty, user-friendly screed heating control unit with self-diagnostic control is positioned at the rear of the machine for easy ground crew usage.
Reliability and Serviceability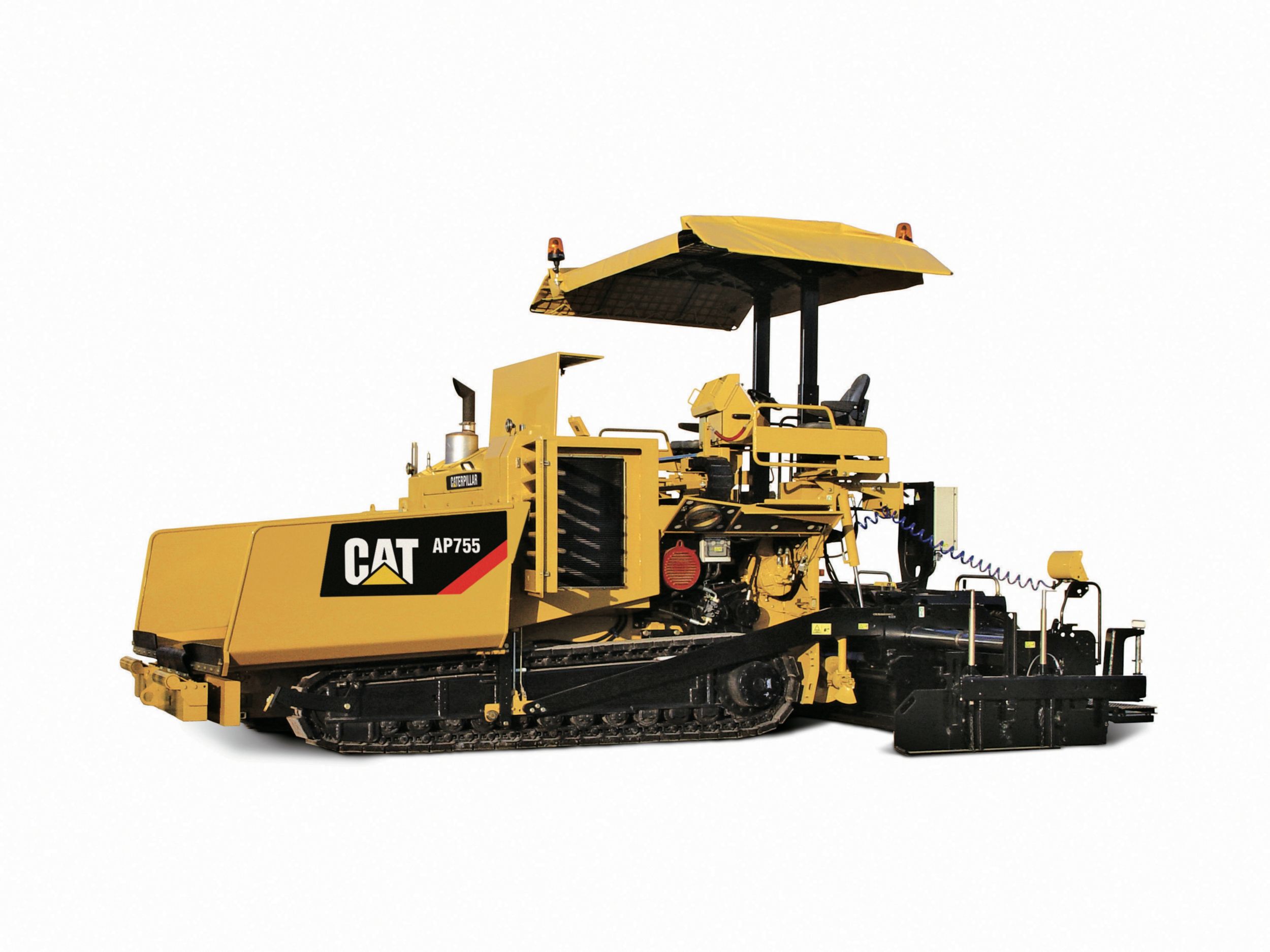 Reliability and serviceability are integrated into every Caterpillar machine. These important features keep your machine investment profitable.
Large Access Doors and Panels
Large access doors and panels ensure quick and easy inspection of the main parts. The service doors and panels also provide optimum ground level serviceability and easy access to the hydraulic pumps and external engine components.
Low Transversely Mounted Engine
Low transversely mounted engine provides optimum access to the hydraulic pumps mounted to the right side of the engine. The front service panel features a single wide hinged door that provides easy filter and traction valves serviceability.
Propel Pump Servicing
The optimum displacement of the propel pump provide enhanced servicing.
Ergonomic Operator's Station
Equipped with rotating seats and console panel provides optimum comfort, all-around visibility and easy control during machine operations.
Hydraulic Motors Servicing
Hydraulic motors for augers are fitted outboard for improved accessibility and serviceability. Motors for conveyors are fitted under the side doors promoting easy access for servicing.
Hydraulic Hoses and Electrical Wiring Harnesses
Cleanly routed and clamped to reduce wear and provide easy service.
Exposed Hoses
Exposed hoses provided with nylon sleeve protection to reduce abrasion.
Vibrator System Hydraulic Lines
Cat XT hoses provide optimum durability and resistance to damage.
Integrity of The Electrical System
Integrity of the electrical system is ensured with the use of high-quality components.
The Caterpillar Electrical Standards
Enhance reliability and durability, feature numbered and color-coded wires. Nylon-braided wrap efficiently protects the electrical wires.
Electrical Schematics
Detailing wire numbers, wire colors and component part numbers are located in the electrical schematic technical publication.