The 740 Ejector truck offers proven reliability and durability, high performance, low fuel consumption, operator comfort and low operating costs.
Cat C15 Engine with ACERT Technology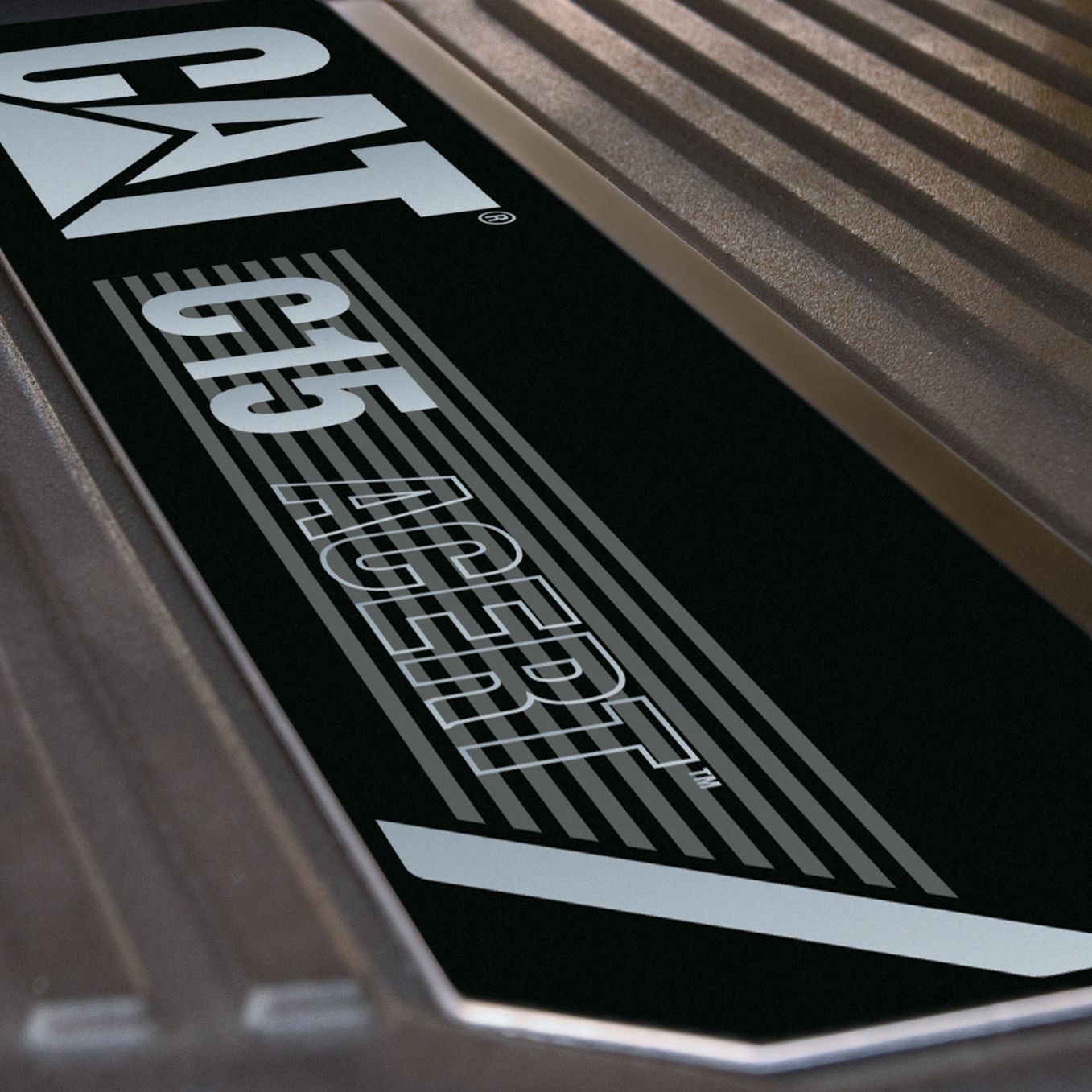 A combination of proven systems and innovative new technologies, ACERT engines optimize performance while meeting EPA Tier 3 and EU Stage 3a engine exhaust emissionregulations.
ACERT Technology
The Cat C15 ACERT engine introduces a series of evolutionary, incremental improvements that provide breakthrough engine technology built on systems and components developed by Caterpillar with proven reliability. The technology capitalizes on Cat expertise in four core engine systems: fuel, air, electronics and after treatment. ACERT technology is a unique and revolutionary systems solution that enables Cat engines to meet today's clean air regulations, thus establishing the building blocks for attaining tomorrow's more stringent standards.
C15 Block
The one-piece, gray iron block features generous ribbing for stiffness and heavy bearing bulkheads for rigidity and strength as the crankshaft turns. Straight O-ring connection points reduce the loss of engine oil and fluids.
Cylinder Head and Piston Technology
The C15 ACERT engine has a cross-flow cylinder head with refined port geometry, which improves breathing and provides better combustion. The Monotherm/steel pistons have a forged steel design, which offers high strength, light weight and tighter tolerances. The result is better oil control, minimal blow-by and long liner life.
Advanced Diesel Engine Management (ADEM) A4 Engine Controller
The ADEM A4 electronic control module manages fuel delivery to get the best performance per liter or gallon of fuel used. The engine management system provides flexible fuel mapping, allowing the engine to respond quickly to varying application needs. It tracks engine and machine conditions while keeping the engine operating at peak efficiency.
Fuel Delivery
Multiple injection fuel delivery involves a high degree of precision. Precisely shaping the combustion cycle lowers combustion chamber temperatures, generating fewer emissions and optimizing fuel combustion. This translates into more work output for your fuel cost.
Noise Reduction Technologies
Noise reduction has been achieved through design changes to the isolated top cover, oil pan, multiple injection strategy, insulated timing case cover, sculpted crankcase and gear train refinements.
Performance and Productivity – Power Train
Integrated power train with more power, greater performance and lower fuel consumption – the power to do more work.
Mechanically Actuated Electronic Unit Injection (MEUI)
A highly evolved fuel system with a proven record of reliability in the field. It combines the technical advancement of an electronic control system with the simplicity of direct mechanically controlled unit fuel injection. It excels in its ability to control injection pressure over the entire engine operating speed range. These features allow the C15 to have complete control over injection timing, duration and pressure.
Air-to-Air Aftercooling (ATAAC)
ATAAC keeps air intake temperatures down and, in concert with the tight tolerance combustion chamber components, maximizes fuel efficiency and minimizes emissions. Significant improvements in airflow are generated by a turbocharger, unique cross-flow head and a single overhead camshaft.
Wastegate Turbocharging
Single wastegate turbocharger provides higher boost over a wide range, outstanding low-end performance with improved peak torque and engine response.
Electronic Transmission
The Caterpillar seven-speed electronically controlled transmission is designed specifically for the articulated truck and its applications. It features anti-hunt shift strategy for speed continuity. It also incorporates Individual Clutch Modulation (ICM) to ensure constant shift times even when the oil is cold.
Two Reverse Gears
The transmission arrangement provides a second reverse gear for improved performance when operating in longer rear hauling applications. First gear reverse is now of a lower ratio for increased rimpull on wet or steep grades.
Controlled Throttle Shifting (CTS)
Significantly reduces power train stress and clutch wear by controlling engine speed, torque converter lock-up and transmission clutch engagements.
Caterpillar Engine Compression Brake
Provides extra braking effort on downhill grades. It is an excellent match for the Cat C15 ACERT engine, turning it into a power absorbing air compressor. It has very fast response time and produces no additional heat, so it can be used continuously.
Usable Rimpull
Power train components work together to offer more usable rimpull at higher speeds on effective grades. In first gear, the torque converter overcomes grade resistance by sending more torque to the wheels and preventing engine lugging. On downhill grades, the engine compression brake effectively slows the machine.
Hydraulic Fan
The remote-mounted hydraulic fan is temperature sensitive providing variable speeds when needed, which minimizes power requirements. The result is more power to the ground and faster cycle times.
Performance and Productivity – Suspension and Traction Control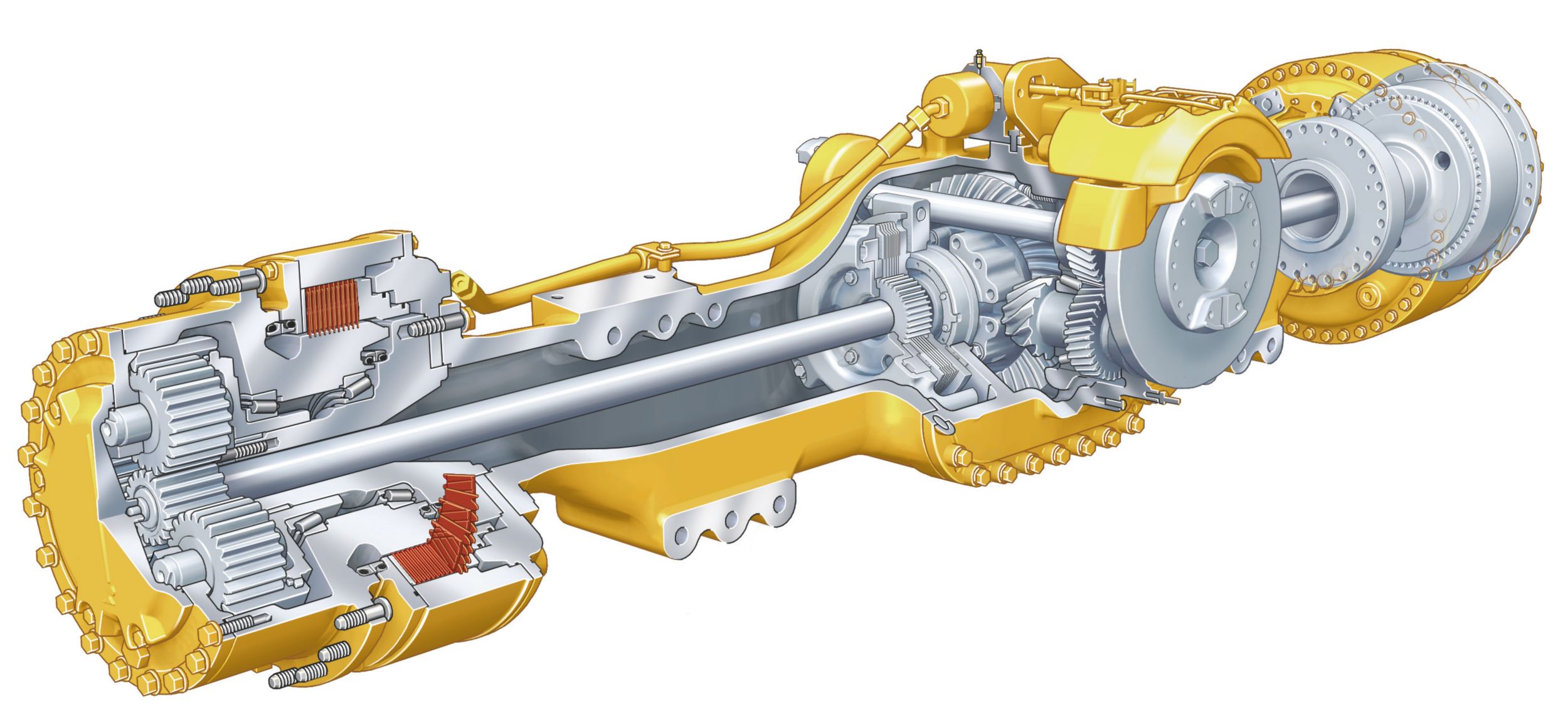 Suspension systems and traction control – delivering power to the ground in all conditions.
Front Suspension
The three-point front suspension permits the axle to oscillate ±6°, softening impact loads on structures and components and providing a smooth ride, so the operator can travel at speed over rough terrain.
Rear Suspension
Features a walking beam geometry with Caterpillar designed rear suspension mounts which provide a reliable and stable ride for excellent load retention.
Traction Control
The traction control system is comprised of a wet clutched inter-axle differential and wet clutched cross-axle differentials. All differentials can be engaged and disengaged on-the-go for maximum versatility. When used together, the differentials provide 100 percent driveline locking.
Inter-Axle Differential Lock
Locks all three axles in unison and modifies torque distribution for excellent traction in poor underfoot conditions and on grades. It is operated by a switch located at the footrest.
Cross-Axle Differential Locks
Provides full driveline locking – all three axles and all six wheels – for maximum performance in the most adverse conditions. Acts in unison with the inter-axle differential lock when the footswitch is actuated and the dash-mounted switch is selected.
Steering System
Cat articulated trucks use a load-sensing steering system for smooth, precise control. It features a single, variable displacement pump. Two double-acting, cushioned steer cylinders allow the machine to articulate 45° to the left or right, permitting precise positioning in tight areas. Its compact Hand Metering Unit controls the cylinders for responsive steering and performance. An electronic secondary steering system is standard.
Enclosed, Oil-Cooled Brakes
Multi-plate, oil-immersed, oil-cooled brakes are fitted to both front and center axles. These brakes provide outstanding stopping capability, while maintaining maximum durability and life.
Performance and Productivity – Ejector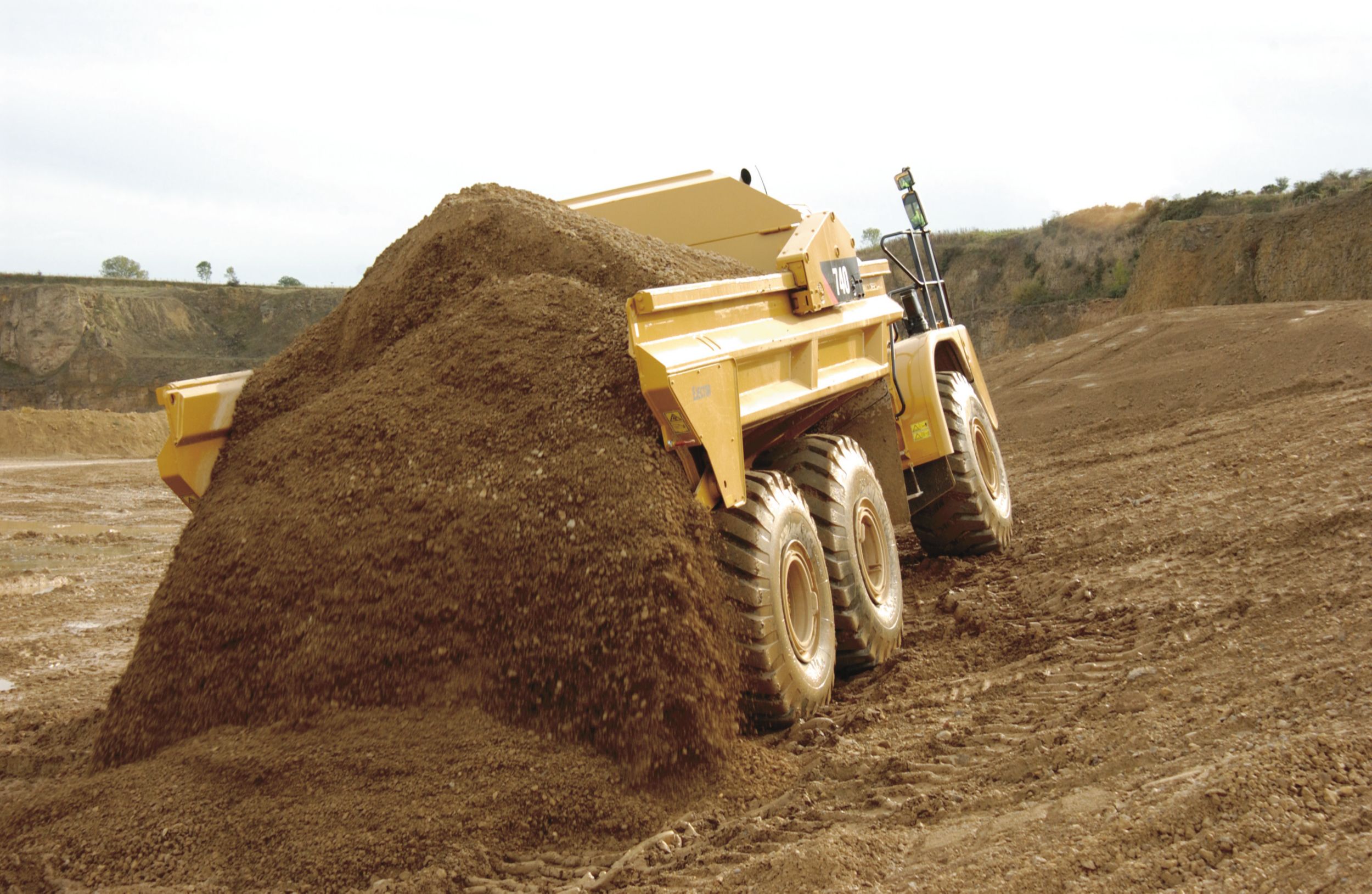 Designed to disperse the load on-the-go for faster cycle times and lower spreading costs.
Ejector
The 740 Ejector is designed to disperse the load on-the-go for faster cycle times and lower spreading costs. The ejector body also offers clean load ejection and the capability to work in areas with restricted overhead clearance and soft underfoot conditions.
Versatility
The 740 Ejector is based on the standard 740 Articulated Truck and shares all its versatility. It can operate in the same conditions, yet offers a number of unique capabilities that stretch the operation envelope.
Spreading
The truck can eject the material and spread it out while moving, reducing the size of additional spreading and dozing equipment. This makes the 740 Ejector an ideal solution for road building and landfill applications. On-the-go ejecting results in faster cycle times and reduced power train loads.
Stability
Ejecting the load without raising the body increases stability, allowing load dispersal on inclines, side slopes and in very soft underfoot conditions. Generally, these conditions would be unacceptable with a conventional truck, but are ideal for the 740 Ejector, especially on landfill sites.
Overhead Clearance
Because the body is not raised when ejecting the load, the truck can be utilized in areas with reduced overhead clearance such as when working around overhead lines, conveyors, hoppers and bridges. The ejector is also ideal for tunneling and underground operations.
Carry-Back
The design of the ejector is inherently self-cleaning and practically eliminates material sticking to the body, which increases productivity, improves fuel efficiency and lowers cost per ton.
Body
Reinforced body is made from thick high-yield, heat-treated Brinell hardened steel (Brinell 400 on the base and sides) that provides exceptional durability. Ejector top rails are made from high-strength alloy steel. For optimum durability and wear life, the ejector body is designed to work in applications where the material consists of rocks smaller than 152 mm (6 in.) in diameter.
Blade
The ejector blade is made from high-strength steel and uses technology similar to that proven in Cat wheel tractor-scrapers.
Cylinder
A four-stage, high-speed, double-acting cylinder is specifically designed for horizontal mounting and provides smooth load ejection. It is centrally supported and nitride-hardened to ensure a long service life.
Proven Technology
Much of the 740 Ejector design is carried over from the Cat 740 Articulated Truck.
Durability and Reliability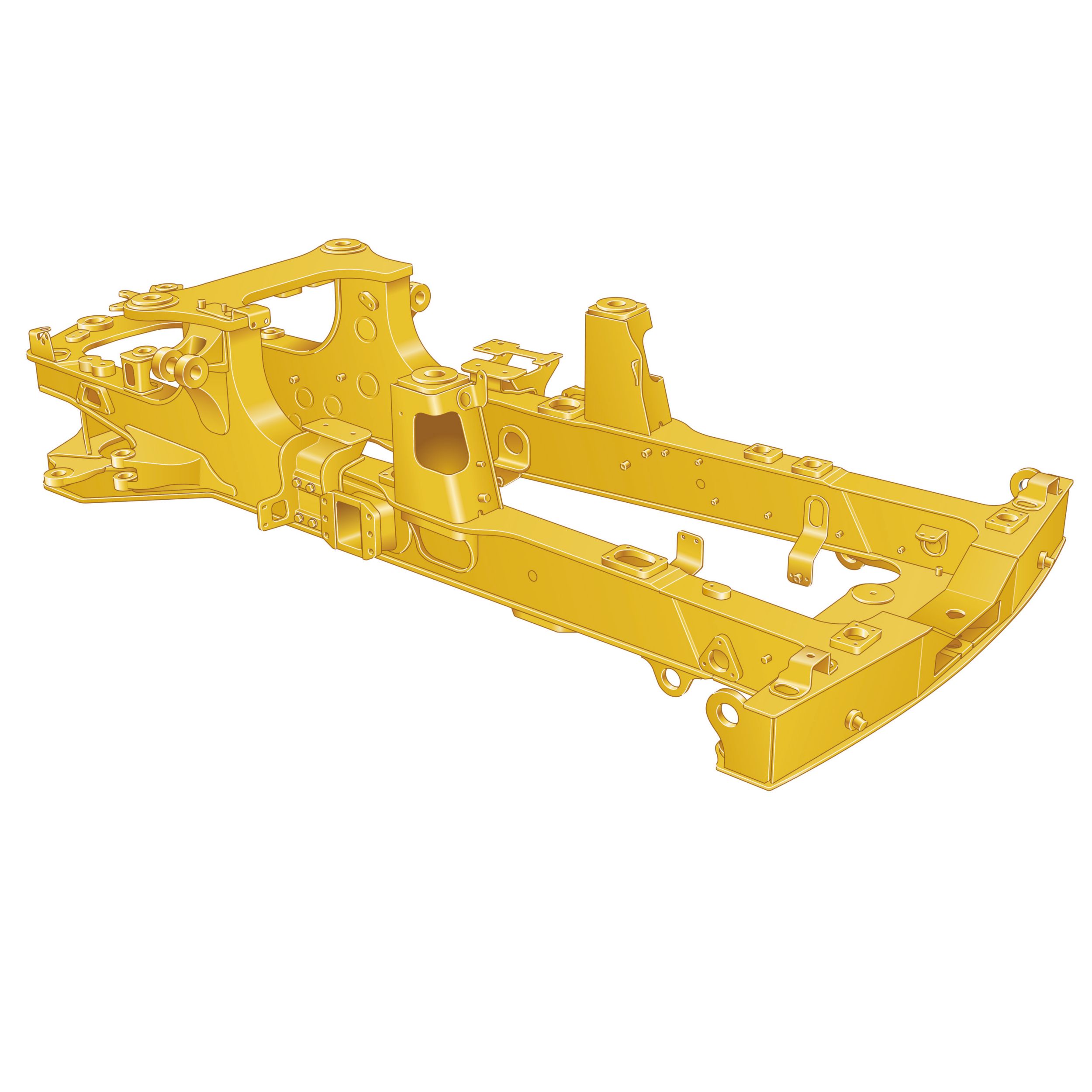 High availability leads to high productivity. Excellent durability keeps ownership costs low.
Front Frame
The front frame design features a large box section and wide, stiff frame beams to handle torque loads. The divergent frame design decreases stress in the hitch area and optimizes suspension geometry. The design incorporates advanced technologies such as Finite Element Analysis to optimize the frame before the first machines are ever built.
Rear Frame
Twin-box construction minimizes stress concentrations and provides low weight with long life.
Castings
Both front and rear frames make extensive use of heavy-duty steel castings to handle stress concentrations.
Suspension
Provides unparalleled ride quality and protects the truck from the most adverse road conditions by absorbing shock loads that would otherwise reach the frame.
Articulating/Oscillating Hitch
The articulating hitch provides the truck with steering articulation, and the oscillation ensures all-wheel ground contact in rough terrain.
Steer Cylinders In-Line with Hitch
Steering cylinders are in-line with the hitch, minimizing steer loads and stress in the hitch area.
Hitch Construction
Two-piece bolted hitch features a strong, durable cast steel head bolted to a hardwearing forged steel tube. The hitch tube has hardened bearing areas and a hardened thrust face for reduced maintenance and longer life.
Service Brakes
Oil-cooled, multiple disc brakes are continuously cooled for exceptional non-fading braking. They are designed and built for reliable, adjustment-free operation.
Parking Brake
Located on the center axle in an elevated position and designed to deliver higher heat capacity and abuse resistance.
Cat Power Train Components
All major components have been purpose-designed for earthmoving applications. In fact, many of the major components have been designed specifically for articulated trucks.
Radiator Protection
The radiator is located behind the cab for excellent visibility. This design incorporates three levels of protection:
Operator Comfort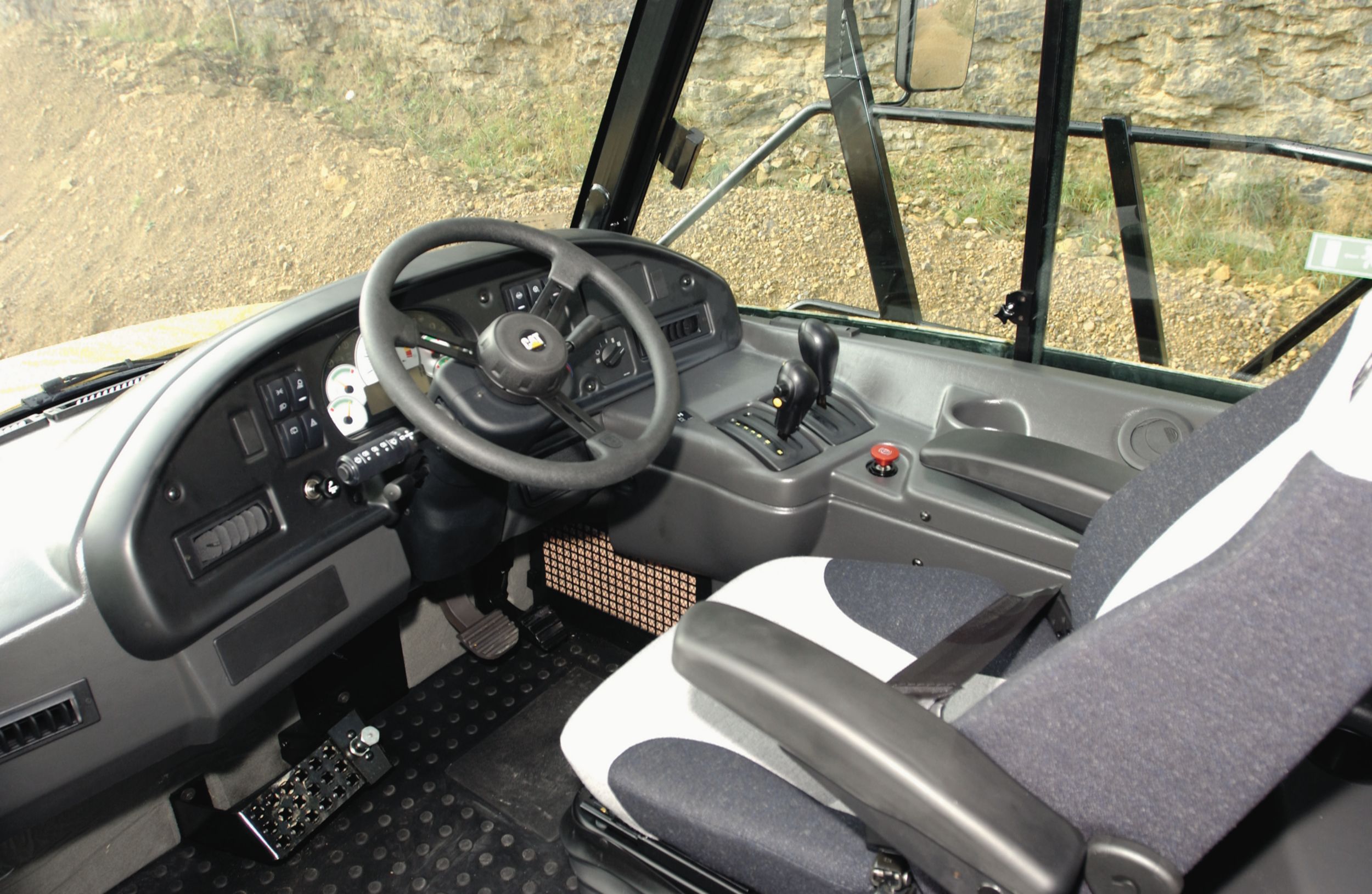 The operator's office – high productivity from a comfortable, motivated operator.
Ride Comfort
The three-point front suspension with its oscillating axle and low-pressure ride struts, combined with the center-mounted cab, offers unrivaled levels of ride comfort for the operator in all driving conditions. The operator remains comfortable and productive throughout the day.
Spacious Two-Person Cab
The 740 Ejector features a large two-person cab, offering comfortable working space for both the operator and trainer or trainee. All 700 Family articulated trucks use the same spacious cab design.
Air Suspension Seat
The air suspension seat enhances operator comfort with a cushioned upper high back, adjustable damping with three settings, ride zone indicator and adjustable lumbar settings. It is fully adjustable to provide the optimal driving position.
Storage Space
Plenty of storage space to create a safe, secure and uncluttered working environment.
Trainer Seat
Full-size trainer seat features a fully padded seat with a backrest and a wide, retractable seatbelt for a secure and comfortable ride. The trainer seat is positioned next to the operator seat, giving both the operator and trainer a clear view of the instrument panel, controls and the road.
Heating/Ventilation/Air Conditioning
Twelve vents provide air distribution to keep the operator comfortable and to provide rapid defrosting of all windows. Heating, air conditioning and defrosting are standard. The recirculation filter is positioned for easy servicing.
Radiator Mounting
The radiator is mounted at an angle to prevent heat transfer to the cab.
Dual-Sliding Window
The right-hand window is a dual-sliding window. Opening this window with the left rear-hinged window provides cross-flow ventilation and enhanced operator comfort.
Sound Levels
Cab mounts are designed to reduce noise and vibration in the cab. All connections to the cab are resiliently mounted. The operator's station makes extensive use of sound-absorbing and barrier materials to keep sound levels low.
Steering Column
A comfortable driving position is provided by a telescopic and tilt steering column.
Ease of Operation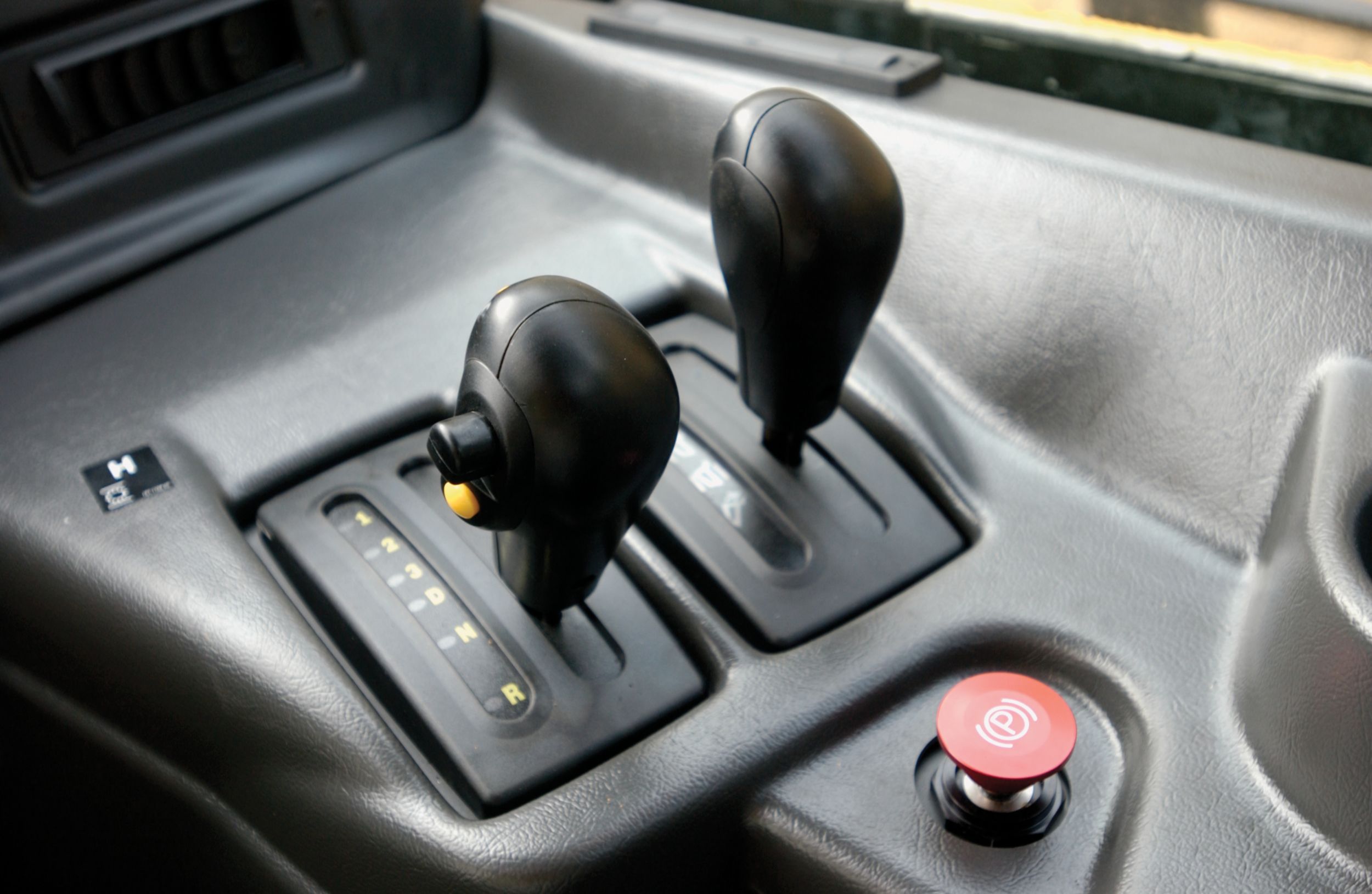 Designed for simple, easy operation, the 740 Ejector allows the operator to focus on production.
Ergonomic Layout
The controls and layout of the cab are designed to make it as easy to operate as your car. Quick, easy to read and simple to operate, the controls and gauges allow the operator to concentrate on production.
Dash
The Generation II wrap-around dash puts all controls within easy reach of the operator. Featuring LED illuminated rocker switches, large LCD display and a rear wash wipe rocker switch. It provides an automotive feel with the industrial strength you would expect from Caterpillar.
Viewing Area
The low sloping hood and placement of the cooling package behind the cab give the operator excellent all-around visibility. The large glass area and central operator position also provide excellent visibility.
Wipers
The wet arm wiper system cleans more glass area and is bottom-mounted to keep it out of the operator's line of sight. Windows are tinted to reduce glare.
Differential Lock Controls
The inter-axle differential lock is engaged/disengaged by using a raised switch incorporated into the drivers foot rest, for ease of operation. For 100% lock up, all three cross-axle differential locks act in unison with the inter-axle differential lock when the foot switch is activated and a dash mounted switch is selected. Disengaging the foot switch opens all differential locks immediately.
Dash-Mounted Switch
A dash-mounted switch is all that is required to select full driveline lock-up.
Transmission and Ejector Levers
Finger tip controls allow easy operation and low effort. The ejector and transmission levers are positioned for easy, comfortable operation, along with the control for top gear limit, transmission hold and neutral lock.
Blade Retraction Sequence
The ejector blade returns to the loading position as soon as the blade retract sequence is initiated. The transmission is held in the gear selected for the ejecting cycle until this sequence is completed and the ejector control lever is returned to the float position.
Retardation Control
The Cat engine compression brake control lever is positioned on the right-hand side of the steer column. Four modes of operation, with three steps of retardation, provide an optimum match between operating conditions and retarding power.
Suspended Pedals
Easy to operate and reach with plenty of leg and foot room. They also make for easier cleaning of the cab floor by keeping the pedals out of the dirt.
Cat 2S Monitoring System
Provides an improved method of monitoring critical machine functions and alerts the operator to an immediate or impending problem. The system provides four levels of warning:
Serviceability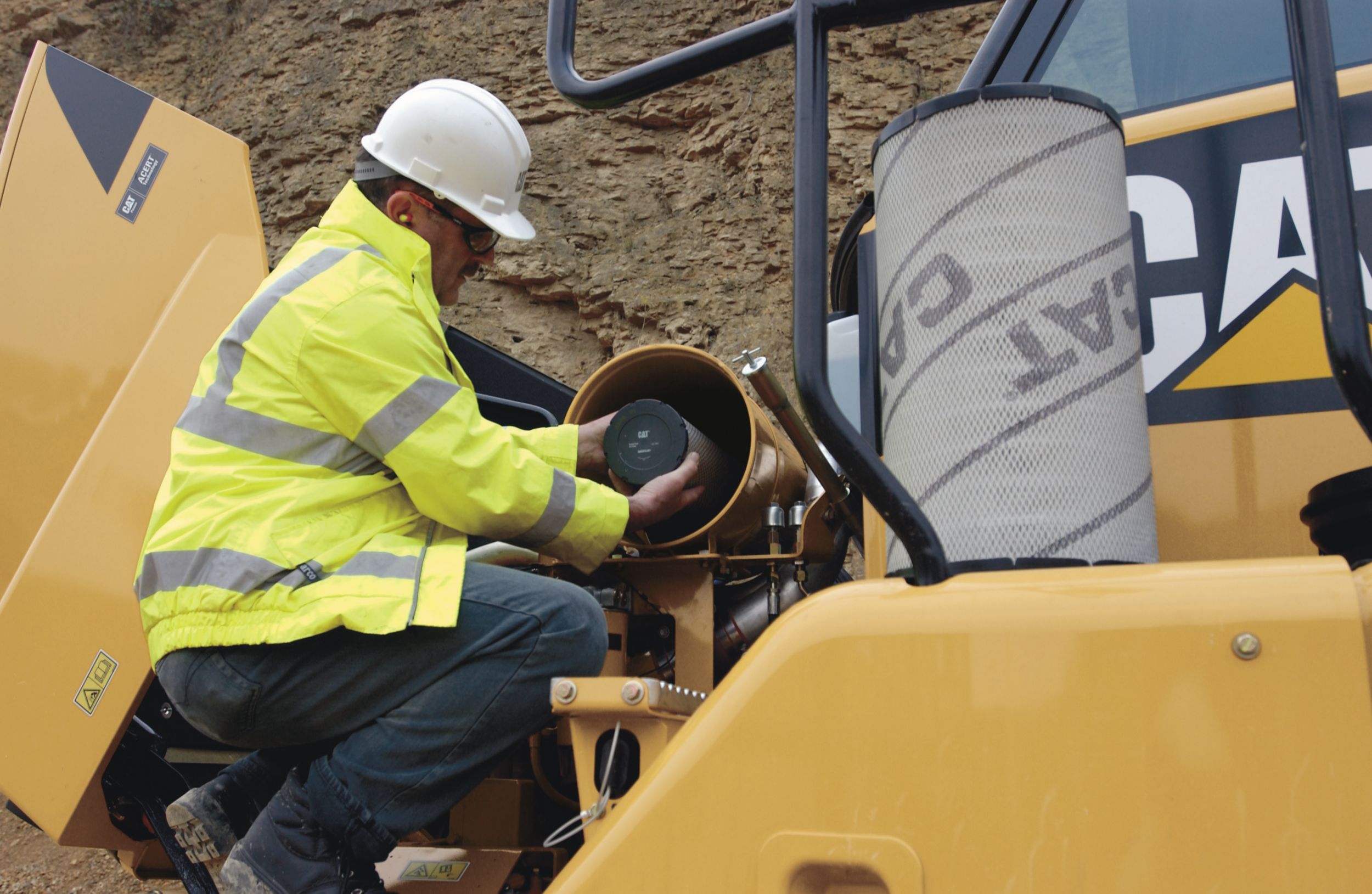 More time on production, less time and money spent on servicing.
Long Service Intervals
Long engine oil change and hydraulic oil change intervals lower maintenance costs and downtime. Wheel bearing adjustment is completely eliminated.
Lube Points
Lube points are grouped at the rear of the front frame and the front of the rear frame. Universal joints are lubed for life, eliminating servicing. Autolube is optional.
Service Points
Engine and transmission dipstick and fill caps, air and fuel filters and the fuel-priming pump are all mounted on the left side of the engine under the hood. Coolant level indicator and fill cap are outside the cab.
Radiator
The radiator package is located behind the cab, which provides easy access to both inlet and outlet sides of the radiator. The ATAAC radiator is located at the front of the truck.
Extended Life Coolant
Extends the change interval and improves component life by reducing aluminum corrosion.
Hood
The hood is raised and lowered electrically, requiring minimal operator effort when servicing.
Electrical Service Center
Located inside the cab, this service center provides a power port, diagnostic connector and Cat Data Link connector.
Cat Data Link Connector
The Cat Data Link connector provides a plug-in using a laptop computer with Electronic Technician (ET) software. The Cat Data Link port performs programming functions on all electronic controls.
Service Access
The cab tilts to the side to provide easy access underneath, which simplifies servicing of the transmission, drive shafts and hydraulic pumps. Machine electrical and hydraulic interfaces are located on the right side of the cab, behind a removable cab body panel for easy access.
Integrated Transmission Package
The transmission integrates the transmission pump and torque converter into a single package. Because the transmission is an integral design, it eliminates many of the external hoses, resulting in less servicing and higher reliability.
Truck Transport
The suspension system design eliminates the need to lower the suspension when transporting the truck, reducing maintenance and downtime.
Output Transfer Gear
Provides lubrication of all bearings and clutches using a distributed-pressure lubricated and filtered system. Good lubrication and filtration reduce service and repair.
Complete Customer Support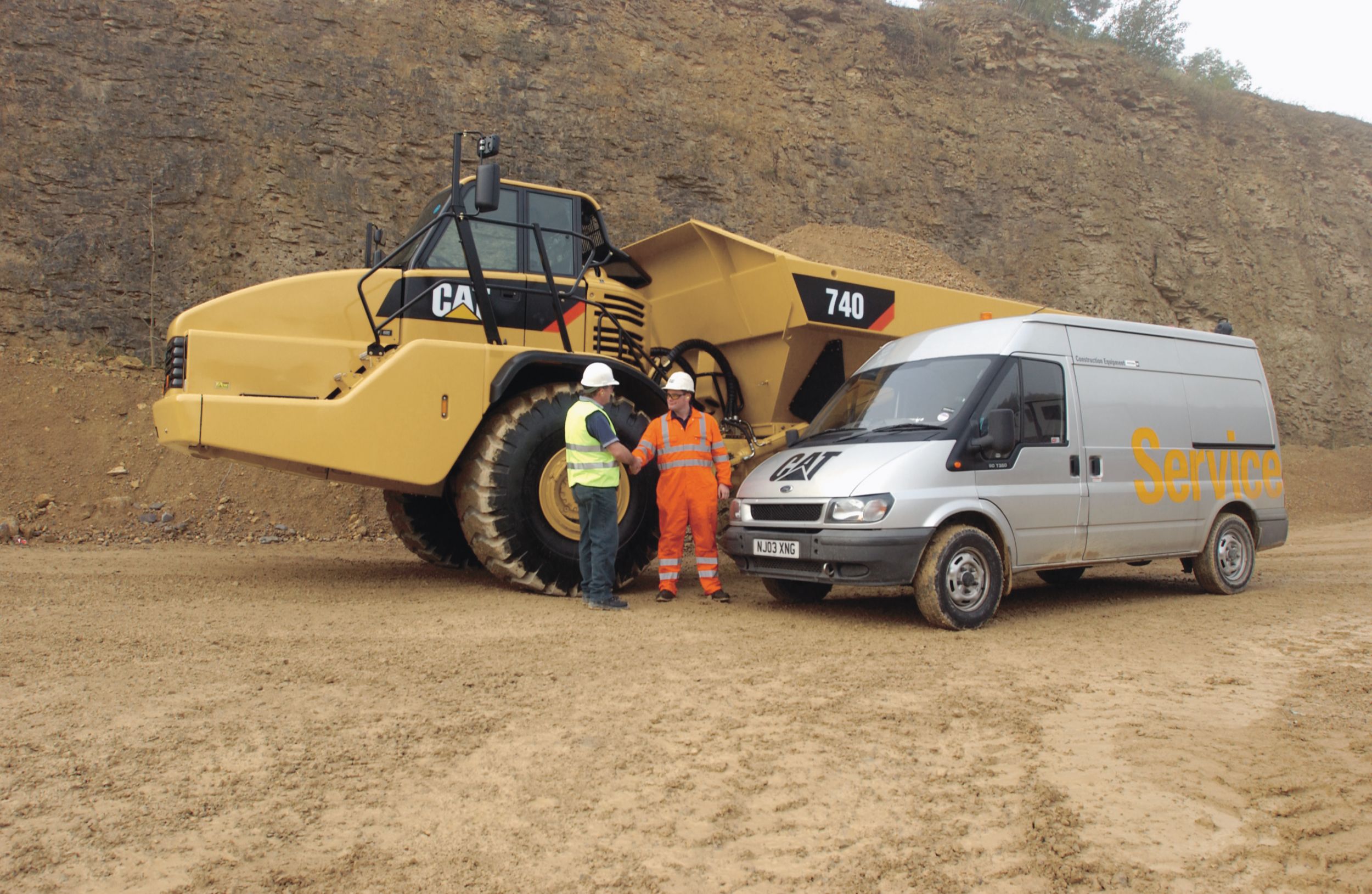 Cat dealer services help you operate longer with lower costs.
Selection
Make detailed comparisons of the machines you are considering before you buy. What are the job requirements, machine attachments and operating hours? What is your need for machine availability and do you have the proper loading tool match? Your Cat dealer can help.
Operation
For the best operating techniques to increase productivity and your profit, turn to your Cat dealer for the latest training literature and trained staff.
Maintenance
Repair option programs guarantee the cost of repairs up front. Diagnostic programs such as S·O·SSM and Technical Analysis help you avoid unscheduled repairs.
Replacement
Repair or rebuild? Cat articulated trucks are designed for longer life with rebuildable components. Your Cat dealer can help you evaluate the cost involved so you can make the right choice.
Product Support
The 740 Ejector offers easy maintenance with combined service points and extended service intervals to keep the machine running longer. Your local Cat dealership will be with you every step of the way with its unsurpassed worldwide parts support, trained technicians and customer support agreements.
Warranty
Your local Cat dealer is there to support and protect you. Extended warranty options are also available.
Cat.com
For more complete information on Cat products, dealer services and industry solutions, visit us on the Web at www.Cat.com.