The Cat Challenger 45 is built to match your planting, cultivating and tillage requirements. Choose from two tractor chassis, including our exclusive Wide-Track version.
Mobil-trac System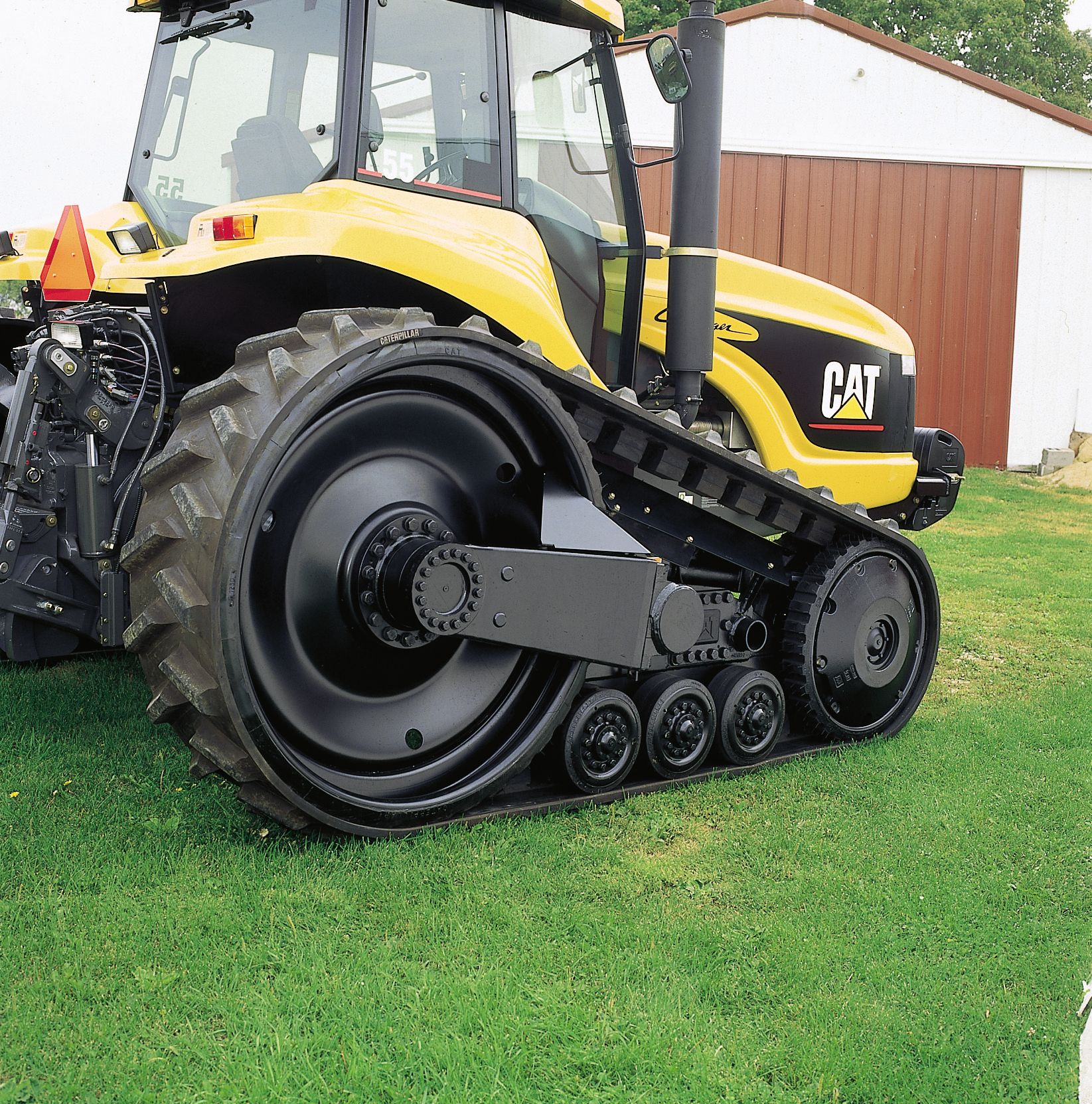 The Challenger tractor provides greater traction and flotation, reduced compaction and maximum versatility in a variety of applications. This is a test.
Rubber-belted Introduction
Caterpillar's agricultural commitment was demonstrated with the development of the Challenger tractor's rubber-belted track system more than 70 years later.
Excellent Traction
The Caterpillar Mobil-trac system provides excellent traction and flotation plus reduced compaction.
Undercarriage and Belts
The undercarriage and belts are Caterpillar designed and manufactured to ensure quality, reliability and superior performance.
Rubber Belt Compound
Each belt contains multiple layers of steel cable for precise tracking.
Belt Types and Widths
Four belt types and five belt widths match the best belt to the application.
Chevron Driver
The chevron driver features efficient mud and debris purging for excellent performance in all applications.
Debris Shields
Debris shields on the roller frame prevent debris build up, keeping the drive wheel and reaction arm clean for maximum efficiency.
Differential Steering
Differential steering provides smooth, full-power turns and outstanding maneuverability plus a turning radius unmatched in the industry.
32 inch (812.8 mm) diameter idler
The 32 inch (812.8 mm) diameter idler optimizes the bending angle of the belt to minimize rolling resistance and increase tractor efficiency.
Swing-link
The swing-link features sealed and lubricated bearings at the ends of both the pivot and the tension rod.
Belt Tension
This self-supporting structure relieves the tractor frame of additional strain, and allows track spacing as wide as 120 inch (3048 mm) without undue component stress.
Undercarriage
The row-crop Challenger tractor undercarriage is designed for variable gauge spacing with constant belt tension forces contained within the roller frame.
Power Train
The Caterpillar 3116 engine is designed and rated to pull you through the tough spots.
Cat 3116 Engine
Proven Cat 3116 six-cylinder diesel engine is dynamically balanced for superior performance and exceptional responsiveness.
Fuel Injectors
Unit fuel injectors allow higher injection pressures to improve fuel atomization.
Two-piece Articulated Pistons
Two-piece articulated pistons with forged steel crown and aluminum skirt provide excellent strength, durability and quiet operation.
Air-to-air Aftercooler
Air-to-air aftercooler improves fuel economy by packing cooler, more dense air into cylinders for more complete combustion.
Extended Life Coolant
Extended life coolant offers better protection over a longer period of time, lowers operating costs, requires less maintenance and is environmentally responsible and recyclable.
Full Powershift Transmission
Full powershift transmission allows on-the-go shifting under load in all gears.
Automatic Speed Matching
Transmission gear speed is automatically matched to travel speed in transport applications when gears 10-16 are used.
Power Shuttle
Power shuttle allows smooth forward to reverse directional change without clutching or stopping.
Transmission Control
Transmission control allows wide choice of shifting stategies.
Optional Creeper Transmission
Optional creeper transmission provides an additional 16 forward and nine reverse speeds at 91% speed reduction for specialty applications.
Cab
Advanced design gives you excellent control, comfort and visibility, and is designed to make your days in the field more productive.
Advanced Design
Advanced design provides excellent access to operating information, control, comfort and visibility.
Excellent View
Excellent view to the rows with the standard- or Wide-Track tractor, in narrow- or wide-row configurations.
Electronic Monitoring Center
Electronic monitoring center is centrally located on the steering console for easy viewing.
Control Console
Control console is ergonomically designed and conveniently located to operator's right.
Superior Light System
Complete array of work lights provides high visibility for night work.
Convenient Storage Locations
Convenient storage locations include beverage holder, storage area for tools, gloves and other items plus a convenient location to store a cooler.
Air Ride Suspension Seat
Air ride suspension seat is eight-way adjustable for maximum comfort.
Operator Presence Switch
Operator presence switch sounds audible alarm if operator leaves seat before applying parking brake or shutting down PTO.
Recessed Night Lights
Recessed night lights illuminate controls without window glare.
Multiple Mounting Points
Multiple mounting points for additional monitors and radios are provided along with five auxiliary electrical circuits.
Three-Point Hitch and Drawbar
The Caterpillar three-point hitch and drawbar provide a strong, durable mounting point for implements.
Three-point Hitch
Caterpillar designed three-point hitch is strong and durable.
Quick Coupler
Category III/IIIN Quick Coupler is standard on all models.
Overall Design
Overall design of three-point hitch and quick coupler is optimized for load control and tractor balance.
Drawbar Design
Drawbar design features strength and durability.
Wide-swinging Drawbar
A wide-swinging drawbar is available as an option.
Customer Support Serviceability
Your Cat dealer provides in-field service by ag tractor technicians with a "shop on wheels," plus industry-leading parts availability and preventive maintenance programs.
In-field Service
In-field service by Cat dealer ag tractor technicians from a "shop on wheels" means fast service.
Machine Management Services
Cat dealers help manage your tractor investment.
Parts Availability
Most Cat parts are immediately available.
Tilting Hood
The entire hood easily tilts out of the way with the help of gas-charged struts.
No Daily Undercarriage Service
No greasing or servicing of the undercarriage is required.
Easy Access
Easy access to daily service points.
Simple Undercarriage Changes
Simple undercarriage gauge or belt change. Undercarriage changes can be made in the field.