963D Track Loader
Increased horsepower, excellent maneuverability, redesigned operator cab for comfort, the revolutionary SystemOne™ undercarriage and the new implement system increase your productivity, drastically reduce your operating costs and make the new 963D unsurpassed in versatility.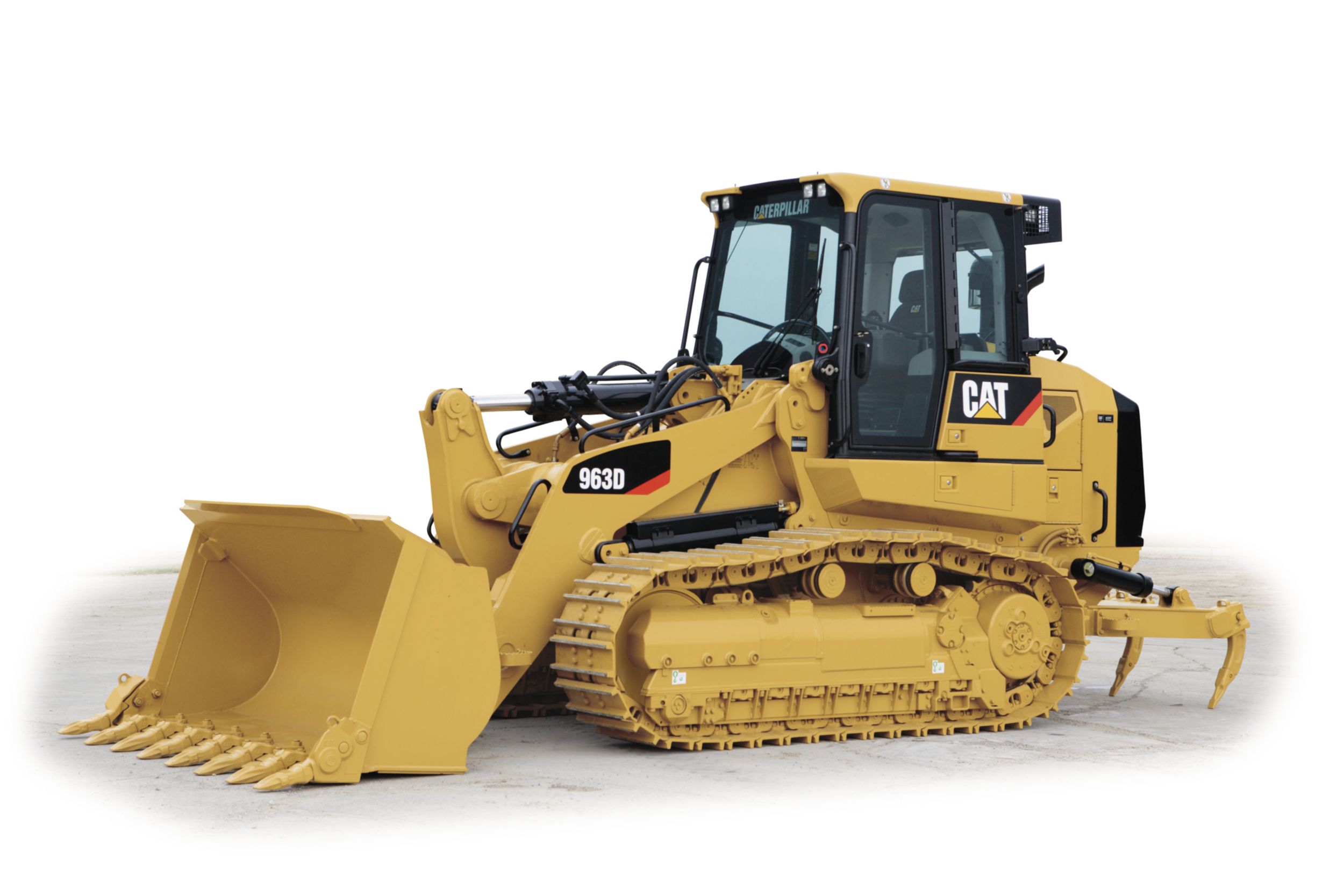 Product Details
Engine
| | |
| --- | --- |
| Flywheel Power | 141.0 kW |
| Engine Model | Cat® C6.6 ACERT™ |
| Net Power - Cat | 141.0 kW |
| Net Power - ISO 9249 | 141.0 kW |
| Net Power - SAE J1349 | 141.0 kW |
| Net Power - EEC 80/1269 | 141.0 kW |
| Bore | 105.0 mm |
| Stroke | 127.0 mm |
| Displacement | 6.6 L |
Weights
| | |
| --- | --- |
| Operating Weight | 20220.0 kg |
Buckets
| | |
| --- | --- |
| Capacity - General Purpose | 2.45 m3 |
| Capacity - Multi-Purpose | 2.0 m3 |
| Bucket Width - General Purpose | 2612.0 mm |
| Bucket Width - Multi-Purpose | 2575.0 mm |
Undercarriage
| | |
| --- | --- |
| Track Shoe Type | Double Grouser |
| Track Shoe Width - Standard | 550.0 mm |
| Track Shoe Width - Optional | 450.0 mm |
| Track Rollers - Each Side | 7 |
| Number of Shoes - Each Side | 38 |
| Track on Ground | 2543.0 mm |
| Ground Contact Area - Standard Shoe | 2.8 m2 |
| Ground Contact Area - Optional Shoe | 2.3 m2 |
| Ground Pressure - Standard Shoe | 71.5 kPa |
| Ground Pressure - Optional Shoe | 85.5 kPa |
| Grouser Height - Double Grouser | 42.0 mm |
| Track Gauge | 1850.0 mm |
Drive System
| | |
| --- | --- |
| Track Motor | Two, variable displacement, bent axis motors |
Hydraulic System - Equipment
| | |
| --- | --- |
| Type | Closed center, load sensing / piston |
| Output | 209.0 L/min |
| Main Relief Valve Setting | 28000.0 kPa |
Service Refill Capacities
| | |
| --- | --- |
| Fuel Tank | 400.0 L |
| Cooling System | 31.5 L |
| Crankcase (with Filter) | 16.5 L |
| Final Drives (each) | 15.0 L |
| Hydraulic Tank | 90.0 L |
| Pivot Shaft | 1.8 L |
Ripper Specifications
| | |
| --- | --- |
| Type | Radial |
| Number of pockets | 3 |
| Overall Width/Beam | 1950.0 mm |
| Shank cross section | 58.5 mm x 138 mm 50 in x 5.4 in |
| Ground Clearance | 874.0 mm |
| Penetration | 271.0 mm |
| Ripping Width | 1836.0 mm |
| Cylinders - Bore | 114.3 mm |
| Cylinders - Stroke | 289.0 mm |
| Addition to Machine Length due to Ripper (in Transportation Position) | 494.0 mm |
Standards
| | |
| --- | --- |
| ROPS/FOPS | ROPS/FOPS |
| Brakes | Brakes |
| Cab | Cab |
Bucket Cycle Times
| | |
| --- | --- |
| Cycle Time - Dump | 1.3 Seconds |
| Cycle Time - Float Down | 2.9 Seconds |
| Cycle Time - Raise | 5.8 Seconds |
| Cycle Time - Total | 6.4 Seconds |
Engine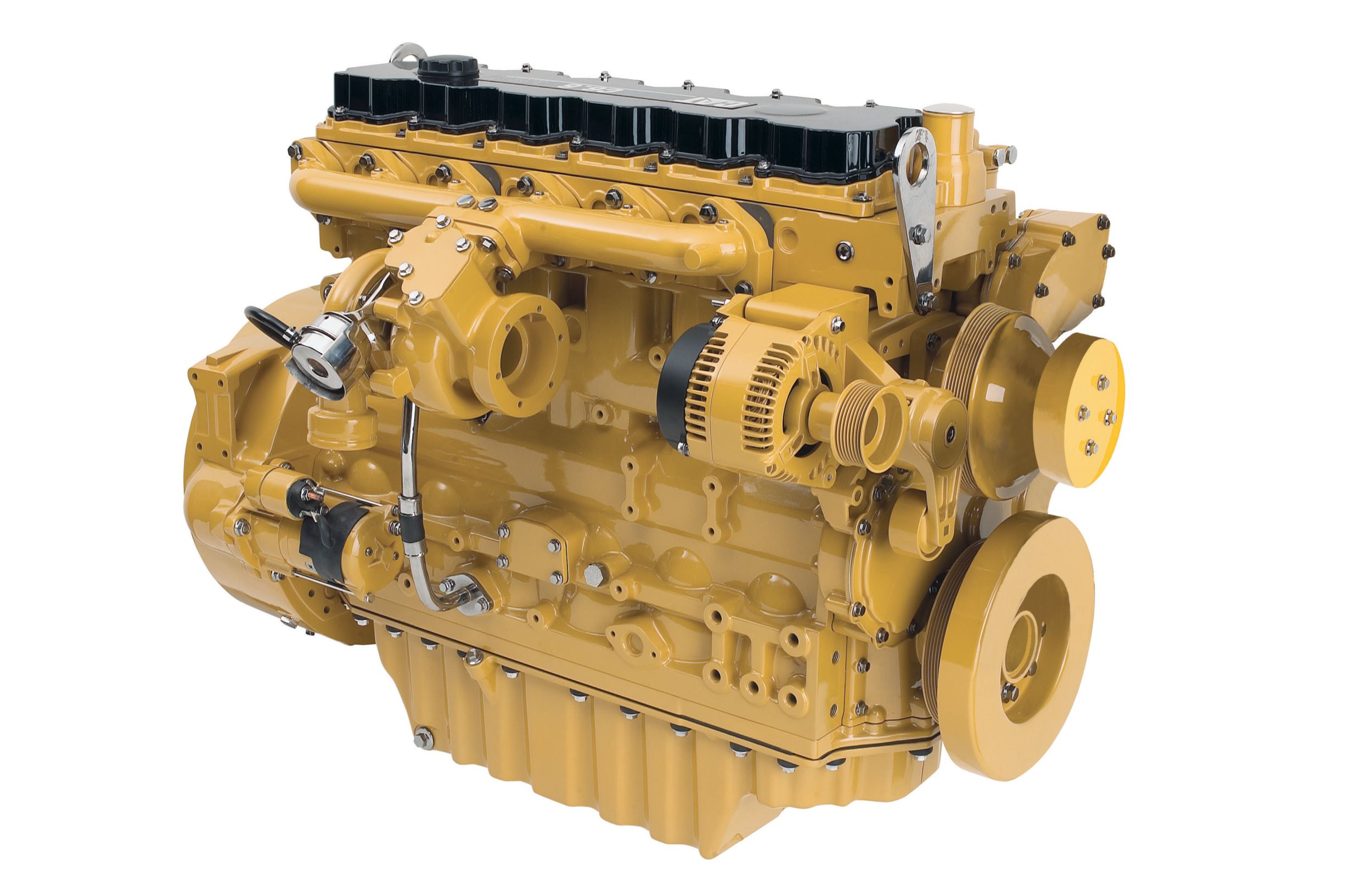 Provides power, reliability and acts as a working counterweight in the rear of the machine, for optimum machine balance.
Cooling module architecture
The cooling system is a single cooling unit, which includes Radiator, ATAAC, Oil cooler and Fan installation. The cooling module is located at the rear of the loader, away from dust and debris stirred up by the bucket while the machine is working. The radiator has 6.5 fins per inch (fpi) which helps reduce plugging.
Cat C6.6 ACERT™
The Cat® C6.6 is a 6.6 liter (403 in3) displacement, six-cylinder, in-line configured engine that utilizes the Caterpillar Common Rail fuel system for fuel delivery. It uses ACERT™ Technology, a series of Caterpillar engineered innovations that provide advanced electronic control, precision fuel delivery and refined air management, resulting in outstanding performance and lower emissions. The C6.6 with ACERT Technology offers a compact design with big, heavy-duty engine features for outstanding durability, reliability and performance. The C6.6 incorporates a new cross flow cylinder head design, 4 valve head and an ADEM™ A4 electronic controller. The C6.6 also features proven cylinder block, pistons and crankshaft and incorporates the common rail fuel system. ACERT™ technology enables the C6.6 engine to meet the U.S. EPA Tier 3, European Union Stage IIIa and Japan Ministry of Land, Infrastructure & Transport Step 3 emissions standards, which dramatically reduce nitrous oxides (NOx) and other emissions. ACERT™ technology used on the C6.6 consists of three basic building block systems: electronic control, fuel delivery, and air management. These have been refined to control the combustion process to a higher degree than ever before possible.
Electronic control. ADEM™ A4
The Advanced Diesel Engine Management — Electronic Control Module continuously monitors important engine conditions and functions. It uses sensors throughout the engine to regulate fuel delivery and all other engine systems that require input to manage load and performance. ADEM™ A4 is the brain behind engine responsiveness, self-diagnosis, controlling emissions, and fuel economy.
Fuel System
Through multiple injection fuel delivery, fuel is introduced in the combustion chamber in a number of precisely controlled microbursts. Injecting fuel in this way allows for precise shaping of the combustion cycle. The ADEM™ A4 module directs the injectors to deliver precise quantities of fuel at exactly the right times during the combustion cycle. This process provides precise control over a range of combustion variables, which can be regulated to produce higher performance with fewer emissions. Fuel is delivered at high pressure to each combustion chamber through a Caterpillar designed injector linked to a Common Rail fuel system.
Air Management
Air management is a key concept in optimizing engine performance and controlling emissions. Engines must breathe clean cool air in order to perform. To aid this, the C6.6 uses a turbocharger fitted with a smart waste gate to give precise and reliable control of the boost pressure. A new cross-flow design in the cylinder head facilitates air movement, while tighter tolerances between the piston and cylinder liner reduce blow-by gases.
Fuel pump
The C6.6 uses an oil-lubricated high-pressure fuel pump to feed the common rail.
Fuel Priming Pump
An electrical fuel-priming pump, standard, is located between the fuel tank and the combined water separator/primary fuel filter. The triple fuel filters, water separator design, provides protection to the injection system against low-quality or contaminated fuel.
Starting System
The Electronic Speed Selector Switch (A), a "rocker" switch located on the right console, sets the engine rpm. The ADEM A4 engine controller will always start the engine in low idle. The engine rpm can be seen on the digital display of the instrument cluster in the gage cluster or in the performance menu in Messenger.
Air-to-Air After cooler (ATAAC)
The air-to-air after cooler is a single pass, aluminum, heat exchanger or cooling system for the pressurized air coming from the turbocharger, before it enters the engine intake manifold. Cooling the pressurized air from the turbocharger increases the density of the engine's intake air. The increased air density in the cylinders results in more power, improved combustion, and reduced exhaust emissions.
Servicability
Unit injectors can be serviced individually, without the need to service the whole fuel system.
Engine Installation
The engine is installed using rubber mounts to reduce the transfer of engine vibration to the frame and cab, lowering operator vibration, sound levels, and fatigue.
Rear Engine Location
Rear engine location allows excellent forward visibility, while serving as a working counterweight. It also helps reduce radiator plugging while providing easy service access to the engine and other major components.
Hydraulic on-demand fan
The fan is a hydraulic demand type with optional reversible function, and operates normally in suction mode. The complete cooling package has been designed for a very easy maintenance with a complete accessibility to the cores for cleaning (fan door swing out opening, latches.
Operator Station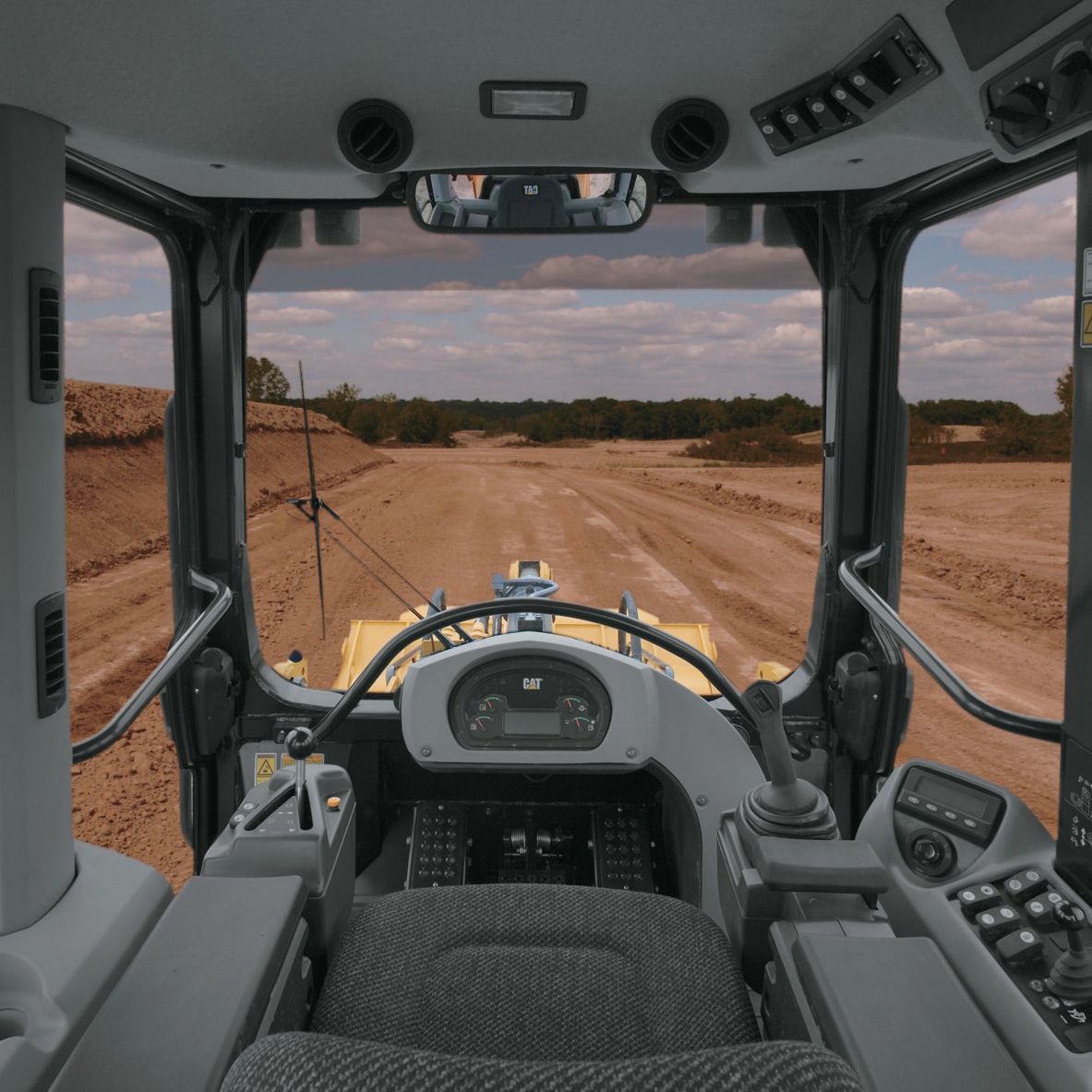 Designed for operator comfort, convenience, and ease of operation throughout the workday.
Working lights
Eight working lights are available on the 963D. Four (2 front and 2 rear)are standard with four additional lights are optional.
Storage spaces
Storage spaces include space for lunch box, a beverage/ashtray holder, and a coat hook.
Viewing Area
Large windows use tinted glass to reduce glare and provide an excellent view to the bucket, tracks, and around the engine enclosure to the rear.
Kickout settings
Automatic kickouts are part of the electro-hydraulic controls; adjustable from inside the cab with a simple rocker switch. Kickout stops are hydraulically cushioned for greater operator comfort and less material spillage.
Armrests
The right hand side console features an adjustable armrest, wrist rest and joystick mount. The left side console is tiltable for improved egress/access and features adjustable armrest and control lever mount.Total adjustability lets the operator customize the armrests to the most comfortable position.
Heating and Air Conditioning
Air conditioning is standard on 963D. Both the air conditioning and the heater deliver filtered, pressurized, temperature-controlled air to the operator and windows through 10 louvered vents.
Caterpillar Air-suspension Seat
The Caterpillar air-suspension seat, with side-to-side isolator, is ergonomically designed and fully adjustable for maximum operator comfort and control. Retractable seat belt is 75 mm (3 in) wide for positive, comfortable restraint.
Seat mounted controls
Seat mounted controls provide less vibration for the operator and a combined seat and controls adjustment.
Messenger
Messenger is a new electronic monitoring system with real-time, visual feedback on engine and machine operating conditions. It provides information on diagnostic data, maintenance, and allows operating settings such as implement reactions.
Hydrostatic Drive System Controls
The system controls allow quick speed and directional changes from a single control lever for maximum maneuverability. Steering pedals can be adjusted from 35° to 50° depending on operator preference and allow precise control of each track independently and on-demand counter rotation. The brake pedal supplements dynamic hydraulic braking provided by the hydrostatic drive system.
Speed Switches
The speed mode switch allows the operator to choose between "work mode" and "travel mode" to best match the machine speed to various job conditions. Switching between travel and work mode takes effect immediately.
Electro-hydraulic implements controls
The new electro hydraulic implement controls on the 963D provide the operator with responsive, smooth and precise control of bucket and lift arms. Choice of joystick or two-lever control is available for bucket lift and dump.
Rearview Mirror
The rearview mirror is located above the front windshield, maximizing the operator's visibility.
Dome Light
A dome light is located in the cab headliner.
Radio Installation Arrangement
A standard feature in the cab is a Radio Installation Arrangement, which includes a 24-volt to 12-volt converter and speakers. A Caterpillar heavy-duty (AM/FM) radio/CD player and satellite radios are available from dealers.
Door release lever
The door's release lever is accessible from the ground to unlock the door conveniently, as well as from inside the cab.
Machine Security System
Eliminate machine theft and unauthorized usage with the Cat Machine Security System (MSS). It is integrated into the machine's electronic system and can protect most brands of equipment by requiring a uniquely coded key to start the machine.
Monitoring System
The gauge cluster provides all necessary functions and information within the operator's normal line of sight.
The 963D gauge cluster display
The gauge cluster displays all vital functions and alerts the operator to the nature of any abnormalities. The 963D gauge cluster display includes:
Four direct reading gauges
Fifteen alert indicators
A numeric message display
Gauge Cluster
Alert indicators
The fifteen alert indicators used on the 963D are: 1. Reversible fan 2. Water separator 3. Fuel filters 4. Fuel level 5. Engine air filter 6. Machine security system 7. Either starting aid 8. Action lamp 9. Parking brake 10. Operator presence 11. Hydraulic lockout 12. Hydraulic oil filter 13. Bucket float 14. Lift kickout/lower kickout 15. Bucket leveler
Gage cluster-self test.
The gauge cluster self-test verifies that the main display module is operating properly every time the key start switch is turned from the "off" to the "on" position.
Hydrostatic Drive
The electronically controlled hydrostatic drive helps provide quick response for shorter cycle times and increased productivity.
The electronically controlled hydrostatic drive system automatically matches machine travel speed to the combined travel and implement loads on the machine, enabling maximum travel speed, up to the speed selected by the operator.
Electronic Hydrostatic Control (EHC)
Hydrostatic system has integrated electro-hydraulic controls (EHC), which provide optimum performance and efficiency.
Variable Displacement Pumps and Drive Motors
Variable displacement pumps and drive motors are electronically controlled by the EHC, offering high efficiency and precise travel. Each track is independently driven by a separate hydraulic circuit consisting of one pump, connected by Cat XT-6™ hydraulic hose and couplings to a piston motor.
Travel Speeds
Travel speeds are infinitely variable between zero and top speed. Two speed modes "work" and "travel", provide two different speed ranges to best match machine speed and torque to the job conditions for maximum productivity. Maximum travel speed is 10 kph (6.2 mph) when the switch is set in the travel position.
Speed-Direction Control Lever (SDL)
The operator controls the speed of the machine and the direction of travel with a single "Speed-Direction control Lever" (SDL) located on the left console.
Braking
Braking is accomplished by moving the Speed-Direction control lever on the left console to a slower position (closer to the top of the "Reverse V"), or all the way to the "Brakes-on" position (at the point of the "Reverse V"), The center foot pedal can also be used for emergency braking.
Steering
Steering is accomplished by changing relative pump flows and/or motor displacements, which causes one track to rotate slower than the other track. A more aggressive steering command (pushing one foot pedal down farther) will cause one track to stop/reverse while the other track continues to rotate.
Maneuverability
The hydrostatic drive train also offers independent power and control of each track, with fast acceleration, infinitely variable speeds, and automatic, on-the-go, direction changes for each track. The operator can command smooth "power turns" or even counter-rotation of the tracks by simply pushing one of the steering pedals. The Caterpillar hydrostatic drive system manages itself, freeing the operator to concentrate on using the Cat track loader's superb agility, speed, and maneuverability to do more productive work.
Implement System
Work smart and move more
Electro-hydraulic Implement Controls
Electro hydraulic implement controls on the 963D provide the operator with responsive, smooth and precise control of bucket and lift arms. They also allow the operator to set personal parameters through Messenger such as implement reactions.
Load sensing hydraulics
The 963D features a load sensing hydraulic system that automatically adjusts to operating conditions to provide only the hydraulic flow required by the implement for improved fuel efficiency.
Automatic kick-outs
The standard programmable automatic kick-outs provide flexibility and productivity for precise load and dump target heights. Tilt and lift kickouts are set by positioning the bucket or work tool and setting a rocker switch in the cab.
Position sensing cylinder
Position sensing cylinders allows you to:
Set lift and tilt kickouts at any positions according to the applications without operator leaving the cab
Advanced automatic features as feather catch (accelerate and stop smoothly) & snubbing (smooths start and stop cylinder motion)
Sensing of the cylinder end of stroke
Prevent unintended motion.
SystemOne™ Undercarriage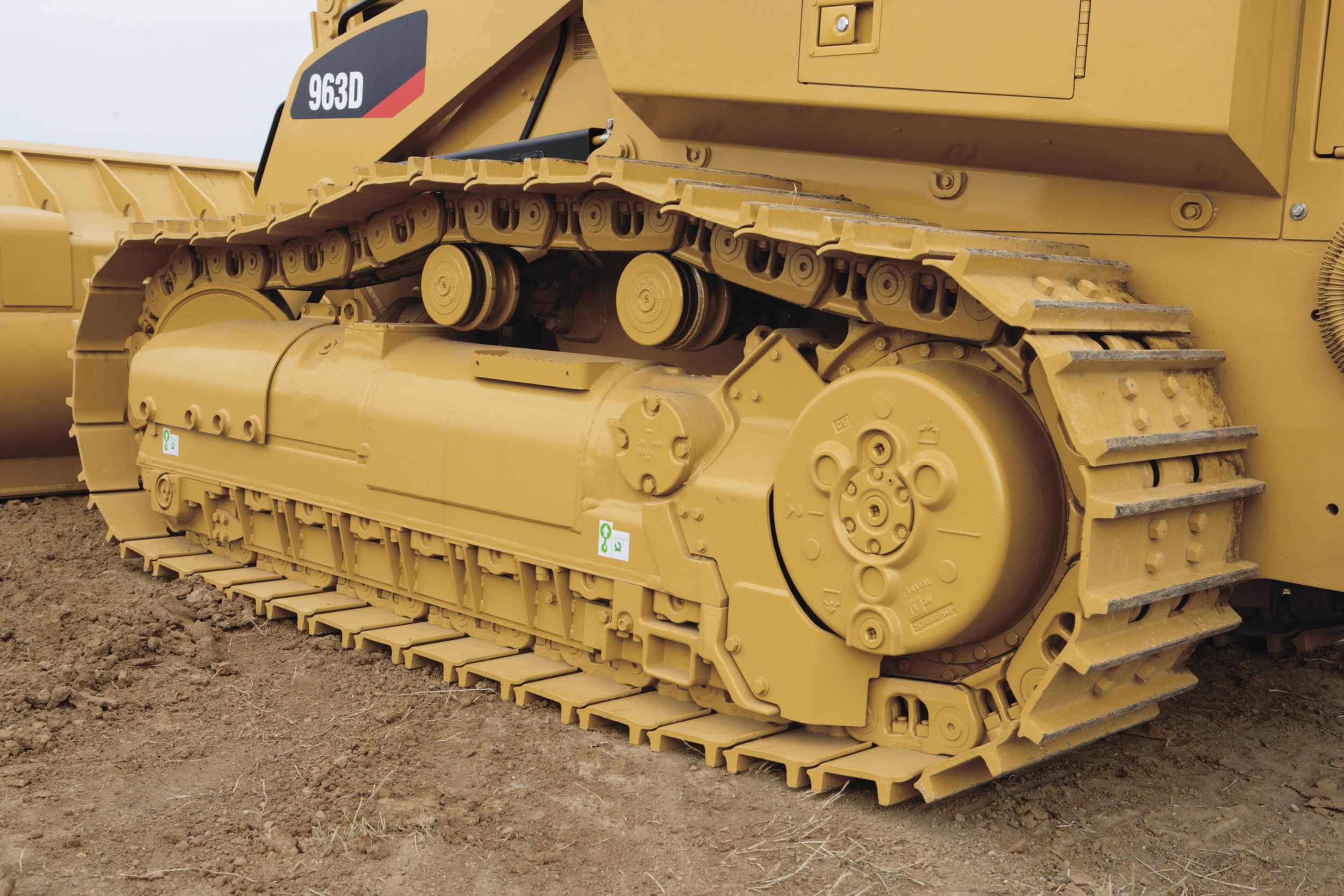 The SystemOne undercarriage was designed exclusively for Caterpillar machines to reduce customers' operating costs, downtime and maintenance intervals.
Revolutionary Undercarriage
SystemOne™ is the latest innovation in a century of undercarriage leadership. It was designed to reduce customers' operating costs and maintenance intervals. The revolutionary Cat SystemOneTM Undercarriage provides maximum undercarriage life and reliability no matter the application, environment or underfoot conditions. Built to last longer and require less maintenance it ensures a dramatic drop in operating costs.
Track Roller Frames
The track roller frames are a welded, box section design, which provides strength and resistance to bending without adding extra weight. The track roller frames are pinned at the rear to the loader main frame with pivot shafts, which allow the front of the track roller frames to swing or oscillate about the pivot shafts at the rear.
Guiding System
Better, more rigid guiding. The guiding system contacts link rails instead of pin ends and helps keep the track within the roller system.
Carrier Rollers
The 963D has seven track rollers, which spread machine weight over a large area and two upper carrier rollers on each side mounts to the machine mainframe. The rollers and carrier rollers have been redesigned to run with the system. This will lead directly to better guiding. All rollers in this new system are single flange rollers with increased flange diameter. The increased flange diameters increase guiding capability.
Idlers
Idlers provide superior structural support and rebuild capabilities. Special heat treatment of the idler rim ensures proper hardness levels, which provides wear resistance. Cat's Duo-Cone® seals give lifetime lubrication, which eliminates idler maintenance and lowers operating costs.
Cartridge Joints
Factory-sealed cartridge joints are welded to control end play. They offer improved seal integrity through an innovative new sealing system and do not depend on the link interface to remain sealed. As with all new Cat undercarriage products, they are filled with special oils.
Track Shoes
The shoes for SystemOne™ are unique to this system. Several track shoe types tailor your machine for work in all underfoot conditions. The SystemOne links have a straight rather than offset bolt hole pattern. Double grouser standard or narrow track shoes are available. The standard shoe can be fitted with center hole to reduce material packing.
Long-life Sprockets
The rotating bushing design of the SystemOne track greatly reduces wear on the sprocket teeth, allowing the sprockets to be used over the lives of multiple undercarriages.
Oscillating Undercarriage
The undercarriage on the 963D features an "oscillating track roller frame design" which decreases ground shock to the machine, increases machine stability, and provides a smoother, more comfortable ride for the operator. Oscillating track roller frames keep more of the track on the ground when operating on uneven terrain, which increases machine stability, felt by the operator, allowing faster machine operation, increased machine productivity and reduced operator fatigue.
Track Adjuster
The track adjuster and mechanical recoil system uses a large recoil spring and grease filled adjustment cylinder, which allows the idler to move forward and back to maintain proper track tension as it absorbs undercarriage shock loads.
Equalizer Bar
The equalizer bar is pinned in its center to the machine mainframe and at the ends to each track roller frame. This allows the forward ends of the track roller frames to oscillate, or move vertically, to keep more track on the ground in uneven underfoot conditions. The equalizer bar also provides a more stable work platform for the operator, who will be comfortable working at faster speeds for increased productivity.
Structure
Durable Slab section Frame and Loader Front End: Durable with increased space claim for larger components.
Mainframe and Loader Tower
The 963D Main Frame and Loader Tower is a single, slab rails with reinforced cross members, with castings and forgings incorporated at points of high stress, to distribute those stresses over wider areas for long structural life.
Design
The part of the frame below the engine and operator's station consists of two Slab-section side-frame rails, which are joined at the rear by a box-section cross member. The Slab-section 963D frame resists twisting and impact forces to provide a solid foundation for all the components it supports. Mounting points for the final drives, pivot shafts, and platform are built into each mainframe side rail.
Frame side plates
The frame side plates are made of mild steel, which provides strength and resists shock and bending stresses. "Deep penetrating", "Backed up" welds are used for maximum strength.
Loader tower
The loader tower is integral with the basic main frame. The one slab plate continues forward to become one side of the loader tower in order to provide a smooth transition to loads from linkages to the mainframe rails. The loader tower provides a solid mount for lift arms, lift cylinders, and Z-bar tilt cylinder. A box-section cross member is welded below the two inboard loader tower plates to add strength. The equalizer bar, which connects the track roller frames to the main frame, is mounted below the loader tower. The result is an integrated main frame and loader tower assembly which will accommodate maximum load capability. The engine is at the rear, where its weight serves as a "working counterweight" to balance the machine for full bucket loads without adding inefficient "dead" weight.
Z-Bar linkage
Breakout force is exceptionally high due to mechanical advantage of Z-bar linkage design, and hydraulic pressure applied to the head end of the tilt cylinder. Using a single tilt cylinder and linkage provides the operator a better view of the work area, bucket, and cutting edge.
Sealed Loader Linkage
The 963D linkage has fewer grease points compared to other linkage designs because every pin joint is sealed to keep grease in and dirt out. Fewer grease points and sealed pins means less downtime for maintenance allowing more working hours between servicing.
Lift Arms
The two arms are welded into a single unit, using a weld-fabricated cross-tube. The fabricated cross-tube and tilt lever use forging at high stress points to spread the loads for long life. The tilt link (Dog Bone) is a single forging. The 963D linkage design combines the advantages of strength and durability with minimum structural weight, so that productivity is not penalized by excess weight in the linkage.
Special Application Arrangements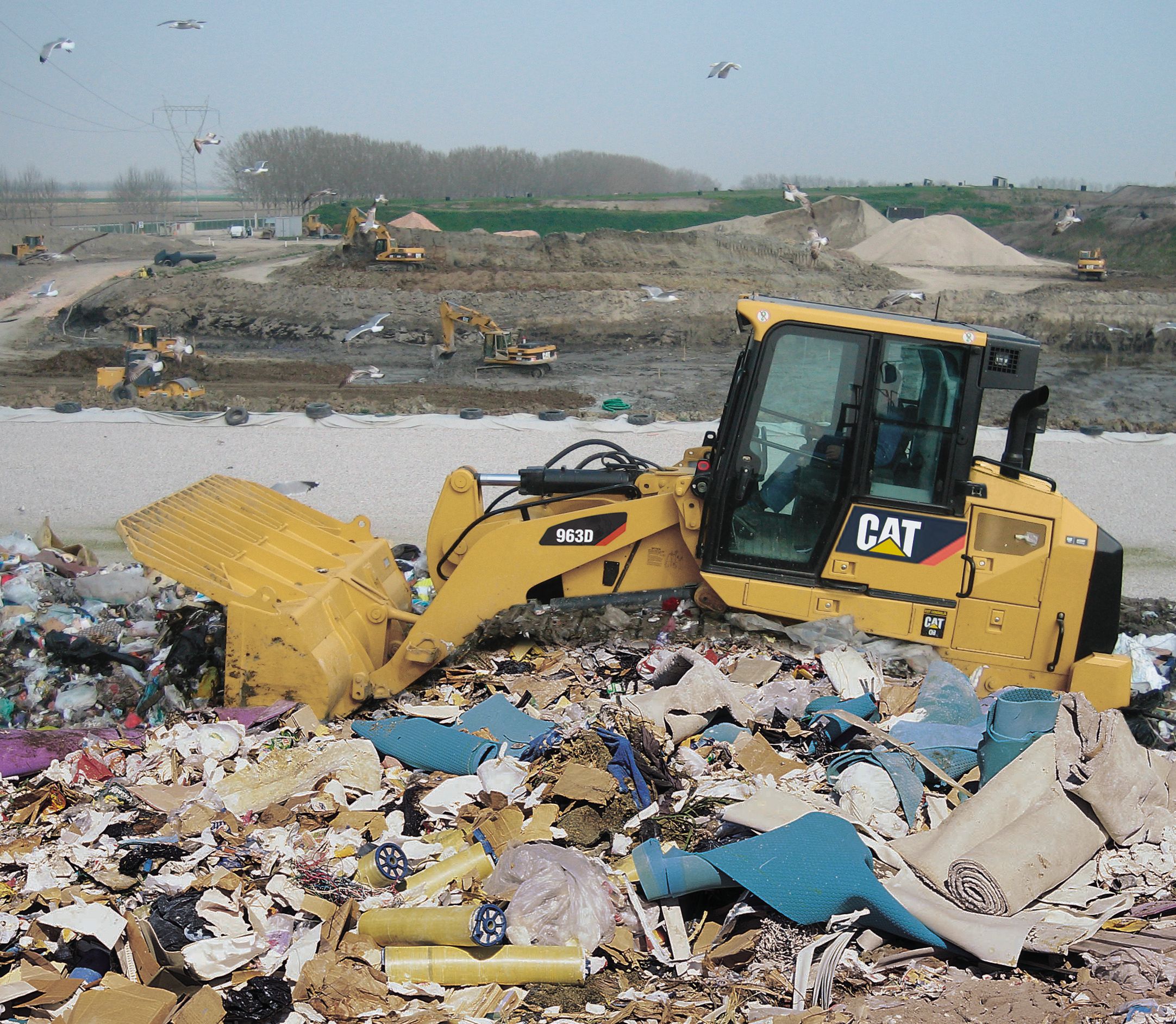 Special arrangements improve the 963D's performance in special applications.
With the addition of certain special modifications, the capabilities of the 963D can be further expanded to handle some very harsh working conditions.
Waste Handling / Demolition Arrangements
Waste Handling arrangements provide added protection and are designed to make the 963D perform well in landfills, or any waste handling or demolition applications where the machine spreads, compacts, sorts, shreds and crushes materials.
Shiphold Arrangement
The 963D with its low ground pressure and excellent stability works well on top of loose materials, cleaning the cargo from the sides of the holds and moving it into position for the unloading system. Lifting eyes are included so that the 963D can be lifted from the dock to the hold.
Wide Gauge
For underfoot conditions that require even lower ground pressure than the standard 963D undercarriage the gauge of the machine can be widened by 250 mm (9.8 inches) and the track shoe width increased to 800 mm (31.5 inches). The ground pressure is decreased to 53 kPa (7.7 psi).
Custom Products Arrangements
Other arrangements beyond those shown here are available. For other custom-designed arrangements for specific applications, contact your Caterpillar Dealer.
Versatility
The large variety of tasks an operator can perform with the standard machine and Work Tools has lead to the Caterpillar Track Loader's reputation for versatility.
General Purpose Bucket
The General Purpose (GP) bucket is designed for excellent loadability and long life in a broad range of applications such as hard bank excavating, stripping and stockpile loading. High-strength, low-alloy steel helps the bucket resist dents and abrasions. Rear edge of bucket is designed for improved efficiency when backdragging. The shell-tine design in the bucket back and floor offers increased structural strength.
Multi-Purpose Bucket
The Multi-Purpose (MP) bucket combines the performances of a standard bucket, dozer blade and clamp. The bucket provides maximum versatility combined with strength to handle a broad range of applications, such as loading, stripping topsoil, clearing, bulldozing, picking up debris and grading.
General Purpose Landfill Bucket
With the integrated trash-rack, the General Purpose Landfill (GP Landfill) bucket becomes ideal for digging, loading and carrying as well as dozing and spreading material at landfills, or loading refuse at a transfer station.
Multi-Purpose Landfill Bucket
The Multi-Purpose Landfill (MP Landfill) bucket combines the versatility of a Multi-Purpose bucket with the performance of a landfill design. Constructed with a trash-rack for increased capacity, extra strength and better load retention. Ideal for applications in the harsh refuse market, whether digging or spreading material at the landfill or grasping and loading refuse at a transfer station.
Bucket Protection Options
Caterpillar offers several types of adapters, tips, and cutting edges, which increase bucket life and maximize performance.
K Series™ Tooth System
The K-Series tooth system provides longer tip and adapter life, faster cycle time with greater bucket fills and reduced machine strain. Therefore, it contributes to the reduction of operating costs. Easy and convenient during the installation, this new system provides a very good response to the need of reliability and durability of such components.
Tip Options
Caterpillar GET offers a variety of tips to better accommodate your needs in any working environment, whether that is high impact or general-purpose applications. These and other GET options are available from your Caterpillar Dealer.
Ripper-Scarifier
A radial ripper-scarifier is available for the 963D as an attachment. It is mounted with two pins pressed into each side of the main frame. Two cylinders raise and lower the ripper. The ripper beam has three pockets for holding ripper shanks. The linkage pins do not require lubrication. The 963D ripper-scarifier is intended for ripping frozen ground, asphalt and easily ripped rock.
Additional Work Tools
Beyond the GP and MP buckets and the Ripper-scarifier your Cat dealer offers: Side-Dump Buckets, Landfill Buckets, Straight Trim Blades, Pallet Forks, Extendible Material Handling Arms, and Quick Couplers.
Serviceability and Customer Support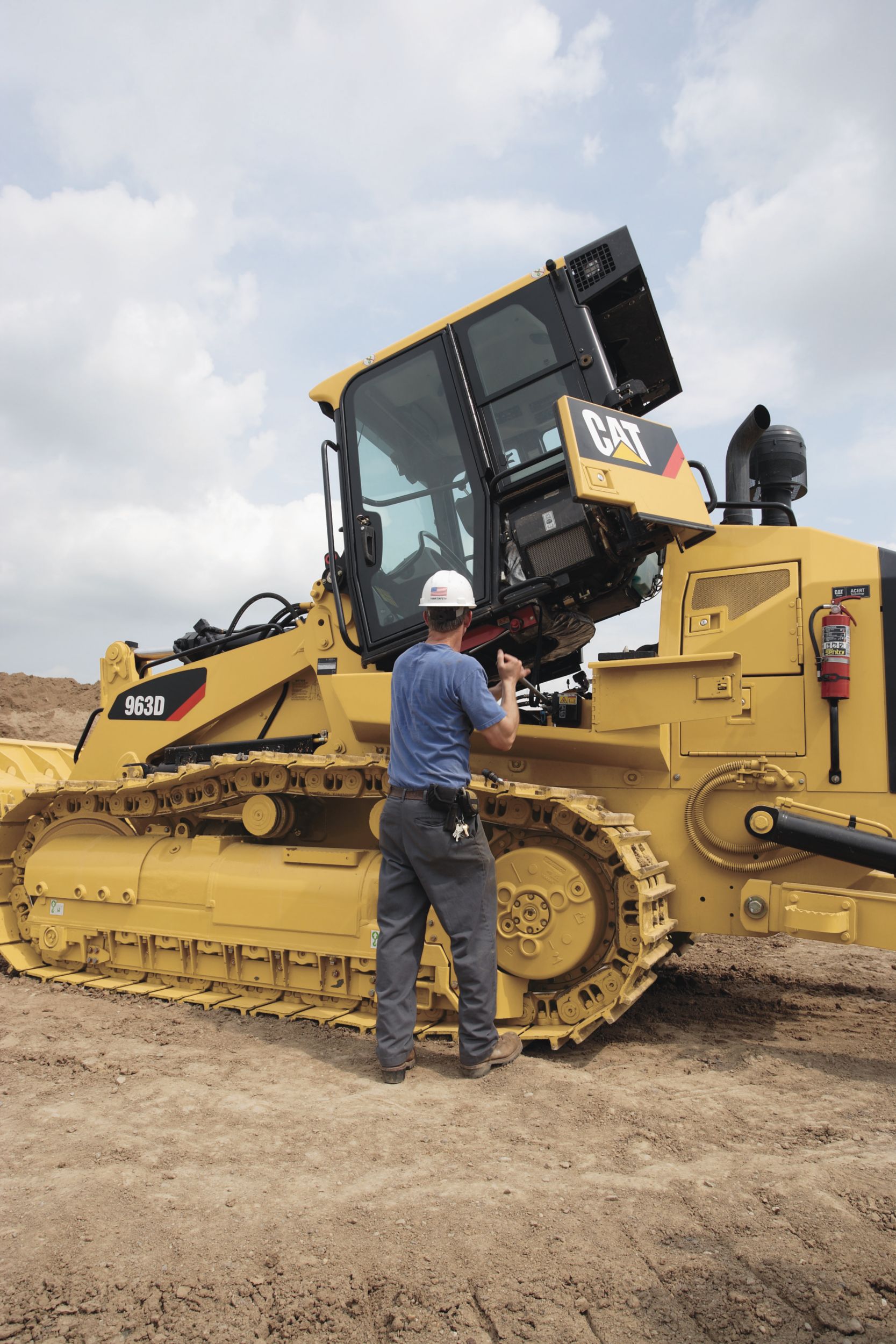 Grouped service points and excellent accessibility make the 963D easy to maintain.
Tiltable Cab
The 963D is equipped with a tiltable cab. This new feature makes the maintenance and the repairs easier. By tilting the cab, you can access to the drive train and perform complete service of the hydraulic system.
Right side compartments
The two maintenance-free batteries, the machine ECM and the window washer reservoir are located on the right side compartment, accessible from the ground.
The engine compartment has large hinged openings with latches. On the door, you can clip a grease gun.
You can access to the following maintenance and service points: Primary & secondary Engine Air filter Engine air pre-cleaner Water in fuel separator Fuel filter Engine crankcase breather filter Engine oil filter The Electric fuel-priming pump The dipstick for the oil level in the engine crankcase and the fill tube. The electrical disconnect switch.
Fuel fill
The fuel tank and the optional quick fill port are located on the right side compartment, below the cab access.
Cooling System
The fan and the grill swing open, providing excellent access for clean-out and maintenance. The heavy duty latched grill minimizes debris build-up.
Ground Level Shutdown
The Engine Control ECM monitors the status of a switch that is mounted behind a cover at the rear of the machine, allowing the machine to be shut down from ground level in emergency situations.
Left side compartments
The lower part of the compartment door can be used as a step to access the shunt tank fill, the air pre-cleaner (if equipped) and allows easy cleaning of the rear window.
Cab Air Filter
The cab air filter, the grouped pressure taps, the cab tilt locking bar, the optional cab tilt cylinder, the tool box, and the hydraulic oil filters are conveniently located below the left-side cab window.
Hydraulic Tank
The hydraulic tank is located in the front of the machine. It is accessible without raising the lift arms. A site gauge allows oil level check from the ground.
Fuse Panel
The fuse panel is located to the inside of the cab, on the rear right side console. It includes the ET port.
Easy Diagnosis
The gauge cluster and self-diagnosing Electronic Hydraulic Control (EHC) work together to warn against faults to reduce downtime.
Product Link
This option allows a customer or dealer to remotely obtain machine diagnostics. Product Link provides updates on service meter hours, machine condition, machine location, and integrated mapping/route planning.
Complete Customer Support
Cat field service technicians have the experience and tools necessary to service your loader on site. Technical experts at the dealership and Caterpillar can provide additional assistance to field service technicians as needed. When on-site repair isn't enough, Cat dealerships are fully equipped to service your loader quickly.
ELECTRICAL

Alternator, 24 volt, heavy duty brushless.
Alarm, backup
Horn, electric
2 heavy duty batteries, high output, maintenance free, 1120 CCA.
Switch, main disconnect
Starter, electric (heavy duty, 24 volt)
Four halogen lights, two forward facing, roof mounted; two rearward facing, integrated in A/C unit

Alternator, 24 volt, heavy duty brushless.
Alarm, backup
Horn, electric
2 heavy duty batteries, high output, maintenance free, 1120 CCA.
Switch, main disconnect
Starter, electric (heavy duty, 24 volt)
Four halogen lights, two forward facing, roof mounted; two rearward facing, integrated in A/C unit
OPERATOR ENVIRONMENT

Pressurized, sound suppressed, ROPS/FOPS cab
Cab, windows, glued
Air conditioning and heater/ defroster with temperature control
Seat, fabric- covered, air suspended, adjustable, with side- to- side isolator
Seat belt, retractable
Electro Hydraulic Seat mounted control levers
Transmission control, V-lever
Control, joystick, bucket gp
Electronic Monitoring System with gauges for: Engine coolant temperature Hydraulic oil temperature Engine oil pressure Fuel level
Mirror, rearview, inside
Radio- ready. Includes 24 to 12 volt converter, speakers, antenna and 12 volt power outlet
12 volt outlets (2)
Coat hook
Storage compartments under left armrest
Document holder on right console
Floor mat, rubber, heavy duty
Windshield washers and wipers, front and rear
Durable metal roof
Parking brake switch and "brake- on" indicator light

POWERTRAIN

Caterpillar C6.6 ACERT engine diesel engine, turbo charged with ATAAC
Modular cooling system for engine air intake, oil and water
Fan radiator, electronically controlled, hydraulically driven, temperature sensing, on demand
Electro Hydrostatic Control (EHC) for transmission with travel and work modes
Fuel priming pump, electric
Water separator
Air inlet
Air cleaner dry- type, axial seal with integral pre- cleaner and dust ejection system, electronic filter condition indicator
Muffler, under hood
Starting aid ether injection
Caterpillar extended life coolant
Fuel, tank

Caterpillar C6.6 ACERT engine diesel engine, turbo charged with ATAAC
Modular cooling system for engine air intake, oil and water
Fan radiator, electronically controlled, hydraulically driven, temperature sensing, on demand
Electro Hydrostatic Control (EHC) for transmission with travel and work modes
Fuel priming pump, electric
Water separator
Air inlet
Air cleaner dry- type, axial seal with integral pre- cleaner and dust ejection system, electronic filter condition indicator
Muffler, under hood
Starting aid ether injection
Caterpillar extended life coolant
Fuel, tank
UNDERCARRIAGE

Caterpillar SystemOne track (38 sec.) 72.8 In/ 1850 mm track gauge
Final drive, standard
Track, 550mm (21.6in), double grouser
Track adjuster, hydraulic
Sprocket rims, with replaceable bolt- on segments
7 single flange track rollers per side, with two upper carrier rollers, lifetime lubricated
Conventional idlers, lifetime lubricated
Idler, scrapper
Oscillating track roller frames

Caterpillar SystemOne track (38 sec.) 72.8 In/ 1850 mm track gauge
Final drive, standard
Track, 550mm (21.6in), double grouser
Track adjuster, hydraulic
Sprocket rims, with replaceable bolt- on segments
7 single flange track rollers per side, with two upper carrier rollers, lifetime lubricated
Conventional idlers, lifetime lubricated
Idler, scrapper
Oscillating track roller frames
HYDRAULIC

Oil change, standard
Hydraulic oil
Hydraulic, 2 way valve

GUARDS

Guard, front
Guard, rear
Guards, full bottom

OTHER STANDARD EQUIPMENT

Cab, tilt, locking bar
Sound Suppression, Exterior
Z- bar loader linkage
Load sensing variable displacement implement pump
Implement cylinders with integrated positioning sensors
Operator programmable lift and tilt kickouts
Engine enclosure with lockable doors
Radiator core 6.5fpi, debris resistant
Hinged Radiator Guard and swing out fan
Ecology grains on hydraulic tank
Product Link ready
Oil sampling valves
Hydraulic hoses, Caterpillar® XT
Hydraulic Oil, HYDO Advanced 10

WARNING DECALS

Warning decals, ANSI, for NACD
Warning decals, ISO

SERVICE INSTRUCTIONS

English Instructions included in North America and Canada only.

English Instructions included in North America and Canada only.
ELECTRICAL

Beacon, rotating
Lights, four, extra

IMPLEMENT CONTROLS

Control, joystick, GP bucket
Control, joystick, MP bucket
Control, two levers, GP bucket

OPERATOR ENVIRONMENT

Cat® Messenger
Seat, air suspended, heated
Cab windows, front sealed

POWERTRAIN

Fan, demand, reversing
Tank fuel, fast fill
Air inlet, pre-cleaner, turbine
Oil change, high speed

Fan, demand, reversing
Tank fuel, fast fill
Air inlet, pre-cleaner, turbine
Oil change, high speed
UNDERCARRIAGE

Track, 450 mm (17.7"), DG, narrow
Track, 550 mm (21.6"), DG, center hole
Track, 450 mm (17.7"), DG, center hole
Track, 560 mm (22"), SG, extreme service
Track, 450 mm (17.7") center hole, SG, extreme service
Track, 800 mm (31.5"), DG, wide gauge
Track, 560 mm (22"), center hole, SG, extreme service
Idler, with seal protection

GUARDS

Guard, idler
Guard, track roller
Guard, cab lights
Guard, lift lines
Screen, windshield

HYDRAULIC

Hydraulic oil, bio
Hydraulic, MP bucket, lines front
Hydraulic, ripper, lines rear
Hydraulic, MP bucket & ripper, lines front & rear

BUCKET

General purpose
General purpose, flush mounted adapter
General purpose, landfill
Multi purpose
Multi purpose, extreme service
Multi purpose, landfill
Refuse

BUCKET ATTACHMENTS

Cutting edge, bolt- on
Segments, bolt- on
Edge, segments, bolt- on
Edge, segments, heavy duty
Teeth, general duty, K80
Teeth, penetration, K80
Teeth, extra duty, K80
Teeth, general duty, K90
Teeth, extra duty, K90
Tips, general duty, flush adapter

Cutting edge, bolt- on
Segments, bolt- on
Edge, segments, bolt- on
Edge, segments, heavy duty
Teeth, general duty, K80
Teeth, penetration, K80
Teeth, extra duty, K80
Teeth, general duty, K90
Teeth, extra duty, K90
Tips, general duty, flush adapter
OTHER ATTACHMENTS

Cab tilt jack, hydraulic
Bumper
Ripper, multi-shank
Hitch, drawbar
Hitch, standard
Striker bars, rear
Sediment pump, fuel tank
Heater, engine coolant, 120V
Heater, engine coolant, 240V
Counterweight, light
Counterweight additional
Caterpillar product link 321
Antifreeze, -50C (-58F)

Cab tilt jack, hydraulic
Bumper
Ripper, multi-shank
Hitch, drawbar
Hitch, standard
Striker bars, rear
Sediment pump, fuel tank
Heater, engine coolant, 120V
Heater, engine coolant, 240V
Counterweight, light
Counterweight additional
Caterpillar product link 321
Antifreeze, -50C (-58F)
GUARDS

Guard front heavy duty
Lines GP- brake- M
Lines GP- Brake- Wide Gauge

Guard front heavy duty
Lines GP- brake- M
Lines GP- Brake- Wide Gauge