AP600D Paver
High performance and operator comfort make the AP600D the perfect choice. The AP600D excels in a wide range of applications from routine commercial jobs to demanding highway operations.
Product Details
Weights
| | |
| --- | --- |
| Maximum Operating Weight | 18200.0 kg |
Operating Specifications
| | |
| --- | --- |
| Standard Paving Width | 2.55-5.0 m (8.17-16.40 ft) |
| Hopper Capacity | 6.5 m3 |
| Inside Turning Radius | 1.4 m |
| Maximum Paving Speed with Tamper Bar Screed | 25.0 m/min |
| Maximum Paving Speed with Vibratory Screed | 78.0 m/min |
| Maximum Travel Speed | 18.0 km/h |
| Paving Width Maximum | 8.0 m |
| Paving Width Minimum | 1.83 m |
| Truck Dump Height | 545.0 mm |
| Truck Entry Width | 3.2 m |
Engine
| | |
| --- | --- |
| Gross Power | 129.0 kW |
| Engine Model | Cat C6.6 with ACERT |
Dimensions
| | |
| --- | --- |
| Length with Push Roller and Largest Screed | 6.8 m |
| Maximum Height | 3.84 m |
| Tractor Operating Width | 3.31 m |
| Transport Height | 2.82 m |
| Transport Width, Hoppers Raised, Screed End Gates Attached | 2.72 m |
| Transport Width, Hoppers Raised, Screed End Gates Removed | 2.5 m |
Service Refill Capacities
| | |
| --- | --- |
| Fuel Tank Capacity | 291.0 L |
Cat® C6.6 Engine with ACERT™ Technology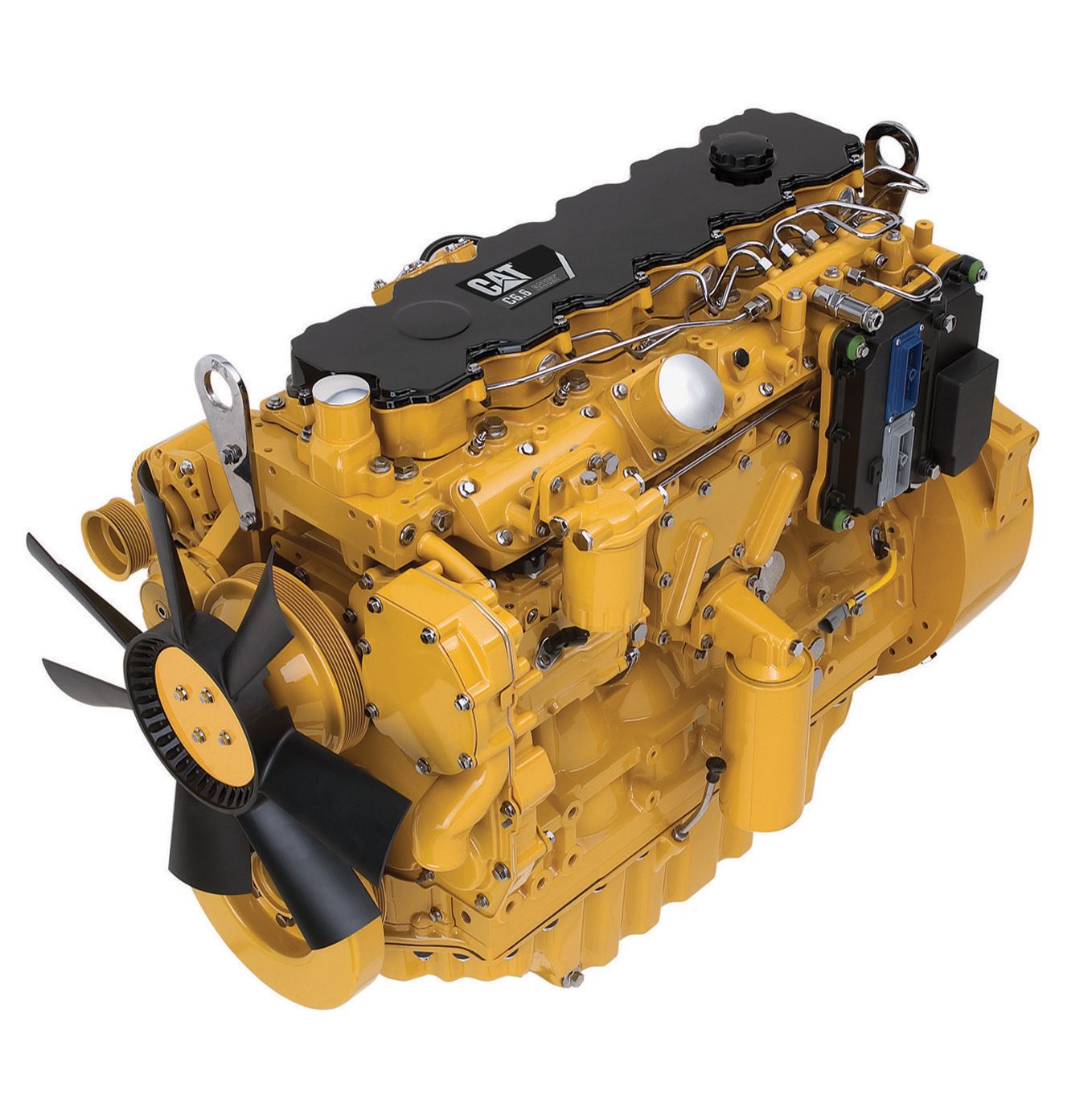 ACERT™ Technology manages combustion using a combination of air management, precise fuel delivery and careful timing in order to lower emissions and meet European Stage IIIa engine emissions requirements.
Fumes Management System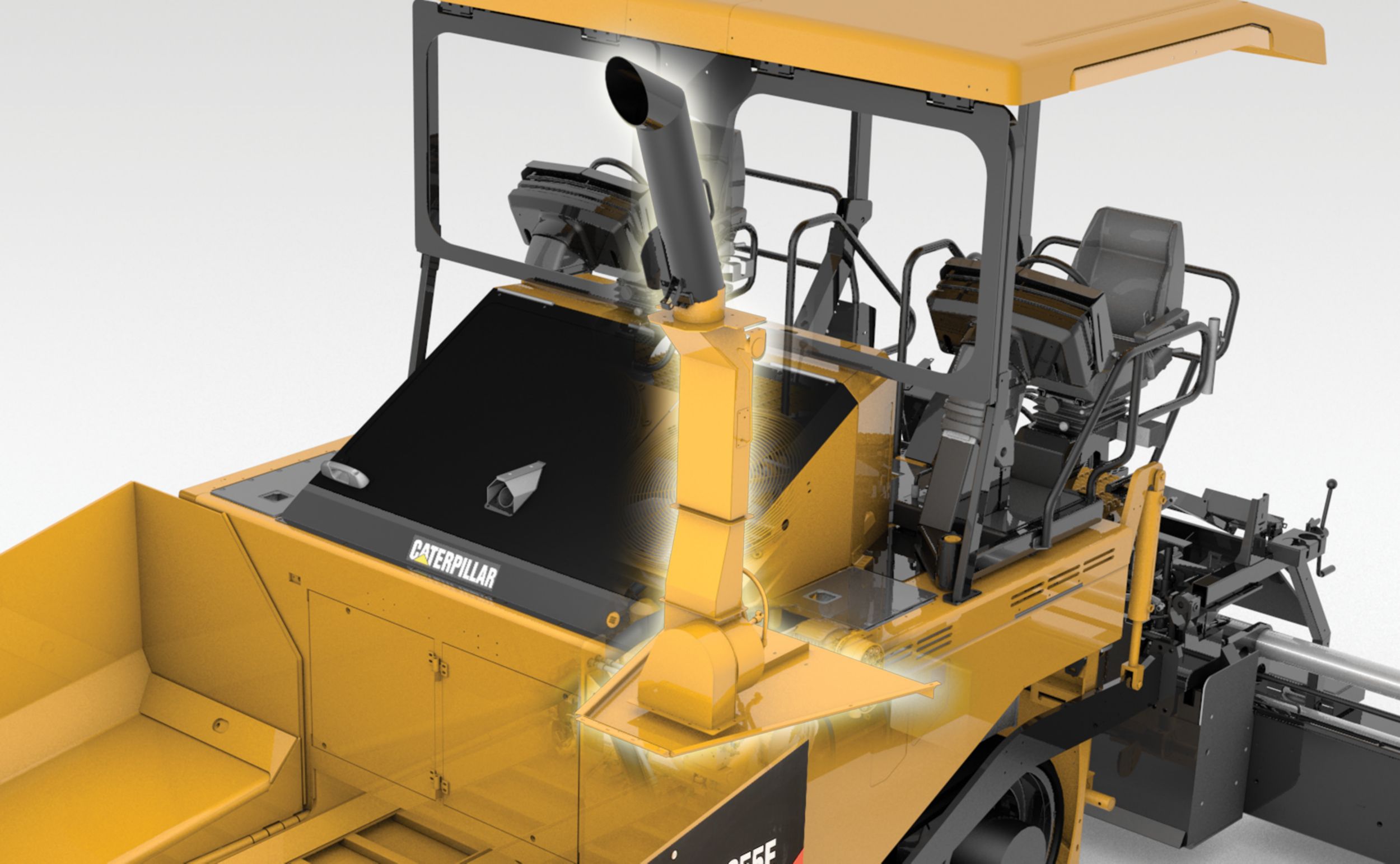 The ventilation system draws fumes from the conveyor tunnel as well as the auger chamber and redirects them away from the operator for a more comfortable working environment.
High Capacity Cooling System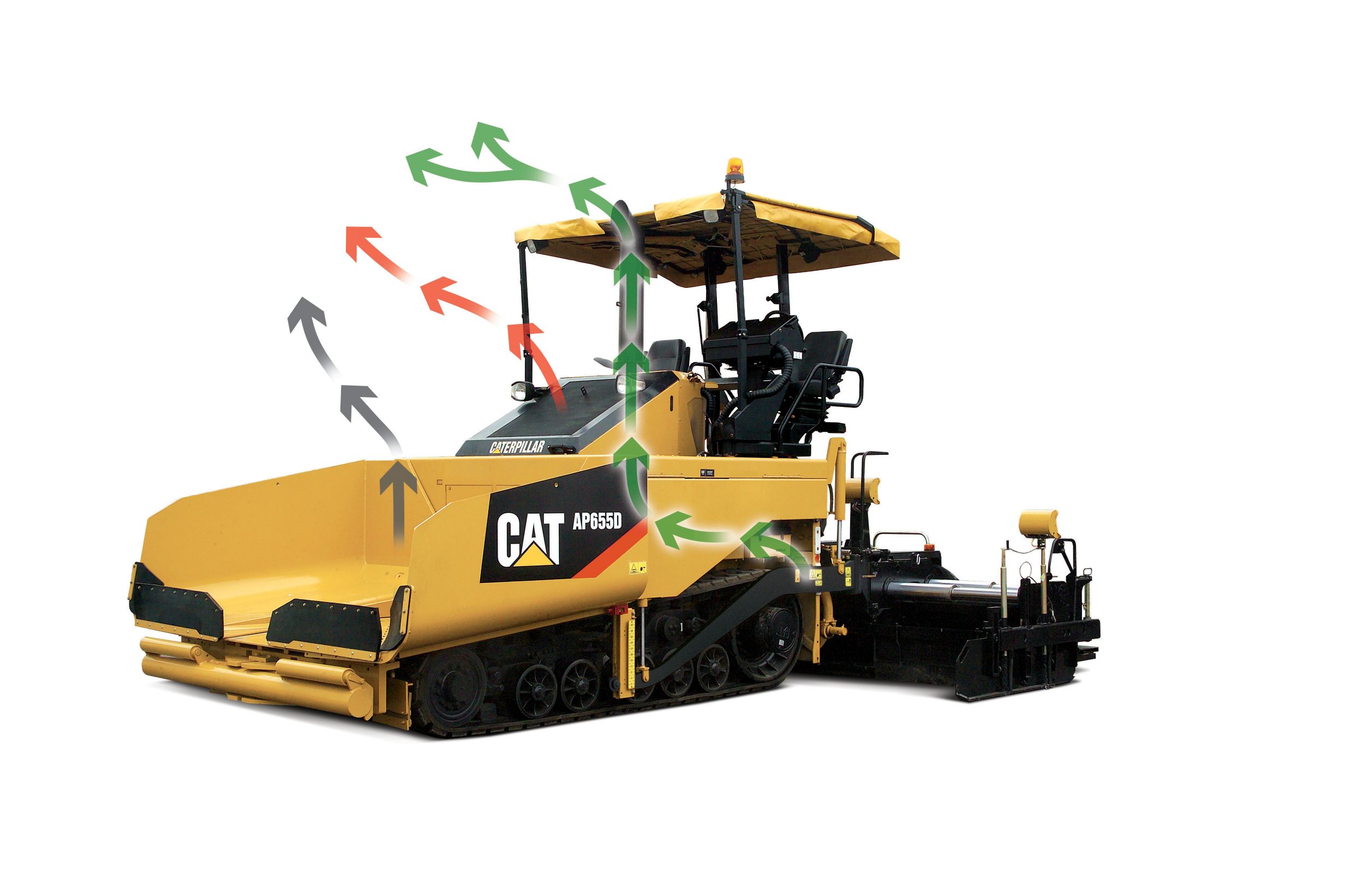 The deck-mounted cooling system provides a cool environment by exhausting hot air toward the hopper, away from operators and ground personnel.
High Ambient Temperature Cooling System
The standard, high-capacity cooling system provides efficient operation in high ambient temperatures. The system design provides quiet operation that benefits the operator and the surrounding environment.
Efficient Airflow Design
The airflow design draws ambient air across the engine compartment and through the coolers. This design allows the exhaust air to exit toward the hopper in order to provide a cooler engine compartment and cooler operating environment.
Variable Speed Fan
The variable speed fan is electronically controlled and hydraulically driven to provide on-demand cooling. This on-demand operation reduces engine power demand, lowers sound levels, and increases fuel efficiency.
Operator Comforts for a Productive Environment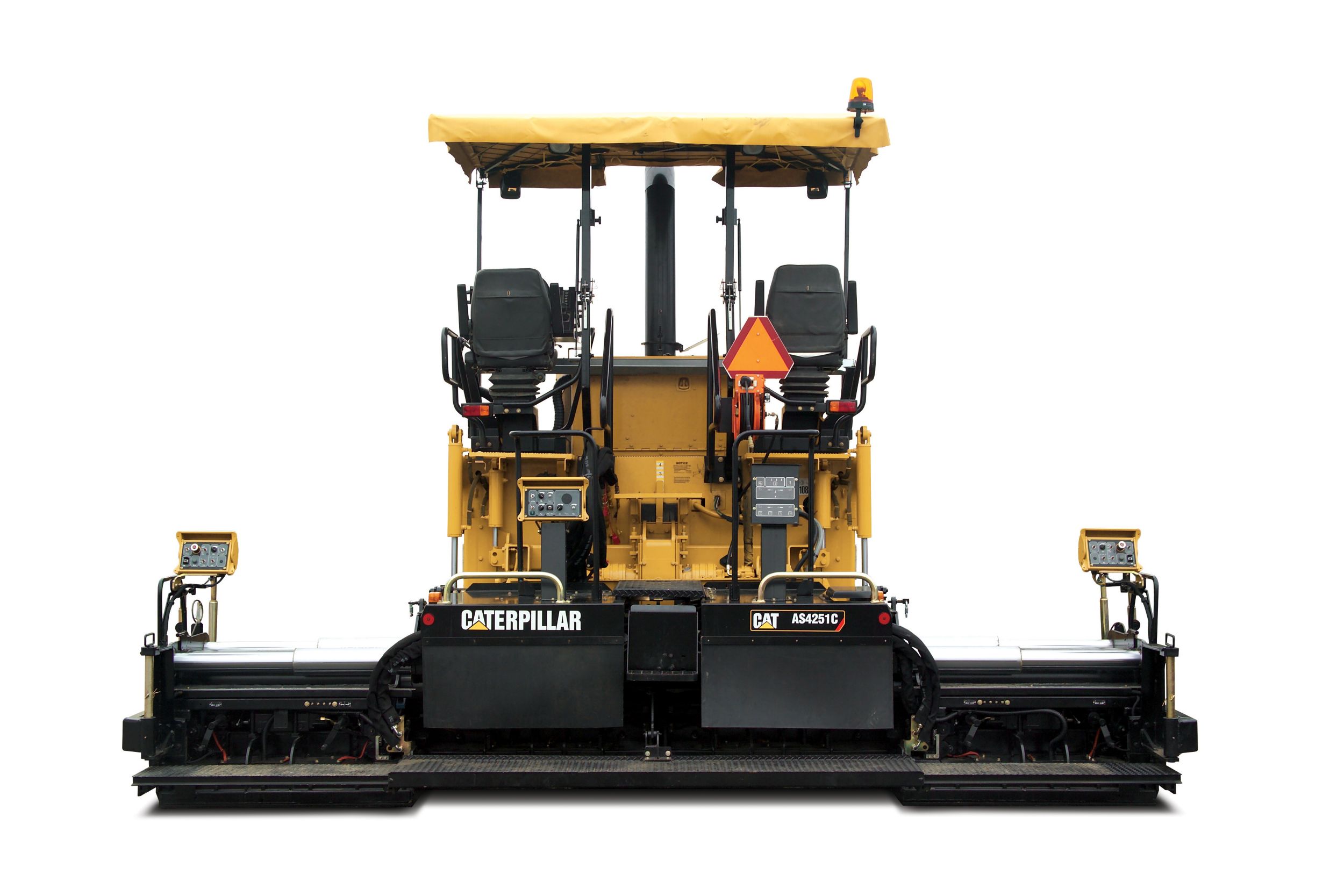 The dual operating stations with sliding control console offer the best-in-class comfort, visibility and ease of use.
Dual Operating Seats with Sliding Console
The dual operating seats are adjustable suspension seats with cup holders, armrests, and 76 mm (3") retractable seat belts. The operator's console slides from seat to seat for optimal operator visibility.
Operator Visibility
Each of the dual operating seats can be positioned in one of five different locations to provide optimum visibility. The seats can extend beyond the machine frame for improved visibility when paving applications require precise control.
Sliding Control Console
The sliding control console increases operator comfort by allowing the operator to control the machine from the side that provides the best visibility. A 12-volt power supply located on the console allows for the use of accessories.
Advisor Display Simplifies Operation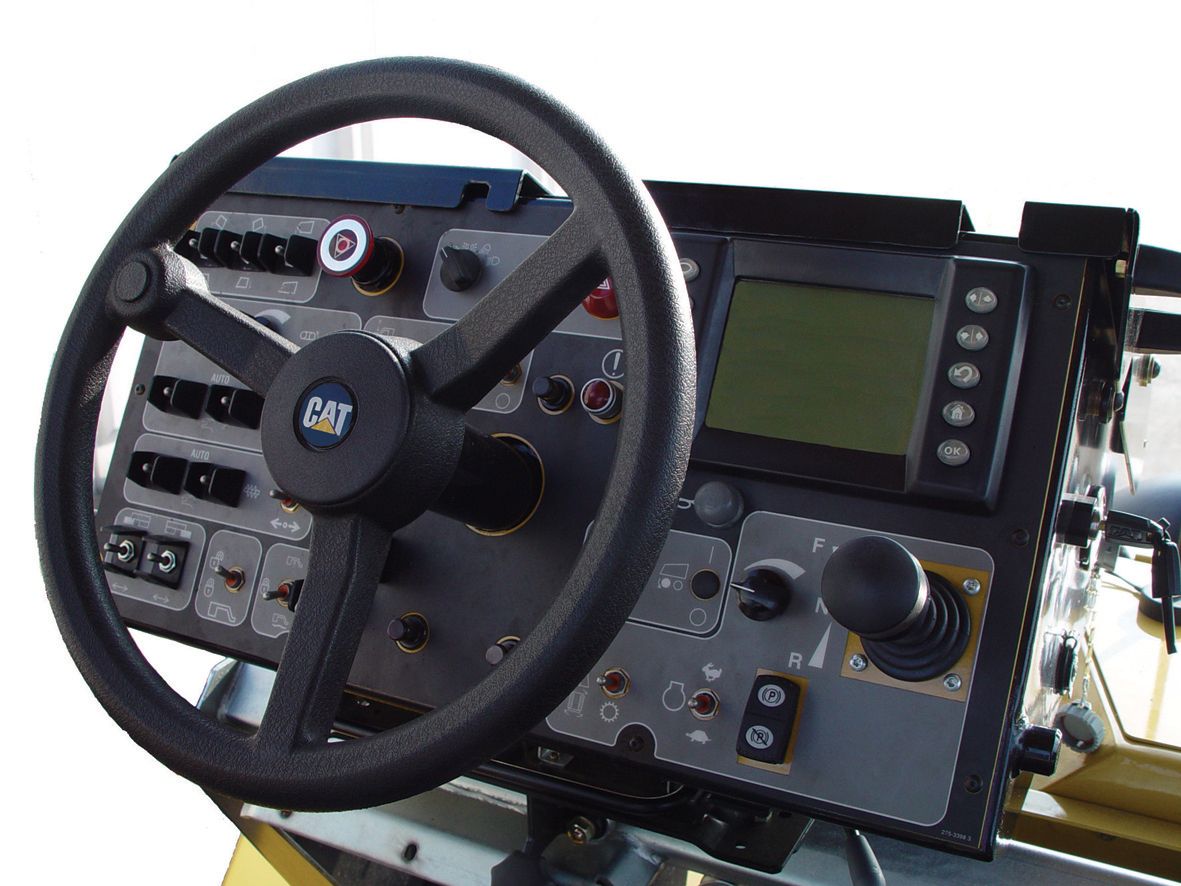 The sliding control console includes the Advisor Display that provides many unique features to assist the operator.
Advisor Display
The Advisor display provides access to a start-up checklist, operator preferences, engine and machine operating parameters, "Paving Calculator", and "Paving by the Numbers."
Wheel Undercarriage System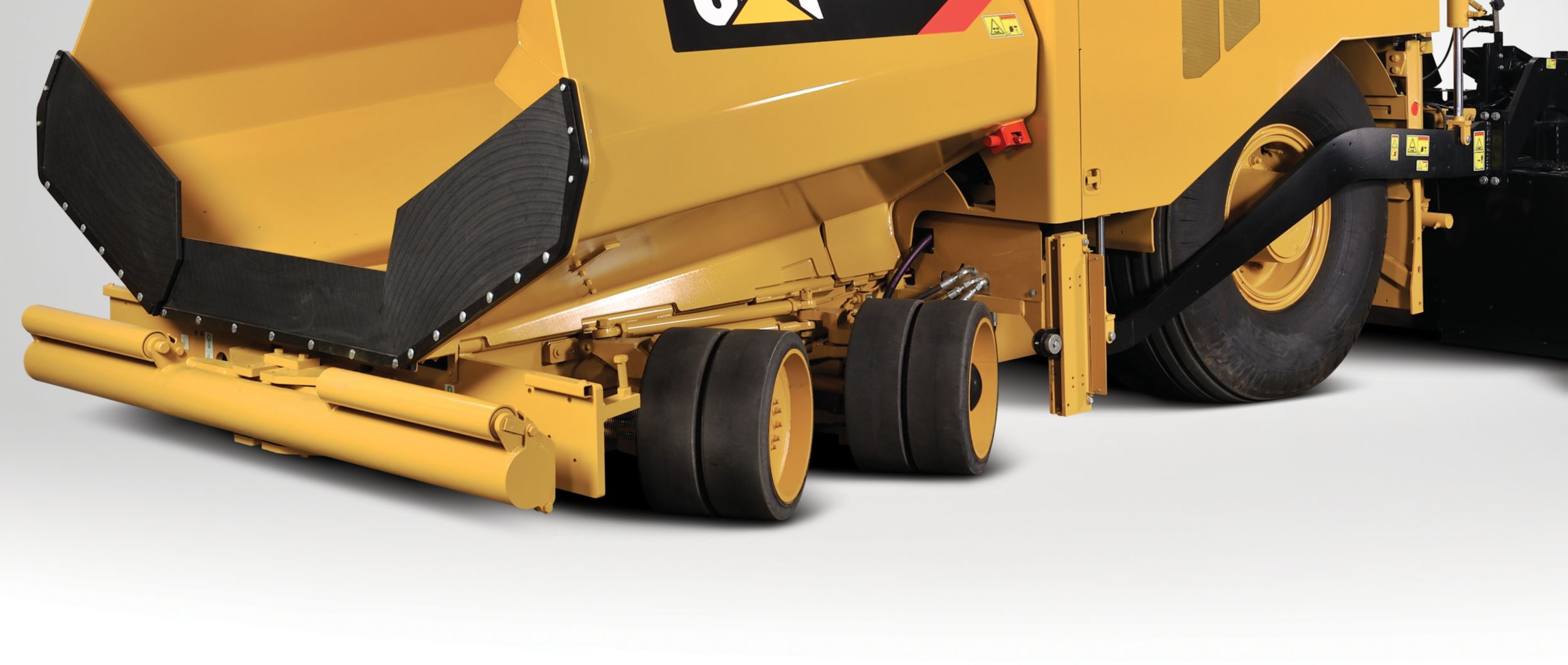 The wheel undercarriage system provides excellent mobility and maneuverability along with a smooth ride for optimum performance.
Excellent Mobility
The sharp turning radius and high propel speeds allow the paver to move quickly around the job site.
Three Propel Modes
Pave, travel and maneuver modes provide good control and versatility. The new maneuver mode provides a 1.4 m (4' 8") turning radius for excellent maneuverability in tight quarters.
Speed Control
A speed control dial located on the operating console allows the operator to set a maximum propel speed. When the propel lever is moved to the full forward position, the paver returns to the preset speed.
Steering Assist
A position sensor located in the left steering cylinder provides good maneuverability by adjusting the drive speed of the propel motors according to the steering angle of the front wheels. This feature allows the machine to turn while maintaining a consistent travel speed, leading to better mat quality and less wear on the drive system.
Large Drive Tires
The 16.00 x 25 sand-rib drive or radial tires provide good tractive effort and a smooth ride.
Large Steering Tires
The 13" x 22", solid rubber steering tires provide maximum ground contact, leading to good turning capability.
Front Suspension
Four, front solid rubber steering wheels are mounted on pairs of oscillating bogies, providing a smooth ride.
Long Wheel Base
The long wheel base provides good tractive effort and stability on soft base materials.
Front Wheel Assist (Optional)
The front wheel assist feature provides power to the front bogie wheels for additional tractive effort.
All-Wheel Assist (Optional)
The all-wheel assist feature provides power to the front and rear bogie wheels, maximizing tractive effort.
Independent Material Handling System Promotes Hands-Free Operation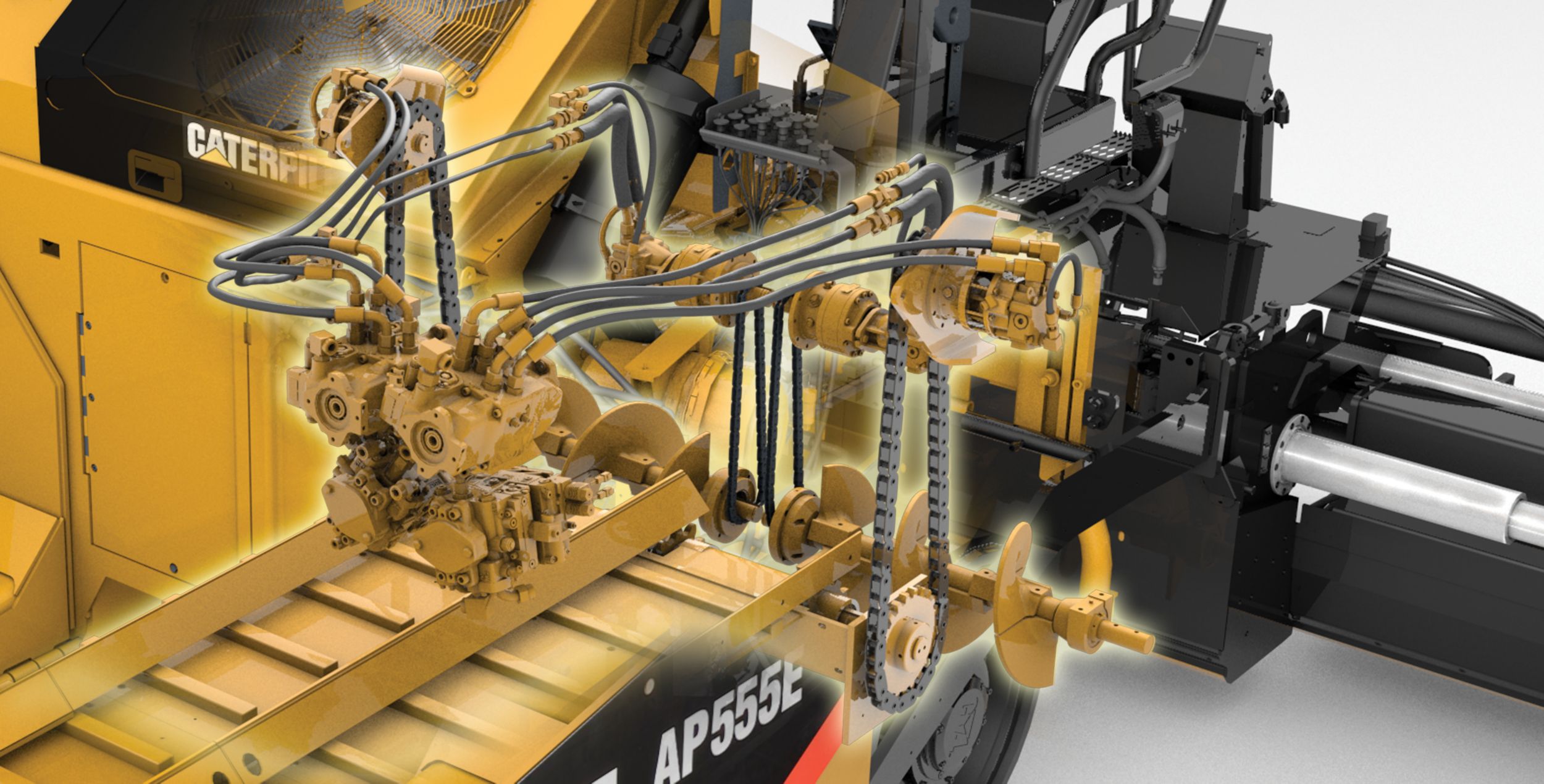 The gateless material handling system promotes hands-free operation by providing features such as ratio control dials, and independent control of each auger and each conveyor.
Precise Mix Delivery
The material delivery system provides precise mix delivery with minimal operator monitoring. The left and right conveyors in addition to the left and right augers are controlled independently. The ability to control these four components separately eliminates the need for feeder gates.
Ratio Control
The ratio of conveyor speed to the maximum auger speed is automatically maintained through the controller when changing paving speed. This ratio control feature is helpful when paving wider or thicker on one side of the screed.
Outboard-Mounted Conveyor Drives
The conveyors have outboard-mounted motors, reducers and drive chains that maximize the tunnel area and reduce segregation.
Gateless System
The gateless conveyors run full of mix regardless of the auger speed. When changes in conveyor speed are required, delivery of mix to the augers is immediate. By not always having to run the conveyors at full speed, component wear is significantly reduced. Running at slower speeds can also help reduce the opportunity for segregation, especially when working with larger stone mixes that have a tendency to segregate.
Independent Auger Drive
The auger drive assembly is independent of the tractor, which allows the distance between the two conveyors to be significantly reduced. Keeping the conveyors close together allows the material to flow together more easily as it discharges into the auger cavity. The tunnel and auger design eliminates voids under the chain case in order to minimize segregation.
Adjustable Auger Range
The auger assembly is hydraulically adjustable with a range up to 215 mm (8.5"). The ability to adjust the auger assembly simplifies loading and unloading from a transport vehicle. Also, when working with larger stone mixes, the augers can be adjusted to allow the mix to flow unrestricted under the auger assembly.
Generator System Provides Quiet Power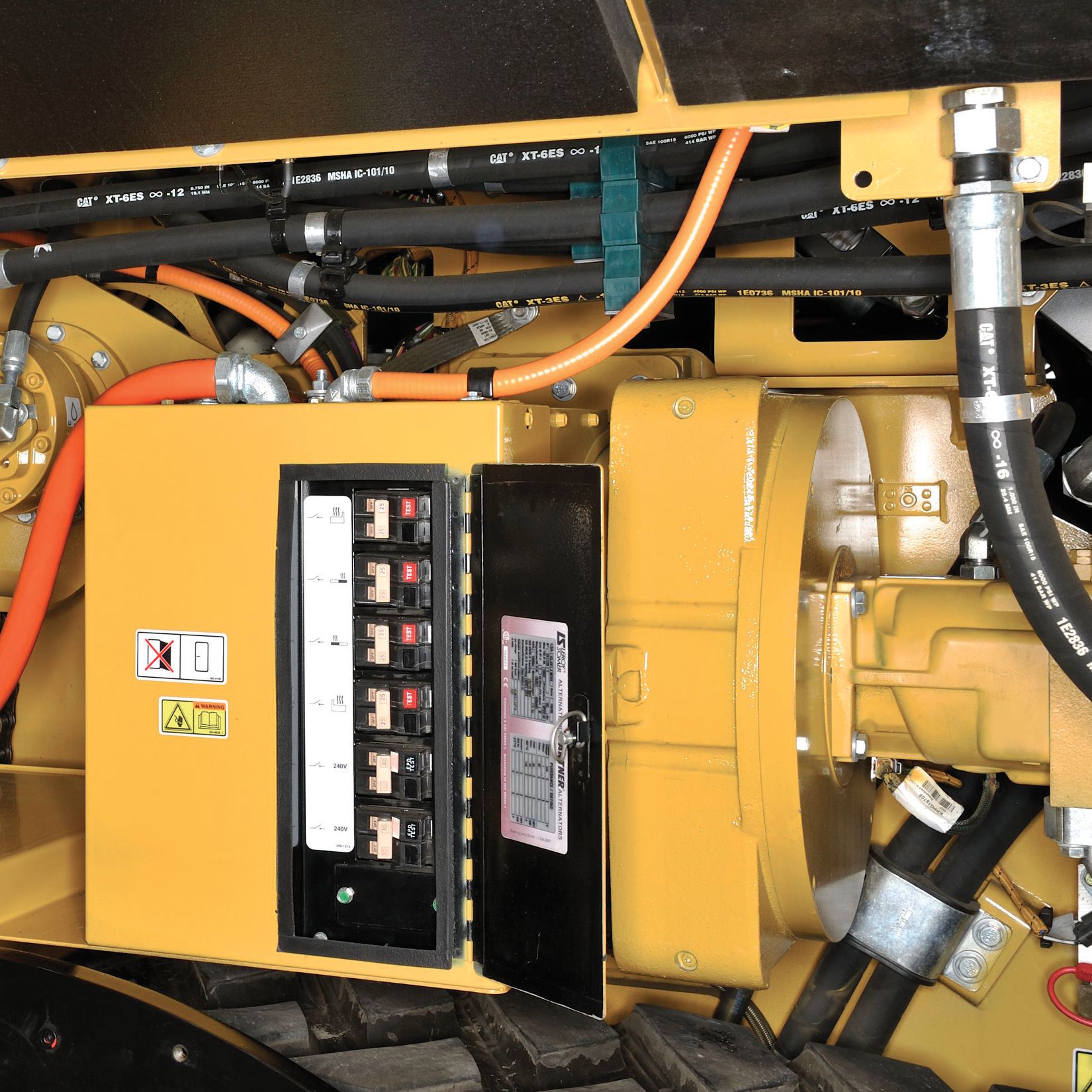 The high capacity generator provides power for the electric screed heat, auxiliary lights and job site tools.
Industrial, Single-Phase A.C. Generator
The tractor-mounted generator provides 25 kW of power at 60 Hz for the electric screed heat and the auxiliary power panel. Circuit breaker protection, internal electronic voltage regulation and a dual bearing design provide reliability.
Choices Available (Belt or Hydraulic Driven):
The belt-driven generator provides full power with a variable frequency when the engine speed increases above 1275 rpm. The hydraulic-driven generator provides full power with a fixed frequency of 60 Hz when the engine speed increases above 1275 rpm.
Optional Auxiliary Power Panel
The power panel provides 8 kW of power for auxiliary lighting and job site work tools. The panel includes four 120 V and two 240 V receptacles.
Serviceability Features That You've Come to Expect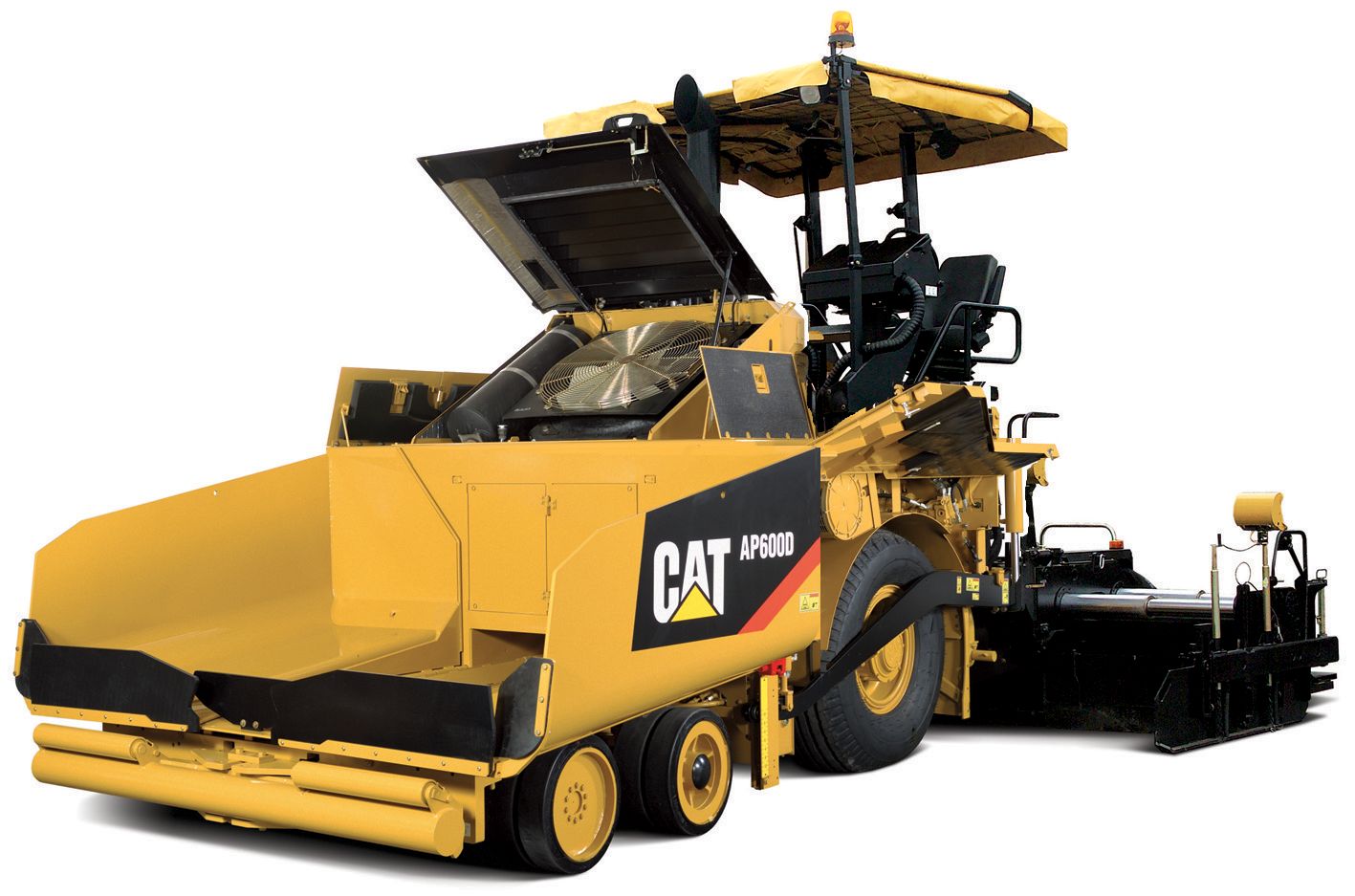 Simplified service means more time spent paving and less time spent on maintenance.
Advisor Display
The Advisor display lists diagnostic fault codes for machine functions making troubleshooting quick and easy.
Product Link System
This optional system provides automatic machine location and hour updates that can be used to schedule service intervals, ensuring that maximum uptime and minimal repair costs are achieved.
Manual Overrides
The hydraulic pump solenoids incorporate manual overrides to assist troubleshooting procedures.
Large Access Doors and Panels
Preventative maintenance points can be accessed through the large swing open access doors and panels.
Remote Lubrication Points
Lubrication points are grouped in order to make routine service quick and easy.
Color-Coded and Numbered Electrical Wiring
Troubleshooting is efficient and simplified with the color-coded and numbered wiring.
Screeds That Deliver Quality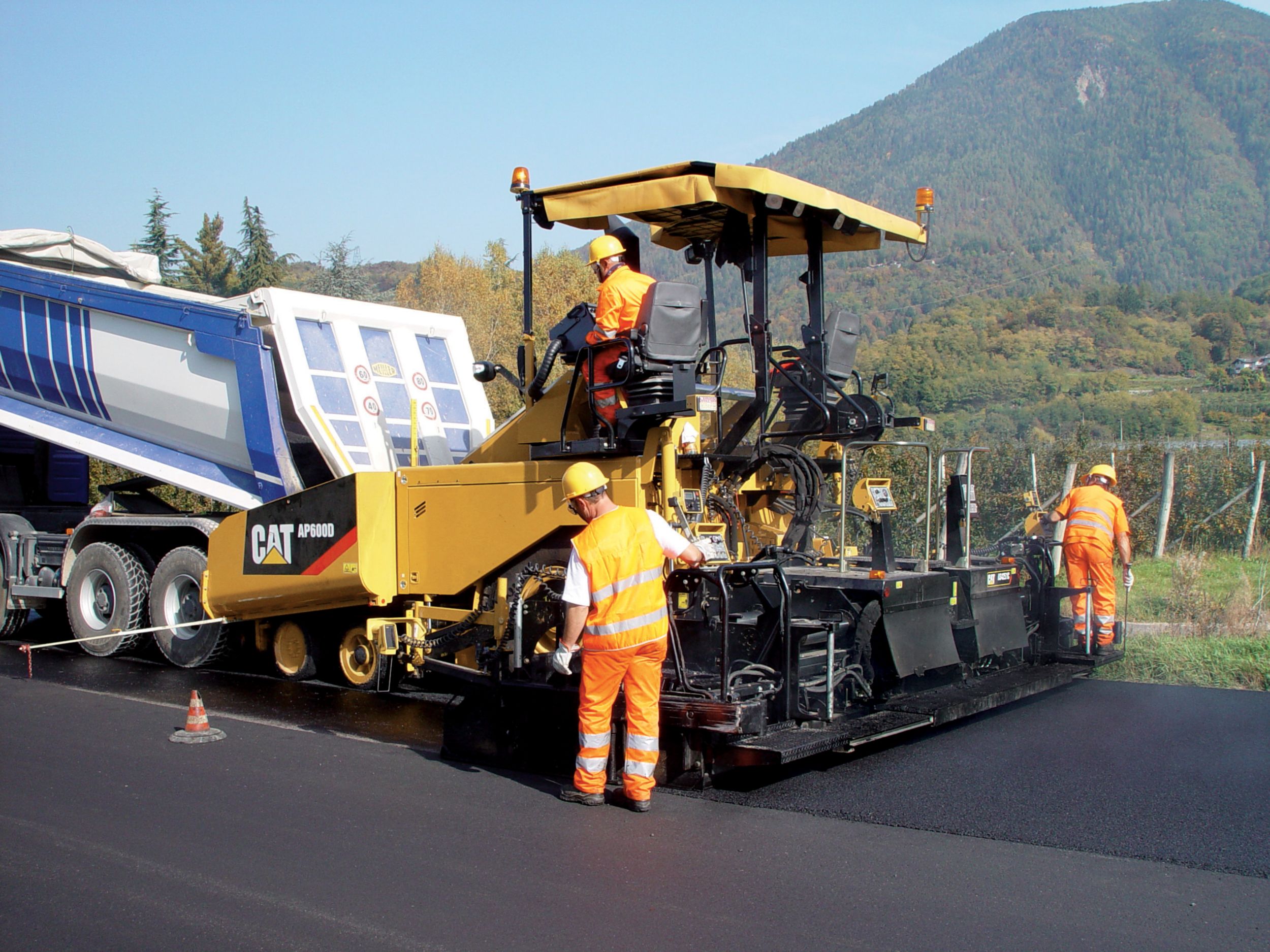 Cat screeds with front-mount or rear-mount extenders provide even material flow and unparalleled stability that result in smooth, high quality mats.
Caterpillar Customer Support is Unmatched in the Industry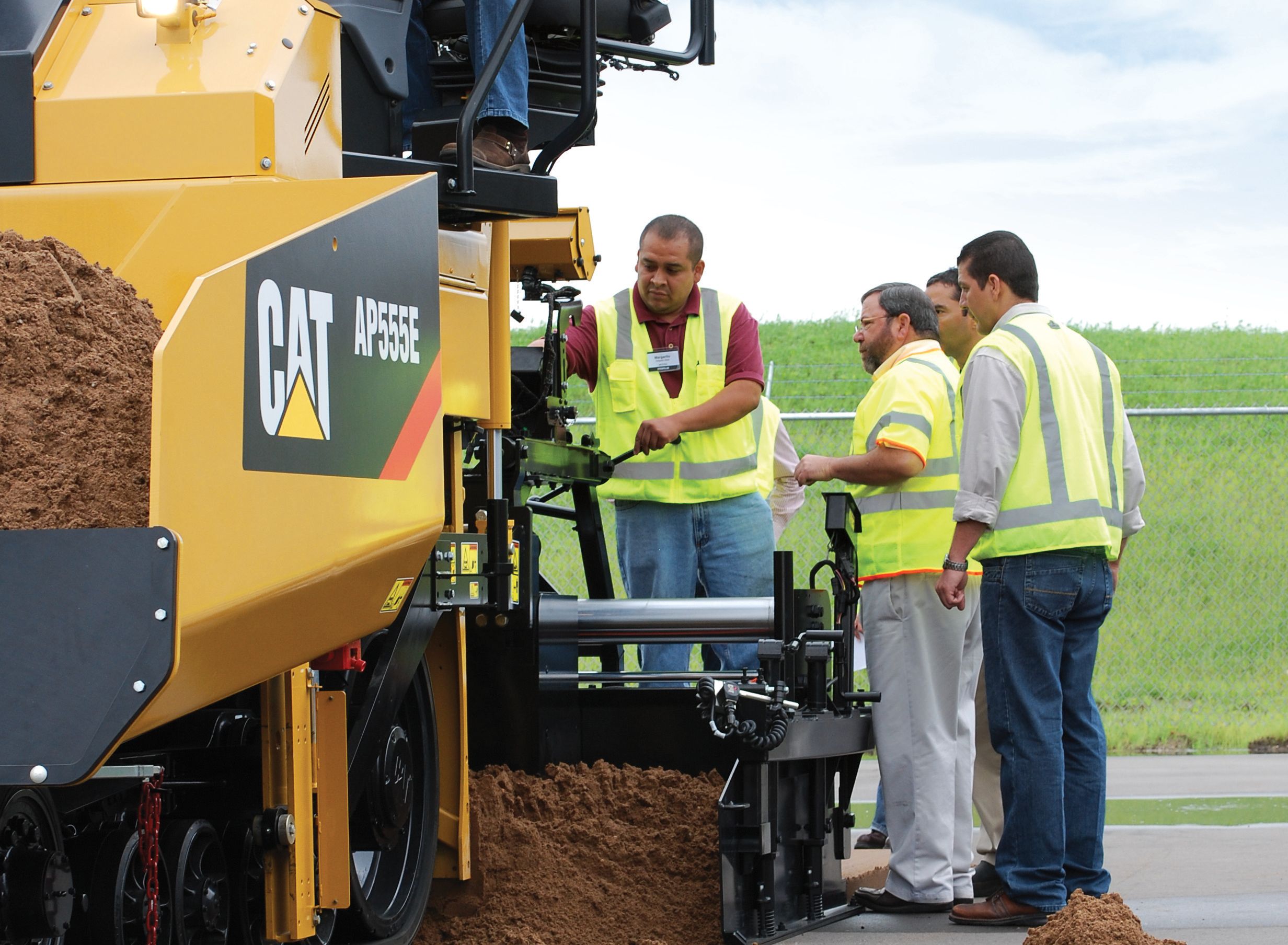 Caterpillar offers "Solutions and Services" and around-the-clock support that meets your everyday needs.
Project Consulting
Project consulting provides a service for improving smoothness, density, and productivity.
Technical Training
Technical training offers in-depth hands-on training to mechanics at Caterpillar training centers or customer locations.
Application Training
Paving Operations Training (POT) is a hands-on methodical approach to the process of paving. The process of "Paving by the Numbers" guides the crew when setting up to pull off the joint.
Machine Support
Parts for asphalt pavers and screeds are available at the Cat Dealer parts counter. Cat Dealers also utilize a world-wide computer network to find in-stock parts to minimize machine downtime.
Tractor Options

All-Wheel Drive
Auger and Mainframe Extensions
Auxiliary Power Panel
Decelerator Pedals
Front-Wheel Assist
Generator (Belt or Hydraulic Driven)
Oscillating Push Rollers
Power Folding Hopper Apron
Paddle Feeder Sensor (Proportional)
Sonic Feeder Sensor (Proportional)
Steering Guide
Tires (Sand-Rib or Radial)
Truck Hitch
Umbrella
Uptime Kit
Ventilation System
Warning Beacon
Washdown System (Including Ecological Version)

Controls and Grade References

Automatic Grade and Slope Control
Non-Contacting Sonic Grade Sensor
Contacting Grade Sensor
Outboard Leveler, 9.15 m (30') and 12.2 m (40')
Inboard Leveler
Mobile Stringline
Fore 'N Aft Leveler
Sonic Averaging Beam
Rigid Ski, 9.15 m (30') and 12.2 m (40')